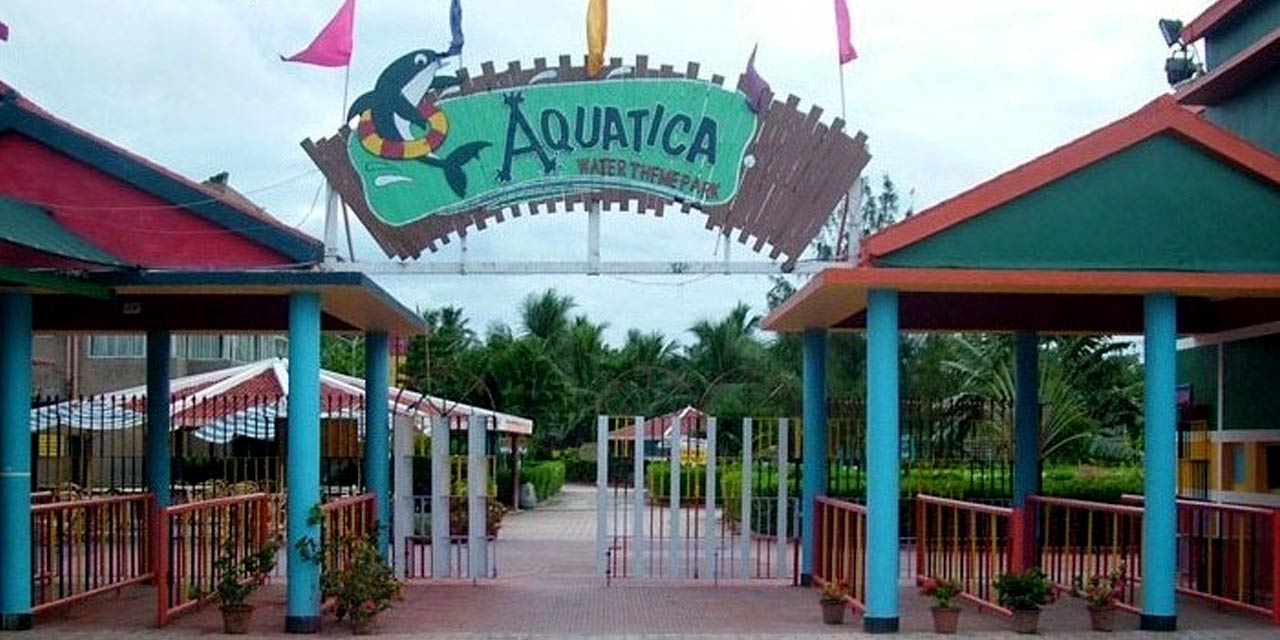 Aquatica Water Park Kolkata Online Ticket Price
900 per person for Adults on Weekdays
1000 per person for Adults on Weekends and Public Holidays
450 per person for Children* on all days
Aquatica Water Park Kolkata Counter Ticket Price
900 per person for Adults on Weekdays
1000 per person for Adults on Weekends and Public Holidays
450 per person for Children* on Weekdays
500 per person for Children* on Weekends and Public Holidays
*Children who are above 1 year with height less than 4ft 6 inches would only be considered under Child Category
Items Available On Rent
| | | | |
| --- | --- | --- | --- |
| ITEMS | DEPOSIT | RENT | REFUND |
| GENTS LOCKER | 200 | 50 | 150 |
| GENTS HALF PANT | 100 | 50 | 50 |
| GENTS T-SHIRT | 100 | 50 | 50 |
| LADIES LOCKER | 200 | 50 | 150 |
| LADIES TOP | 100 | 50 | 50 |
| LADIES SLACKS | 100 | 50 | 50 |
| LADIES SWIMSUIT (SLEEVELESS) | 150 | 50 | 100 |
| GIRLS (KIDS) SWIMSUIT | 150 | 50 | 100 |
| BOYS (KIDS) HALF PANT | 100 | 50 | 50 |
| TOWEL | 200 | 50 | 150 |
| TUBE | 300 | 50 | 250 |
Aquatica Water Park Kolkata Phone
---
Rating:

| 4/5 stars
Based on total 15 reviews
Aquatica Water Park Kolkata Address: Kouchpukur, P.O Hathgachia, P.S. :K.L.C, Near Rajarhat Township, Jodthbhim, Newtown, Kolkata, West Bengal, 700156, India
Kolkata Tour Packages

Aquatica Water Park Kolkata Timings
| Day | Timing |
| --- | --- |
| Monday | 10:00 am – 6:00 pm |
| Tuesday | 10:00 am – 6:00 pm |
| Wedesday | 10:00 am – 6:00 pm |
| Thursday | 10:00 am – 6:00 pm |
| Friday | 10:00 am – 6:00 pm |
| Saturday | 10:00 am – 6:00 pm |
| Sunday | 10:00 am – 6:00 pm |
Links:
Website
|
Map
---
Aquatica Water Park in Kolkata, India is a water theme park. It is owned, run and maintained by Vishal Water World Private Limited. It is the ideal getaway for families and friends, for a day of unlimited fun and activities. Established in the year 1999, Aquatica is famed for being the largest water themed park in Eastern India.
The main attraction of this amusement park is the numerous rides and activities to do. A vacation to a far away dream land is not always ideal in our present day and age. But who doesn't wish to let their hair down from time to time, especially on the weekends or holidays? Amidst sprawling countryside, Aquatica stands tall and proud, offering you a quick, refreshing break away from the humdrum of the city.
Facilities at Aquatica Water Park Kolkata
Have you ever wondered what it might be like if you stepped into a magical kingdom? Aquatica is something of that kind. This amusement park brings to you, an endless list of options to choose from so that you can enjoy your time away from the city.
Starting from a comfortable resort, water rides and pools to splash in, conference rooms and banquets for the workaholic, events and parties organised with endless delicacies; Aquatica offers something for everyone. Some of these are listed below:
1. Resort:
Aquatica has a resort within its premises that offers you a completely unique and a rejuvenating experience. It is within the amusement park, allowing you to take a dip in the waters, play around as much as you want and later relax in your rooms. They offer two kinds of rooms; Deluxe Rooms and Super Deluxe Rooms. For a weekend of absolute pampering, Aquatica provides you with amenities such as:
Rooms included with King sized double beds, Air-Conditioner, Wifi, TV, Laundry services, essentially.
Each room booking is accompanied with complimentary breakfasts.
Complimentary stay for children under five with an additional bed for them.
Round the clock room service and a safe parking space for your cars.
2. Rides:
The main attraction of Aquatica is the numerous rides the amusement park inhabits. The Park is every child's favourite weekend or holiday destination. In some cases, adults too, do not shy away from enjoying their day, on the rides. It also happens to be a fun location for a day out with a group of friends.
a. Jungle Safari: This is an absolute kid favourite. This ride gives you a feeling that you are in for an adventurous ride without any knowledge of how your journey is going to be. There are about 5-6 exits into the water, each unique in its own way. A fun replication of a safari through Madagascar!
b. Black Hole: This is a ride that is bound to get your adrenaline flowing. A truly thrilling experience through a long, spiralling tube into a pool of water. The tube is barely illumined and while you are seated on a raft, you slide down in darkness, splashing finally into water. You can splash around in the pool at the end of the tunnel.
c. Raft Slide: A lot similar to the Black Hole, but it is a less thrilling of an experience. Seated on water rafts, you are pushed down a tube from an elevated height. Unlike the previous ride, you are not in darkness but out under the sun. You slide through, circling down several loops and curves into a shallow pool.
d. Aqua Dance: This is undoubtedly one of the most fun activities you can try at Aquatica. Aqua Dance is a place where there are sprinklers of water pouring in from all sides, like a light drizzle of rain. There is hip Bollywood music playing in the background to which you can groove and have a fun time!
e. Niagara Falls: This is a make-believe waterfall to give you an experience of bathing under the pouring waters of one. It feels like natural, cool, fresh water falling from a height of sixty-five feet upon your shoulders. The feeling is purely refreshing.
f. Cyclone: Cyclones generally are a very tragic and life-threatening occurrence. But Aquatica brings you this natural phenomenon in a thrilling, enjoyable manner. From a height of forty feet, you are pushed down a long tunnel with flowing water that spirals down to the eye of the storm; the calm water flowing down below.
g. Wave Pool: One of the highest rated rides at Aquatica is the Wave Pool. This is the ride that witnesses the greatest number of people and the best memories. Waves are produced every minute just like that on a beach. You can spend hours standing there bouncing off the waves or have some wave-y fun with your friends!
h. Lazy River: Tired of hopping around on the rides but don't want to leave the water just yet? The Lazy River might just be the answer to your conflict at the moment. Across a stretch of five hundred meters, a river flows gently. You can rest on your tubes while you glide over the water, lazily.
i. The Family Pool: Aquatica houses a family corner for all the families driving in for a day out. The family pool is the ultimate package for children and their parents to splash around together. There are small rides for the kids, a fountain, and slopes sliding them into the shallow pool.
j. Pendulum: This is one of the most thrilling rides in Aquatica. Riders get to shoot up and down like a pendulum in the shape of a wide 'V' before coming to an eventual halt. It is one of the most high-speed rides in Aquatica.
k. Multilane: This is a must try ride which promises utmost fun for everyone! It operates on high speed and requires the rider to lie on mats. You will be pushed down in the position you are in to be on a wavy, exciting journey until shallow waters. This is always in high demand during all seasons.
3. Banquets:
Aquatica is often available to groups, corporates and event management companies to be rented for organising several events. They have a wide range of facilities and venues for you to pick for your specific occasion. They will be decorated as per your wishes. Each of the halls have their own packages so that food could be organised if required by you.
a. Aqua Lawn: It is considered to be the biggest open ground space in the city. It covers an area of about thirty thousand square feet. You can host a wide range of events under a beautiful night sky at this lawn.
b. Central Lawn: The ultimate amalgamation of elegance and style can be found in Aquatica's Central Lawn. Surrounded by famous Lazy River and beautiful gardens and flowers, this creates a beautiful landscape.
c. Niagara Lawn: Aquatica's Niagara Falls in the background creates a soothing, relaxing aura for the event being organised in the lawn alongside the falls. The open air contributes to a beautiful atmosphere with a starry night and cool breeze during the night.
d. Conference Halls: Aquatica aims at providing you with world-class facilities for hosting corporate meetings in their conference hall. It is well-equipped with top-class audio-visual facilities with packages that include tea and sumptuous food. Each of their halls accommodate about four hundred people at a time.
e. Aqua Hall: In alternative to their numerous event halls, they also have an Aqua Hall. This is specifically designed to host wedding receptions, formal sit-down dinners along with corporate meetings. This hall is also equipped with state-of-the-art facilities and can accommodate about two hundred people at a time.
4. Food:
Aquatica understands hospitality in its truest sense. While providing their guests with endless amenities, they don't falter in the choice of food they provide you with. Their food court plates cuisines such as North Indian, Chinese and Continental to cater to everyone's palate. You can never run out of choices when it comes to food at Aquatica.
Image Gallery of Aquatica Water Park Kolkata
Timings of Aquatica Water Park Kolkata
Aquatica Water Park is open from 10 am to 6 pm on all days of the week.
Ticket Price at Aquatica Water Park Kolkata
Entry Fee: Aquatica has fixed rates for their entry fee. However, they have an online booking feature on their website that lets you save time waiting in the queue at the venue.
The ticket price to visit Aquatica Water Park is Rs. 900 for adults and Rs. 450 for Children during weekdays. The entry fee during weekends and Holidays is Rs. 1000 for adults and Rs. 500 for Children.
Note: Children above 1 year of age with height less than 4ft 6 inches would only be considered under Child Category.
Swim Wear: If you don't own a pair of swimsuits or have forgotten it at home, fret no more. Aquatica is very welcoming and accommodative that way. They have facilities where you can rent items from them for use during your stay at Aquatica. The items are on rent for Rs. 50 each but they all have different deposit amounts.
Resort: The rooms at the resort are priced at Rs. 3000 per night for Deluxe Room (Double Occupancy) and Rs. 3500 per night for Super Deluxe Room (Triple Occupancy).
How to Reach Aquatica Water Park Kolkata
Aquatica Water Park is located in Koucpukur, Hatgachia, Kolkata. It is a little further away from the central, bustling section of the city which insights more fun in it. It is very close to Thakdari in Rajarhat and New Town. There are several ways to reach Aquatica:
Bus: Several local buses from the city centre will take you to Aquatica. You can either opt for a bus ride to reach Aquatica via NH12 and Thakdari Road, or book a private cab from top car rental companies in Kolkata for a comfortable ride.
Auto Rickshaw: The other, very interesting, mode of transport to Aquatica is taking the auto rickshaw. These autos ply along this route quite frequently. All you have to do is get to Box Bridge in New Town which is very accessible from both Lake Town and EM Bypass. There is a regular auto service plying from the Bridge to Aquatica.
Things to Remember
Aquatica abides by some rules and regulations to ensure that your experience at the amusement park is truly a memorable one. They have formulated guidelines to make sure you are averse from any kind of ill-experiences. These include:
1. Take Regular Breaks: A lot of people succumb to ill-health because of the numerous, fun, adventurous activities. It could be pretty strenuous. That's why Aquatica advices you to drink plenty of fresh water and take ample breaks between rides. It helps keep the oxygen flowing evenly in your body, pumping you with endless energy.
2. Diving: Diving is usually frowned upon in most places. This is especially so because a lot of people do it because it somehow looks very appealing to them. However, inadequate experience in this could be fatal. Also, always watch where you choose to dive. Make sure it is not a shallow pool to avoid any danger.
3. Obey Instructions: Customer safety is their priority. Hence, every time you choose to hop on a ride make sure you listen to the instructions given to you very carefully. It is also equally important to abide by them to avoid any accidents. Don't jump off a ride before it has come to a complete stop. It could be fatal.
4. Running inside the park: This rule applies especially to children but many adults, in a fit of enjoyment, often do it too. Aquatica is a water park which means there will be water spilled everywhere. The cause for caution arises because it gets slippery and running around without being careful could cause serious harm. Please refrain from doing so and keep an eye on your children.
Sightseeing Places Near Aquatica Water Park Kolkata
There are interesting parks in Kolkata that you can opt to visit, other than Aquatica. They also happen to be in close proximity to each other. You can visit them as you are on your way to Aquatica. Most of these destinations require an entire day dedicated to them to be able to fully enjoy the place. These include:
1. Nicco Park: This is one of the oldest amusement parks in Kolkata that houses a wide range of rollercoaster rides. Along with this, they now also have their own mini water park and a bowling alley. There is barely any scope for boredom.
2. Eco Park: Situated in New Town, Eco Park stands tall and proud for being an iconic place to drop by. It is filled with endless activities, different food joints to stop by and have nonstop fun. It also has miniatures of The Seven Wonders of the World.
3. Mother's Wax Museum: Adjacent to Eco Park and also in New Town is a very interesting museum. This museum hosts a wide range of celebrities we have known and loved over the years. It is a token of appreciation for the brilliance they have brought in their respective field.
---
Kolkata Tourism, a division of Holidays DNA offers all-inclusive Kolkata tour packages to ensure a fun filled vacation for its customers. Reach out to us by filling the Contact Us form to know further.
Location Map for Aquatica Water Park Kolkata