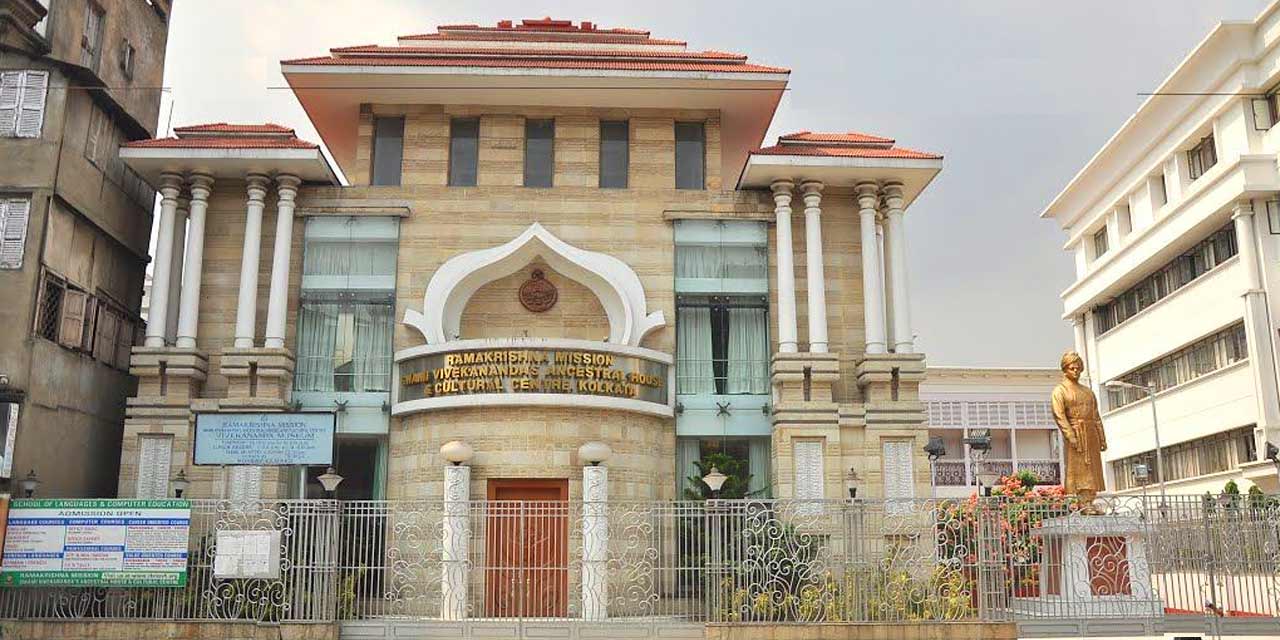 Swami Vivekananda's Ancestral House Kolkata Entry Fee
Swami Vivekananda's Ancestral House Kolkata Phone
---
Rating:

| 4/5 stars
Based on total 53 reviews
Swami Vivekananda's Ancestral House Kolkata Address: 105, Vivekananda Rd, Manicktala, Azad Hind Bag, Kolkata, West Bengal, 700006, India
Kolkata Tour Packages

Swami Vivekananda's Ancestral House Kolkata Timings
Day
Timing
Monday
Closed / Holiday
Tuesday
10:00 am – 12:30 pm
2:00 pm – 5:00 pm
Wedesday
10:00 am – 12:30 pm
2:00 pm – 5:00 pm
Thursday
10:00 am – 12:30 pm
2:00 pm – 5:00 pm
Friday
10:00 am – 12:30 pm
2:00 pm – 5:00 pm
Saturday
10:00 am – 12:30 pm
2:00 pm – 5:00 pm
Sunday
10:00 am – 12:30 pm
2:00 pm – 5:00 pm
Links:
Website
|
Map
---
"You have to grow from the inside out. None can teach you, none can make you spiritual. There is no other teacher but your own soul." – Swami Vivekananda.
Kolkata is the hub of remarkable cultural, literature and spiritual revolutions the world has seen. We have had stalwarts such as Rabindranath Tagore to Ishwar Chandra Vidyasagar to Swami Vivekananda. They took the world by a storm and changed philosophies of life at home, in India, and around the world at the same time. Now, there are millions of devotees, who have dedicated their lives to them.
A visit to Kolkata makes it mandatory to drop in at places like Swami Vivekananda's Ancestral House. The best way to learn and know the city is to stroll into the houses of these geniuses and live through their lives in whatever is remaining in there. Swami Vivekananda's house has been transformed into a museum and cultural centre, depicting the life of the maestro.
Trailing through Swamiji's Life
Swami Vivekananda was born on the 12th of January in the year 1863. His ancestral house is located in 105, Vivekananda Road, where he was born and brought up. The house hosts a wide range of stories that are told time and again of the various ingenuous activities of the man, himself.
Following Vivekananda's death, the house was faced with a legal battle between his mother and aunt, concluding a few days prior to his death. Vivekananda won full legal rights over the property.
It was not until 1962, that the house – which was then in terrible state – was taken up by the organisation called Ramakrishna Mission and turned into a museum. Ramakrishna Mission follows the ideologies of the saint Ramakrishna Paramahansa, whose disciple was Vivekananda, himself.
Inaugurated by the then President of India, A. P. J. Abdul Kalam, the house currently is a museum, research centre, library, a memorial shrine, a language centre, a computer training centre and a charitable dispensary.
The House Where Swamiji Lived
Swami Vivekananda had an affluent lifestyle, with well-off parents. He grew up in a big house, the front gate leading up to a marble staircase. The walls along the staircase are adorned with portraits of the Swami, himself.
Different aspects of his life are preserved and arranged chronologically to give you a visual representation of his life right from his birth to adulthood. For instance, depicting the time of his birth, there is a clock that has been stopped at five minutes to seven beside his birthplace indicating the exact time when the world was truly blessed by his arrival.
There are clay models of Swamiji at various activities such as the time when he was so engrossed in meditation that he did not realise there was a snake around him or when he was lost in his studies. Original relics of his clothes, boxing gloves, horse riding stirrup, etc. depict Swamiji's various hobbies in boxing, riding and fencing, among others.
Image Gallery of Swami Vivekananda's Ancestral House Kolkata
A Day With Swamiji: An Experience
Swami Vivekananda's Ancestral House is a trip that is bound to be a complete enriching experience. The best part about museums is the ability to lose yourself through the history of time for hours at a stretch, without any restrictions. But Ramakrishna Mission Swami Vivekananda Ancestral House provides you with a lot more to do:
1. Library: Swami Vivekananda's Ancestral House houses one of the richest libraries of the country. It contains about six thousand five hundred and seventy two books, ranging in fields of science, literature, philosophy, languages, and so much more. You could get a membership and gain immense knowledge through the books that have been collected over the years.
2. Memorial Shrine: Swami Vivekananda was a remarkable man whose teachings have revolutionised the world. There is no field of life that he has not influenced. Such an incredible person deserves all the tribute that can possibly be given to him. Hence, a memorial shrine has been built in his honour which contains two meditation halls, where you can take a break and enjoy some peace and serenity of life.
3. Academics: Ramakrishna Mission provides academic training and certified degrees and diplomas to students. This is found in Swami Vivekananda Ancestral House as well, ranging from learning various languages such as Spoken English, French German and Sanskrit to computer training and religious classes.
Other than visiting the museum that exhibits the wonderful life of Swami Vivekananda and his teachings, these are some of the other activities you can do on your visit there. You can read, meditate or sign up for some quality training!
Entry Fees and Timings Swami Vivekananda's Ancestral House Kolkata
There is a certain tranquillity you will experience once you visit the place. You will almost feel like your soul is getting cleansed on visiting Swami Vivekananda's Ancestral House. The committee that runs and maintains the house are highly disciplined and strict about their mode of conduct.
It is open for six days a week except Monday. In the morning, it opens at 10 until 12:30 pm. It opens again at 2 in the afternoon for exactly three hours.
Entry fee is at Rs. 5 per person.
How to Reach Swami Vivekananda's Ancestral House Kolkata
There are several modes of transport to Swami Vivekananda's Ancestral House. Located at Vivekananda Road, it is very near to Girish Park Metro Station. The best mode of transport to the place is to take the metro, get off at Girish Park and walk for five to six minutes.
You could also avail a variety of buses that will drop you off to Girish Park more. The landmark needs to be Girish Park. If you are in for some true feels of Kolkata, you can hop onto a tram from Howrah or along the route.
If all of this doesn't seem appetising, just opt for a private cab from top car rental companies in Kolkata and visit all the popular sightseeing places of Kolkata comfortably.
---
To explore all the important landmarks of Kolkata in a relaxed manner, we at Kolkata Tourism, a division of Holidays DNA offer Kolkata Tour Packages that are easily customisable. To know more about the various packages, please fill the Contact Us form.
Location Map for Swami Vivekananda's Ancestral House Kolkata