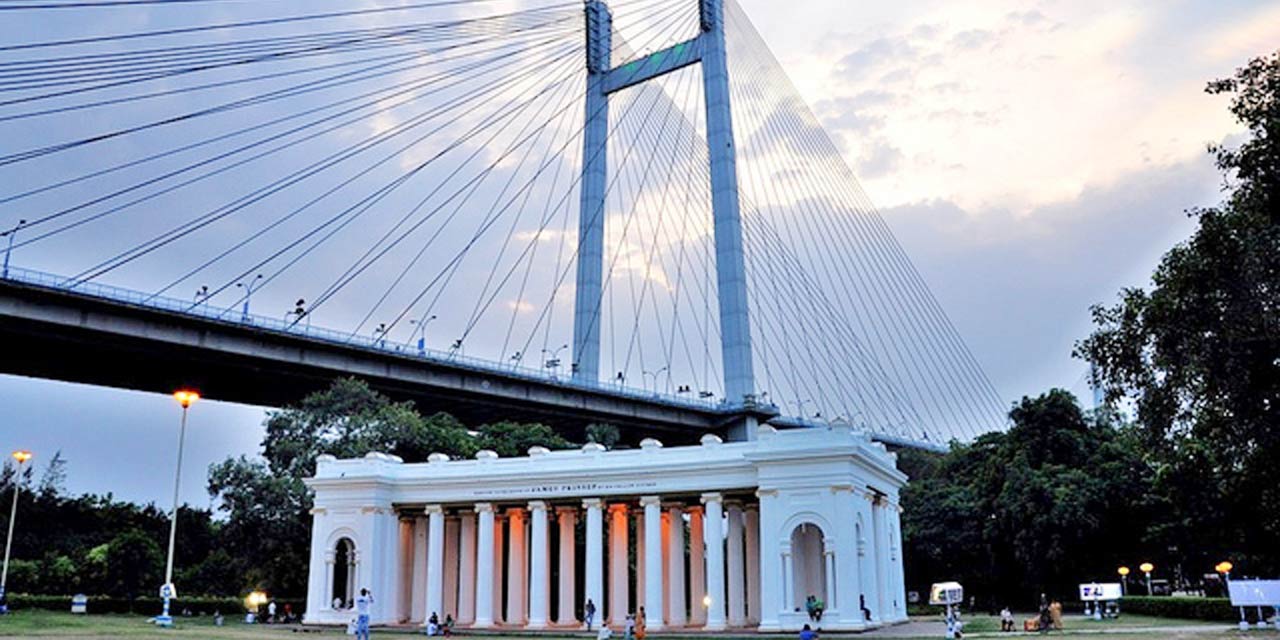 Prinsep Ghat Kolkata Entry Fee
Prinsep Ghat Kolkata Phone
N/A
---
Rating:

| 4/5 stars
Based on total 64 reviews
Prinsep Ghat Kolkata Address: Fort William, Hastings, Kolkata, West Bengal, 700021, India
---
Everyone loves to get away from the chaos of city life, away from the monotony of work and stress. One of the best places to get a quick break from this humdrum, is Prinsep Ghat. Situated along the banks of the River Ganges, this is a mini-vacation from home without the hassle of travelling too far. It is the ideal place for people of all ages.
History of Prinsep Ghat Kolkata
Prinsep Ghat is an iconic location in the city for a variety of reasons and the most important one is the heritage it holds. It was built in the year 1841, during the British Raj in India. The ghat has been named after an ingenious Anglo-Indian researcher and scholar, James Prinsep after whom this was built.
James Prinsep had made remarkable contributions in the fields of meteorology, Indian scriptures, archaeology, etc. He was also the Secretary of the honourable Asiatic Society and deciphered the Brahmi script of Emperor Ashoka from inscriptions on rocks. Upon his death, in the year 1843, a Palladian porch was built by W. Fitzgerald. Earlier, British royalty used the Prinsep ghat jetty for boarding and unboarding passengers.
Architecture of Prinsep Ghat Kolkata
Prinsep ghat is located along the banks of the River Ganges. Along this bank, there are stone steps in regular intervals that lead you down to the waters. Infringed are benches for you to sit and watch glorious sunsets over the water while watching ships sail past you. Nestled amidst nature, you can spend time wonderfully.
The palladian porch is significant for its Greek and Gothic inlays. The structure is square in shape, supported by Ionian columns that support a forty-foot ceiling. The entire structure is white in colour which stands out as a prominent aspect of our history.
Image Gallery of Prinsep Ghat Kolkata
Things to do at Prinsep Ghat Kolkata
Prinsep Ghat is one of the most popular places to visit in Kolkata. This is primarily because of the array of activities you can participate in. These include:
1. Boating: There are boats that can be rented out for a specific period of time, sailing over the river Ganges. They charge you about Rs. 500 for one hour.
2. Food: Variety of food stalls selling pav bhaji, phuchka, chat and other street food is found stretched along the ghat. The most prominent food joint is 'Scoop' which is a must-try!
3. Photography: It is the ideal spot for clicking beautiful pictures.
4. Go for a walk: Prinsep Ghat is surrounded by gardens, lawns and shady trees making it an ideal place for a nice long walk with your loved ones.
Places to visit near Prinsep Ghat Kolkata
The other major tourist attractions that are located close to the Prinsep Ghat are Rabindra Sadan, Nandan, St. Paul's Cathedral Church, Victoria Memorial Hall and Birla Planetarium.
How to Reach Prinsep Ghat Kolkata
Prinsep ghat is located near Strand Road, beside the banks of the Hooghly River. There are several ways to reach the Ghat:
Bus: Several local buses can take you to Prinsep Ghat.
Train: Part of the Kolkata Circular Railway, Prinsep Ghat is a prominent station.
Cab: You can take a local cab to Prinsep Ghat or book a private cab from top car rental companies in Kolkata for your Kolkata tour.
---
There is no entry fee or fixed timing at Prinsep Ghat. It is open for one and all, whenever you wish to pay a visit to one of the most tranquil spots in the city. The place is ideal for romantic getaways, a day out with your family and even a fun spot to hang out with your friends.
To make the best of your city tour we at Kolkata Tourism, a division of Holidays DNA offer Kolkata tour packages at pocket friendly prices. Book your tour with us and have a great time exploring all the must visit tourist attractions of Kolkata. To know more details about the various packages, please fill the Contact Us form and we will get back to you.
Location Map for Prinsep Ghat Kolkata