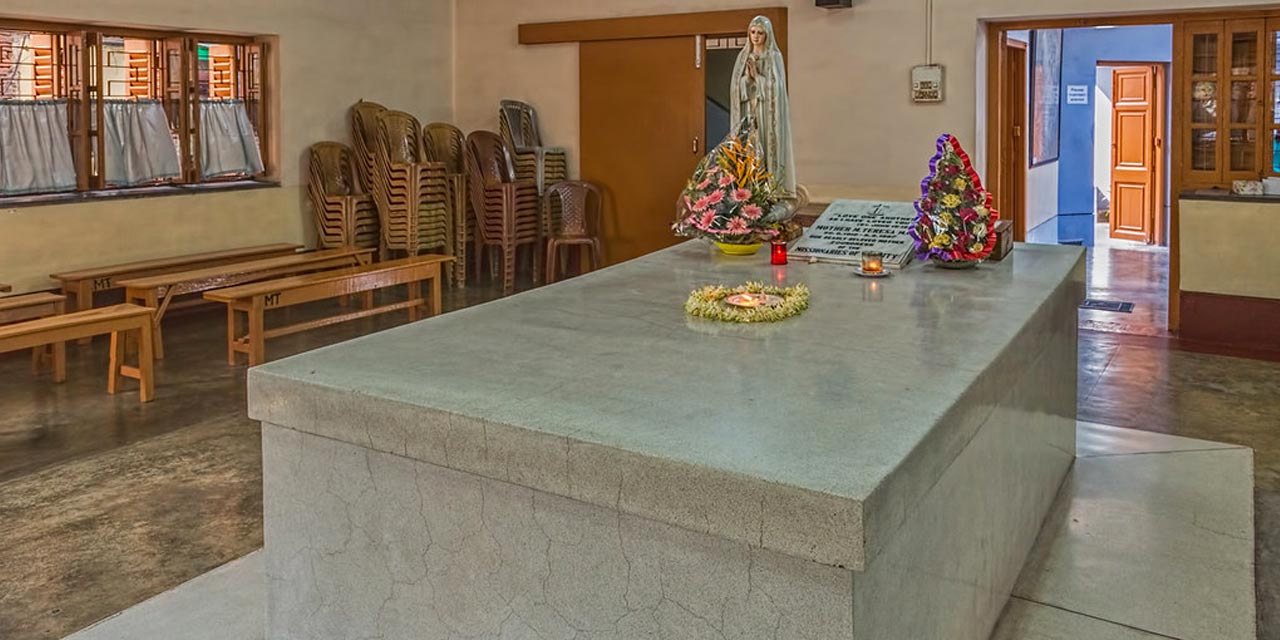 Mother House Kolkata Entry Fee
Mother House Kolkata Phone
---
Rating:

| 4/5 stars
Based on total 52 reviews
Mother House Kolkata Address: 54, Acharya Jagadish Chandra Bose Rd, Maula Ali, Beniapukur, Kolkata, West Bengal, 700014, India
Kolkata Tour Packages

Mother House Kolkata Timings
Day
Timing
Monday
8:00 am – 12:00 pm
3:00 pm – 6:00 pm
Tuesday
8:00 am – 12:00 pm
3:00 pm – 6:00 pm
Wedesday
8:00 am – 12:00 pm
3:00 pm – 6:00 pm
Thursday
Closed / Holiday
Friday
8:00 am – 12:00 pm
3:00 pm – 6:00 pm
Saturday
8:00 am – 12:00 pm
3:00 pm – 6:00 pm
Sunday
8:00 am – 12:00 pm
3:00 pm – 6:00 pm
Mother House remains closed on 22nd August, Easter Monday, and 26th December
Links:
Website
|
Map
---
Considered as pilgrimage rather than a tourist place, the Mother House in Kolkata is a holy and very serene place that one can be at. The Mother House is the Head Quarter of the Missionaries of Charity that pulls thousands of visitors from all around the world.
Mother House was founded in 1950 with a single purpose of selfless service towards the underprivileged and poorest of the poor. The members of the congregation take vows of poverty, chastity and obedience along with a 4th additional but the most important of all the vows of giving "wholehearted selfless and free service to the poorest among the poor".
The services of the missionaries include hospices and homes for people with HIV/AIDS, leprosy and tuberculosis, soup kitchens, children's- and family-counselling programmes, orphanages and schools, and are aided by the co-workers and volunteers.
A small museum that has been named as "Mother Teresa's Life, Spirit and Message" houses whatever minimal belongings Mother had such as her sari, crucifix, rosary, worn sandals, worn out enamel dinner-bowl. There are also a few handwritten letters and spiritual exhortations that adorn the shelves of the museum.
The Mother House is the last resting place of Mother Teresa as she was buried in the tomb inside the house. People pay visits and offer prayers here. This place is also used for meditation by visitors as it is a soulful place filled with positive vibes thereby imparting peace of mind.
Location of Mother House Kolkata
Mother House is located on the Ripon street at AJC Bose road. It is at a walking distance from Sudder Street, through Alimuddin Street and one needs to take a right from the second alley.
The major landmark to look for when searching for the Mother House is Sealdah Loreto Convent.
History of Mother House Kolkata
It was on 7th October 1950 that The Charity or Mother House had its foundation day. The very first members of the community comprised of 12 people that included Mother Teresa herself along with her pupils. The community came into being with the sole mission to help and provide for the abandoned, homeless, hungry, handicapped without the ability to help themselves that included both children as well as adults who needed love and care.
What was once started as a 12- member community, went on to become Missionaries of Charity and gradually started spreading the works outside of Kolkata. Mother Teresa also had to take permission from the Vatican to establish a church in Calcutta, which was granted. Eventually, in 1965, Pope Paul VI granted the decree for Mother Teresa to expand her missionary and charity works along with her congregation outside of India. That being said, following the decree, many centres were opened in countries like Venezuela, Rome and Tanzania and 100 other countries.
As the community of sisters grew and gained recognition, another community of the Brothers was formed and added to the congregation by Mother Teresa herself in 1979. The very thoughtfully added Priest branch of the Brothers was named as the Missionaries of Charity Fathers in 1984. Father Joseph Langford had assisted Mother Teresa in forming the Missionaries of Charity Fathers thereby combining their life's and community's mission with the Ministerial Priesthood.
After adding Venezuela as the first country that housed the first Missionaries of Charity house outside of India, the congregation spread and set up many houses in Europe, Africa, Asia and the United States of America. Mother Teresa resigned from her position of head of the Missionaries of Charity in 1990 as age and poor health started catching up. However; she was re-voted as the head and thereafter, agreed to serve as the head until March 1997. She continued staying in the same room at Mother House Kolkata and passed away on 5th September, 1997.
As of today, The Missionaries of Charity is a family of over 4500 members spread across more than 133 countries. The donations received from worldwide by the Missionaries of Charity help the smooth operation of the congregation across the globe through millions of co-workers and hundreds of charity programs.
Mother House Kolkata - Inside Mother Teresa's Home
Mother Teresa or St. Teresa, as she is called after her canonisation, lived in a small room on the first floor of Mother House for nearly 50 years, from 1953 to 1997. The room is so small that it can only fit a bed and Mother also added a desk and bench that she used for work.
The bed on which she slept was a simple metal frame that was very light. The mattress on the bed was very thin. A few meters from her bed, is the workstation (a desk and bench) that mother used. Apart from these, there was a thorn wreath and a cross that summed up as Mother's belongings.
This is the room where Mother breathed her last breath.
Note: Photography is not allowed inside Mother Teresa's room.
Image Gallery of Mother House Kolkata
Mass at Mother House Kolkata
There are both daily masses and pilgrim group masses held at Mother House. Daily mass at Mother House is held at 6:00 AM in the Main Chapel. The Holy morning mass is attended by Sisters and Volunteers of the house.
The pilgrim group masses are arranged by the Mother's tomb and are accompanied by a priest when it is notified in advance. A special weekly mass is held every Friday at Mother's tomb in favour of the prayer petitions placed inside the box by Mother's tomb. This is followed by offering special blessing with Mother/ St. Teresa's relic at the end of the mass.
Entry Fees and Timings of Mother House Kolkata
The visiting hours of the Mother House are – Morning 8:00 AM to 12:00 PM and Evening 3:00 PM to 6:00 PM.
The Mother House remains open all day of the week except for Thursdays. The house remains closed for visitors on Easter Sundays and 26th Decembers, days after Christmas.
There is no entry fee to visit Mother House.
How to Reach Mother House Kolkata
Mother House is located at the heart of Kolkata city and is accessible from all parts of the city by buses and taxis.
By Train: Sealdah Railway Station is the nearest railway station. One can reach Mother House by buses that ply from Sealdah station. Mother House is also accessible via direct buses and taxis from Howrah Junction Railway Station.
By Air: Netaji Subhash Chandra Bose International Airport is the nearest airport. One can hire prepaid taxis or rent cabs (Ola, Uber, etc) to reach the Mother House. One can also opt for private cab from top car rental companies in Kolkata during their Kolkata tour.
By Bus: Board any bus that goes towards Maniktala and Park Circus. Mother House is on the way.
Nearest Metro Station: Park Street is the nearest metro station. Mother House is located around 2kms from the metro station. One can either walk or hire taxis to reach here.
Pro Tip for visiting Mother House Kolkata
Since the Mother House is also the residence of the sisters of the missionary, one should maintain silence when present inside the premises of Mother House and its best to keep mobile phones on silent mode or switched off.
The sisters are very helpful and would be of great assistance should one need any sort of help with regards to visiting the house.
Places to visit near Mother House Kolkata
Park Street – Food Street, Bamboo Villa, St. James Church (located on the opposite of Mother House), Victoria Memorial, Birla Planetarium, St. Paul's Cathedral, Fort William, Princep Ghat and BBD Bagh are located near Mother House and can be covered as part of 1 day tour.
---
With various religious, spiritual, adventure, and educational sightseeing options, Kolkata has a lot to offer to its visitors. We at Kolkata Tourism, a division of Holidays DNA help you plan your tour to the city in the best possible manner with our Kolkata tour packages which are easily customisable. We also help you plan your trip covering all the unmissable places to visit in Kolkata based on the duration of your visit. Please fill the Contact Us form for further details.
Location Map for Mother House Kolkata