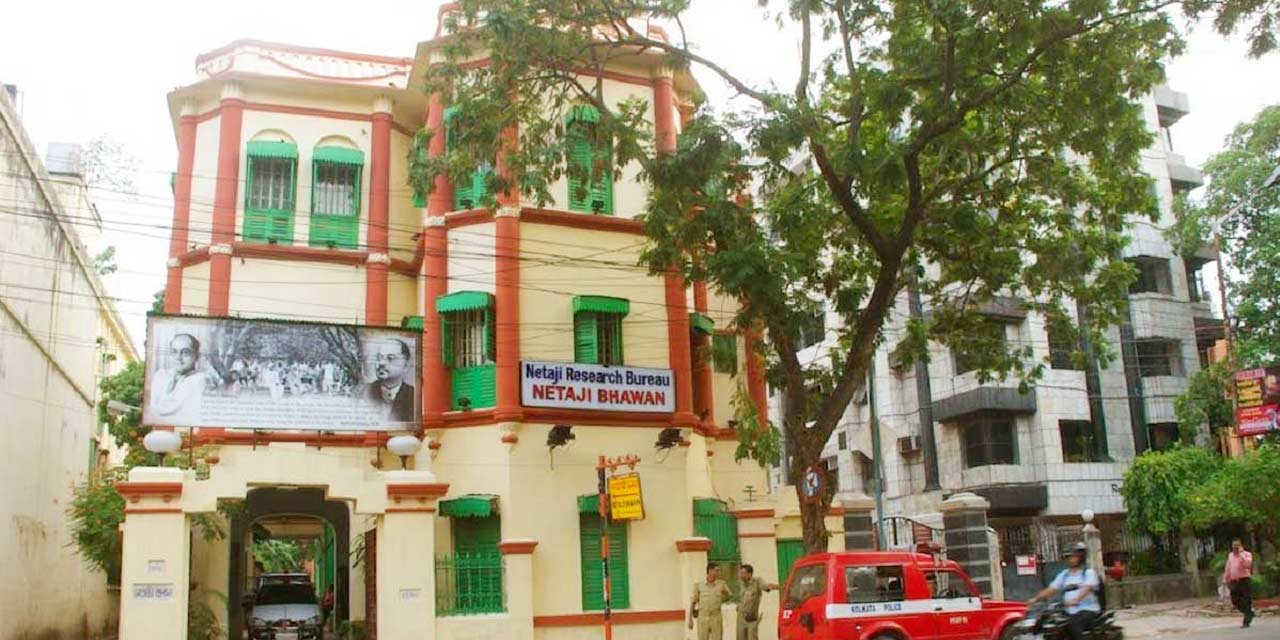 Netaji Bhawan Kolkata Entry Fee
5 per person for Adults
2 per person for Children
Netaji Bhawan Kolkata Phone
---
Rating:

| 4/5 stars
Based on total 44 reviews
Netaji Bhawan Kolkata Address: 38/2, Lala Lajpat Rai (Elgin) Sarani, Sreepally, Bhowanipore, Kolkata, West Bengal, 700020, India
Kolkata Tour Packages

Netaji Bhawan Kolkata Timings
| Day | Timing |
| --- | --- |
| Monday | Closed / Holiday |
| Tuesday | 11:00 am – 4:30 pm |
| Wedesday | 11:00 am – 4:30 pm |
| Thursday | 11:00 am – 4:30 pm |
| Friday | 11:00 am – 4:30 pm |
| Saturday | 11:00 am – 4:30 pm |
| Sunday | 11:00 am – 4:30 pm |
Note: Museum Timings : 11 am to 4:30 pm | Ticket Counter closes at 4:15 pm
Links:
Website
|
Map
---
Kolkata is known and loved for a lot of reasons. Some love it for its macher jhol and sandesh, for others it is the Mecca for exquisite lehengas, and then others are enchanted by the rich culture and heritage associated with the city.
The winds of the city bring to you not only tunes of Rabindra Sangeet but also stories that talk about the role this city played in the Indian freedom movement. When we talk about India's struggle for freedom and Kolkata, the very thing that comes to mind is the contribution of Subhash Chandra Bose who was popularly and lovingly bestowed upon the title of Netaji by the people of the country. The city remembers and pays homage to Netaji through Netaji Bhawan in Kolkata which is a museum dedicated to him.
Details and History of Netaji Bhawan Kolkata
Netaji Bhawan in Kolkata was once the ancestral residence of Netaji Subhash Chandra Bose and this fact alone is reason enough for anyone traveling to Kolkata to visit the place. But this is not the only reason that can be attributed to this place being one of the well-known tourist spots of Kolkata.
The house located on the Elgin Road of Kolkata was built in the year 1909 by Janakinath Bose, Netaji's father. In the year 1961, the building was converted into a museum dedicated to the life and work of Netaji and it was done under the administration of the Netaji Research Bureau. The museum serves as the center for the bureau now and is being maintained by the Kolkata Municipal Corporation.
The façade of this museum looks like a traditional Bengali household with pillars, porticoes, and courtyards but once you enter the building you will be transported back into the days of the Indian Independence Movement.
The entrance to the home has a plaque that bears the name of J.N Bose who was Netaji's father. When you head towards the main portico you will be able to see a replica of the INA Memorial engraved with the motto' Ittefaq. Itmad. Kurbaani'.
Collections at Netaji Bhawan Kolkata
Several artifacts at this museum have been maintained and displayed in their original condition and they include personal artifacts and furniture belonging to Sarat Chandra Bose, a large bedstead belonging to Jankinath and Netaji's bedroom on the first floor of the museum.
Even the staircase inside the house and the car which Netaji had used to escape from Berlin during the period of his house arrest are also in the original condition. Seeing these artifacts in their preserved state makes anyone visiting feel like they are witnessing snippets from his life first hand. This house used to be the epicenter of all political activities during the freedom movement. Netaji did not just stay in this house during his early years but he was a part of several such meetings in this house.
The museum displays articles, documents, and photographs that chronologically showcase Netaji's life so the visitors can live his life through the artifacts. The journey starts from when Netaji was a student at Cambridge to his days as a Swaraji.
You will get a glimpse into his life in Europe, his trips to the Andaman Islands and when he was a prisoner at Mandalay. Every landmark phase of Netaji's life has been documented here in the form of pictures and photographs.
Some of the unique items at this museum include postage stamps, German military documents that have been translated into Hindi, and Azad Hind journals. Looking at all these instill a feeling of pride and respect for Netaji's contribution to the Indian freedom movement.
There is a library inside the museum called 'Freedom Library', and it is here that you will find an extensive collection of books penned by Sarat Chandra Bose. For someone interested in learning about the freedom movement of India, this library contains periodicals that document historical events that were a part of the movement.
The museum also has an auditorium called 'Sarat Bose Hall' with a seating capacity of 115 people and it is used to organize special film-shows on Netaji and other documentaries and movies that talk about the freedom movement. An air-conditioned conference room in the building is used for both domestic and international conferences as well as for academic meetings.
Image Gallery of Netaji Bhawan Kolkata
Places to visit near Netaji Bhawan Kolkata
If you are looking for a shopping mall near Netaji Bhawan Kolkata then there is Forum Courtyard on Elgin Road itself, Central Plaza on Sarat Bose Road, Merlin Homeland Mall on Ashutosh Mukherjee Road, and Victoria Plaza on Middleton Row which are some of the popular shopping complexes. There are quite several other tourist attractions as well near Netaji Bhawan that you can visit.
1. Ahuja Art Museum: The museum is located on Elgin Road and is a walking distance from Netaji Bhawan. It is not exactly a museum but an art gallery that showcases the works of Bengali artists.
2. ISKCON Temple: The temple is also known as Sri Sri Radha Govind Mandir and is dedicated to Lord Krishna and his teachings. Beautiful idols of Lord Krishna and Radha, marvelous architecture and the serene atmosphere of the temple make it worth a visit.
3. Mother House: Missionaries of Charity's Mother House in Kolkata was set up by Mother Teresa in 1950 to extend selfless service to mankind and help those affected by the plague. After her demise in 1997, the body of Mother Teresa was laid to rest under a tomb inside the house.
4. Birla Planetarium: One of the first things you notice about this planetarium is its building which has been modeled after the Sanchi Stupa. Take a journey into the celestial world with the exhibits inside the planetarium which also organizes exhibitions and shows often.
Entry Fee and Timings of Netaji Bhawan Kolkata
The ticket price to visit Netaji Bhawan is Rs. 5 for adults and Rs. 2 for Children.
The museum is open from 11 am to 4:30 pm on all days of the week except on Mondays. The ticket counter closes at 4:15 pm.
Location and How to Reach Netaji Bhawan Kolkata
Netaji Bhawan is located at Lala Lajpat Rai Sarani in Kolkata. This road was earlier known as Elgin Road and the locals still refer to it as the same. The museum can be reached by below ways of transport:
By Air: Netaji Subhas Chandra Bose International airport is the nearest airport. After landing at the airport one can either take a bus or hire a cab from top car rental companies in Kolkata to reach the museum.
By Train: Kolkata and Sealdah are the two nearest railway stations to the museum. One can either take a taxi or bus from the railway station to reach it.
By Metro: Netaji Bhawan is the nearest Metro Railway station.
By Road: One can get down at Sarat Bose Elgin Road Crossing Bus Stop and proceed to Netaji Bhawan. One can also opt for taxi or cab for easy commutation.
---
Book an all-inclusive Kolkata tour package with us to make the most of your holiday. We at Kolkata Tourism, a division of Holidays DNA, present our clients with plenty of customized holiday packages. We also guide our customers with top tourist places to visit in Kolkata. What else do you need? Reach us out by filling the Contact Us form and we will get back to you.
Location Map for Netaji Bhawan Kolkata