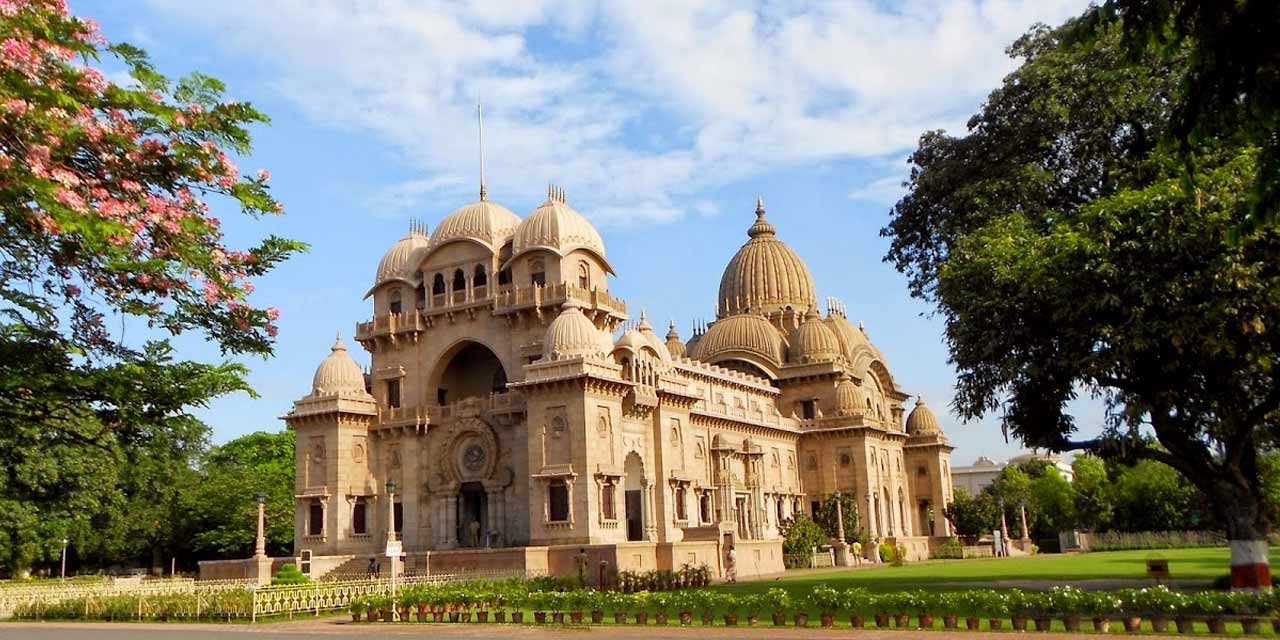 Belur Math Kolkata Entry Fee
Belur Math Kolkata Phone
---
Rating:

| 4/5 stars
Based on total 53 reviews
Belur Math Kolkata Address: Belur, Howrah, West Bengal, 711202, India
Kolkata Tour Packages

Belur Math Kolkata Timings
Day
Timing
Monday
6:00 am – 11:30 am (Apr-Sep)
4:00 pm – 8:30 pm (Apr-Sep)
6:30 am – 11:30 am (Oct-Mar)
4:00 pm – 8:00 pm (Oct-Mar)
Tuesday
6:00 am – 11:30 am (Apr-Sep)
4:00 pm – 8:30 pm (Apr-Sep)
6:30 am – 11:30 am (Oct-Mar)
4:00 pm – 8:00 pm (Oct-Mar)
Wedesday
6:00 am – 11:30 am (Apr-Sep)
4:00 pm – 8:30 pm (Apr-Sep)
6:30 am – 11:30 am (Oct-Mar)
4:00 pm – 8:00 pm (Oct-Mar)
Thursday
6:00 am – 11:30 am (Apr-Sep)
4:00 pm – 8:30 pm (Apr-Sep)
6:30 am – 11:30 am (Oct-Mar)
4:00 pm – 8:00 pm (Oct-Mar)
Friday
6:00 am – 11:30 am (Apr-Sep)
4:00 pm – 8:30 pm (Apr-Sep)
6:30 am – 11:30 am (Oct-Mar)
4:00 pm – 8:00 pm (Oct-Mar)
Saturday
6:00 am – 11:30 am (Apr-Sep)
4:00 pm – 8:30 pm (Apr-Sep)
6:30 am – 11:30 am (Oct-Mar)
4:00 pm – 8:00 pm (Oct-Mar)
Sunday
6:00 am – 11:30 am (Apr-Sep)
4:00 pm – 8:30 pm (Apr-Sep)
6:30 am – 11:30 am (Oct-Mar)
4:00 pm – 8:00 pm (Oct-Mar)
Links:
Website
|
Map
---
Situated on the west bank of the Hooghly River in north Kolkata, lies Belur Math, the headquarters of Ramakrishna Math and Mission, a representation of one universal faith. The Math celebrates all faiths equally and is visited by people from all over the world to seek spiritual fulfilment. Even the architecture of the temple speaks volumes about its non-sectarian and spiritual approach. Our erstwhile President, Dr. A. P. J. Abdul Kalam had mentioned Belur Math as the place of heritage and national importance.
Conceptualized and founded by sage Sri Ramakrishna Paramahansa's chief disciple, Swami Vivekananda at the turn of the twentieth century, the Math exercises the principal ideology of 'selfless service of God in man.' The Math is spread across an area of 40 acres, surrounded by manicured gardens and palm trees. The campus includes individual temples dedicated to Sri Ramakrishna Paramhansa, Holy Mother Sri Sarada Devi, the wife of Sri Ramakrishna and Swami Vivekananda with their respective relics enshrined and the central monastery of the Ramakrishna order.
With a rich history, impressive architecture and being a place of utmost spiritual importance, Belur Math becomes one of the most important destinations to be visited by everyone when in Kolkata. The place reflects a contrasting ambience of peace and serenity against that of other touristy places.
Architecture of Belur Math Temple
The temple is built of chunar stone and concrete, with a height of 112.5 feet spread across 32,900 square feet. The central theme and architecture of the temple is based around the vision of one universal faith, which was ideated by Swami Vivekananda. The principal architect of the temple was Swami Vijnanananda, a direct monastic disciple of Ramakrishnan.
The monument resembles a cathedral, a palace, and a mosque, all at the same time when seen from different angles. The elements of architecture has been inspired by the diversity of all Indian religions as well as from ancient styles of temples and Buddhist stupas.
The designs on high entrance of the temple is heavily influenced by motifs on the entrances at Sanchi Stupa and Gopurams of South Indian temples. The three umbrella like domes on the top resemble thatched roofs of houses in Kamarpukur village, which is the birth place of Sri Ramakrishna. The exterior walls of the temples are adorned with lattice sculptures of navagraha figurines.
While the design of the central dome is derived from European renaissance, the floor resembles the Holy Cross. Styles on windows and hanging balconies are an amalgamation of Mughal and Rajasthani architectural elements. The Natmandir or the congregation hall is attached to the main temple building and resembles St. Peter's church of Rome. The hall is lined by Greek and Doric style pillars whereas the intricate designs on the beam above and brackets are mirrored with the ones at Meenakshi temple in Madurai, Tamil Nadu, India.
The pathway for Pradakshina or circumambulation around the Garbhamandir or sanctum sanctorum, which bears semblance to Buddhist Chaityas is broad and beautiful. Both east and west entrance doors of the temple have images of Hanuman and Ganesha carved above the pillars, the Hindu deities who represent power and success respectively. The top of the central dome has a golden kalash with a full bloomed lotus underneath.
Image Gallery of Belur Math Kolkata
History of Belur Math
The pursuit of carrying forward the teachings and vision of their guru of serving humanity, Sri Ramakrishna Paramhansa, Swami Vivekananda, along with his brother-monks laid the foundation for building monasteries in India. Having returned from Colombo with a small group of western disciples in the January of 1897, Swami Vivekananda founded two monasteries, one at Belur, which went on to become the headquarters of Ramakrishna mission and the second monastery was founded at Mayavati in the Himalayan state of Uttarakhand. The sole purpose of building the monasteries was to train young monks-in-making of the monastic philosophies and way of life and then being ordained into the Ramakrishna order.
The ideas behind the architecture and design of the temple came from Swami Vivekananda's observation while he travelled across the world as a parivrajaka (wandering monk). Swamiji travelled across the length and breadth of India as well as to the Americas and Europe. He picked cues from the buildings with Gothic, Dorik, Medieval, Renaissance and Modern styles. Closer home, he was influenced by monuments like the Taj Mahal, Fatehpur Sikri palaces, the Rajput palaces, temples of Maharashtra, Gujarat, Karnataka, Orissa and other states of South India.
Swami Vijnanananda, who had been a civil engineer before becoming a monk, designed the architecture of the temple, inculcating ideas from Swami Vivekananda.
Vivekananda consecrated the ground in 1898 by worshiping the urn that contained holy relics of Sri Ramakrishna. On the day of consecration, he prophesied that "The blazing light of universal harmony that will emanate from here will flood the whole world." His words came out to be true as Belur Math has become the nucleus of spirituality movements ever since and a place of utmost interest to seekers of spirituality.
Who built Belur Math Temple: The foundation stone of the monuments was laid by Swami Shivananda on 16th May 1935. The construction of this massive structure was done by Martin Burn & Co. The monument is also mentioned as a "Symphony of Architecture" by the Ramakrishna mission.
Places to see inside the campus of Belur Math
In addition to the temples, shrines, monastery and museum, the Math complex has beautifully manicured garden and lawn lined by palm trees that enhance the serenity of the place even more.
1. Sri Ramakrishna Temple or The Main Monastery
The Ramakrishna temple is the main temple in Belur Math. Holy relics of the great sage, Sri Ramakrishna Paramhansa, who is considered as the prophet of Ramakrishnan mission has been enshrined here. The main monastery is a place where one can sit for hours in silence, meditate or chant Vedic mantras. This temple is the most peaceful place. A full size marble statue of Sri Ramakrishna seated on a hundred petalled lotus placed on a pedestal in the shape of a damaru is at the extreme end of the main building. It is here inside the marble pedestal that the relics of the great sage are preserved.
The statue was sculpted by late Gopeshwar Pal, a famed sculptor of Kolkata. The teakwood canopy above the statue is made out of teakwood commissioned from Myanmar.
2. The Old Shrine
This building is the original shrine where all disciples used to conduct prayers starting from January 1899 until the new temple was consecrated in 1935. The old shrine is located at the north- east end of the present Sri Ramakrishna temple.
3. The Swami Vivekananda Temple
The Swami Vivekananda Temple was consecrated on the 28th January 1928, and it stands at the very place where Swamiji's mortal remains were cremated. There is an alabaster "Om" in Bengali characters in the upper storey. A bel tree stands besides the temple and is of utmost significance as it stands at the same place where the old tree stood. Swamiji used to sometimes sit as well as meditate under the old tree and it was his wish that he was to be cremated besides the tree. He left his mortal body on the evening of 4th July 1902 at Belur Math after the evening prayers were concluded. Swamiji was 39 when he died, fulfilling his own prophecy of not living to be forty years old.
4. Swami Vivekananda Room
On the south east corner of the old shrine stands Swami Vivekananda's room where he lived and also attained Mahasamadhi on 4th July 1902. The artefacts preserved in this room were used by Swamiji at different places and times during his lifetime.
5. Holy Mother Temple or Temple of Sri Sarada Devi.
This temple is dedicated to Holy Mother Sri Sarada Devi, wife of the great sage Sri Ramakrishna. Her relics are entombed at this place. This temple was consecrated on 21 December, 1921. Her temple faces the Ganga as mother was fond of the sacred river.
6. Swami Brahmananda Temple
Another temple dedicated to Swami Brahmananda, one of the direct disciples of Ramakrishna and the first president of Ramakrishna Math and mission. The temple is built on the very spot where Swami Brahmananda was cremated and is located near Holy Mother's temple.
7. The Samadhi Enclosure
This is a place where earthly remains of seven out of sixteen direct disciples of Sri Ramakrishna was cremated. There is a marble plaque that has each one of their names engraved on it.
8. The Ramakrishnan Museum
The museum is a treasure trove for history buffs as it is home to personal belongings of Sri Ramakrishna, Holy Mother Sarada Devi, Swami Vivekananda, few of his disciples and direct disciples of the great sage, original letters written by and to Swamiji, several artefacts and objects closely associated with early inhabitants of the Math.
Inside the museum, there is a recreation of Panchvati- the cluster of five sacred trees at Dakshineswar Kali Temple where Ramakrishna performed his sadhana or meditation. Several important incidents from Sri Ramakrishna's life has been recreated in absolute realistic way with display of original objects that were used by the sage. Like, the day when the guru distributed saffron robes to 12 disciples and anointed Vivekananda as their leader. Two copies of charcoal sketches done by Ramakrishna is also on display along with the original tanpura that Swami Vivekananda used to play while singing to his master.
The museum also showcases a life size replica of Swami Vivekananda in front of the Chicago Art Institute where he delivered his iconic speech on "Universal Brotherhood of Religion" on 9th September, 1893 wherein he introduced Hinduism to the West while addressing the Parliament of World's Religions. Ever since Swamiji delivered that famous speech, September 11th is observed as the "Universal Brotherhood Day" worldwide.
You might also find several books about the mission and the history of it at their literature section which are meant for sale.
Additional things to do at Belur Math
Volunteer for a cause
The monks of the Ramakrishna order at the Math and mission are engaged in several philanthropic and social services, like medical, educational and rehabilitation services. One may wish to volunteer for any of the services and also may join their cultural and spiritual programs.
Pro- Tips
The evening aarti or prayers at the Math is a delight to watch. Since people are prohibited from strolling outside the temple premises during the evening prayer, a bell is rung that indicates visitors to join the aarti inside. The time of the aarti is 5:30 PM.
If you are in Kolkata around Christmas time, a visit to Belur Math is a mandate. Christmas is celebrated with great fervour at the Math with Christmas carols being sung and the Bible reading sessions also take place.
Being a representation of one universal faith, all festivals are given equal importance and celebrated with same energy. The environment gets pretty impressive during festivals at the Math.
Time to cover Belur Math
The minimum time one needs to cover the entire premises is 2 hours. If you wish to engage in meditation inside the main monastery and go through every place in detail, it could take anywhere between 3- 4 hours.
Visiting Hours and Entry Fees at Belur Math
Math Timings
The Math is open all days
April to September – 6:00 AM to 11:30 AM and 4:00 PM to 8:30 PM
October to March – 6:30 AM to 11:30 AM and 4:00 PM to 8:00 PM
Museum Timings
The museum is open Tuesdays to Sunday and closed on Mondays and selected public holidays
April to September - 8:30 AM to 11:30 AM and 4:00 PM to 6:00 PM
October to March - 8:30 AM to 11:30 AM and 3:30 PM to 5:30 PM
Entry Fee - There is no entry fee for the Math
Note - Photography is strictly prohibited inside all temples and museum in Belur Math
How to Reach Belur Math
Belur Math is 4 km from Howrah station towards north. One may either use bus, local train or ferry services to reach Belur Math
By Bus: From Howrah Station - Bus numbers 51, 54 and 56 drop you at the math
From Garia/EM Bypass/Science City/ Airport/Dakshineshwar/Bally – Bus number AC 50
Minibuses also ply from Esplanade and Howrah Station to Belur math
Alternatively, you can book a private cab from top car rental companies in Kolkata for a hassle free commutation within the city and enjoy all the popular sightseeing places of Kolkata.
By Local Train: There are frequent trains between Howrah and Belur as well as Belur Math stations. The only drawback to travel by train is that it takes another half an hour to reach the math from station.
By Ferry: There are frequent ferry services at half an hour interval between Dakshineswar and Belur Math and also, between Kuntighat and Belur Math.
---
We at Kolkata tourism, a division of Holidays DNA, help you make the most of your holiday with a wide variety of Kolkata tour packages. Our team of experts carefully design the travel packages suiting to your budget. You can avail the best deal at the competitive prices. What else do you need? Just pack your bags and get set go!
Please fill out the Contact Us form to know more about the packages.
Location Map for Belur Math Kolkata