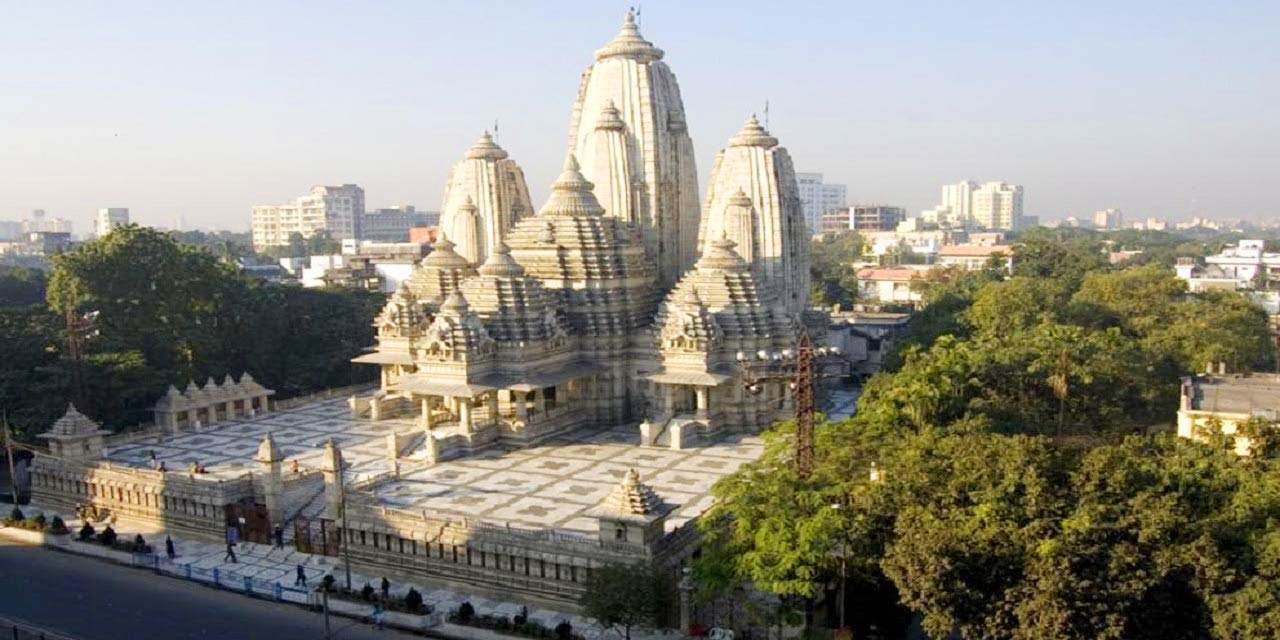 Birla Temple Kolkata Entry Fee
Birla Temple Kolkata Phone
---
Rating:

| 4/5 stars
Based on total 55 reviews
Birla Temple Kolkata Address: 29, Ashutosh Chowdary Ave, Ballygunge, Opposite Ballygunge Post Office, Ballygunge, Kolkata, West Bengal, 700019, India
Kolkata Tour Packages

Birla Temple Kolkata Timings
Day
Timing
Monday
5:30 am – 11:00 am
4:30 pm – 9:00 pm
Tuesday
5:30 am – 11:00 am
4:30 pm – 9:00 pm
Wedesday
5:30 am – 11:00 am
4:30 pm – 9:00 pm
Thursday
5:30 am – 11:00 am
4:30 pm – 9:00 pm
Friday
5:30 am – 11:00 am
4:30 pm – 9:00 pm
Saturday
5:30 am – 11:00 am
4:30 pm – 9:00 pm
Sunday
5:30 am – 11:00 am
4:30 pm – 9:00 pm
Links:
Website
|
Map
---
Being an exemplary work of art, Birla temple of Kolkata is one of the finest artworks and beauty of the city. Located on the Ashutosh Chowdhury Avenue, Ballygunge Road in South Kolkata, the Birla Temple is synonymous to Kolkata's cultural lineage.
The temple was set up in 1996 and has been attracting numerous visitors ever since. It was built by the industrialist Birla family and took 26 years to complete. The temple was opened for public in 1996.
The Janmashtami day sees visitors from all over to pay respects and offer prayers.
History of Birla Temple Kolkata
The construction of the Birla temple of Kolkata began in 1970 and it took 26 long years to complete it. The temple was built by the 'Birla Family', an illustrious and famous industrialist family of India. The sanctum sanctorum was inaugurated on 21st February 1996 by Dr. Karan Singh while the Pran Pratishtha ceremony of the idols was conducted by Swami Chidanandaji Maharaj.
Image Gallery of Birla Temple Kolkata
Architecture of Birla Temple Kolkata
Birla Temple of Kolkata is a 20th-century magnificent structure built in white marble and cream-colored sandstone, reflecting Rajasthani architecture. The temple is consecrated to the Hindu God Lord Krishna and his consort, Radha.
The style of the temple is a mix of both modern and contemporary and resembles the Lingaraj Temple of Bhubhaneshwar. The temple also holds spaces for other Gods, Shiva, Durga, and Shakti. The left side dome of temple houses Godesses Durga and Shakti whereas the right dome of the temple houses Lord Shiva in meditation mode.
Verses and Shlokas along with visually appealing pictorial depictions from Bhagavad Gita are engraved on the walls on the marble cravings. Exquisite chandeliers and electric diyas adorn the ceilings, an attestation of ultimate artwork that adds excellent luster and shine to the interiors.
Standing tall at 160 feet and spread across an area of around 2,940 square meters of land, the colossal structure was designed by Nomi Bose. The three corn-cob-shaped towers are more impressive for their size than their carvings, whereas, the courtyards are a nice place to sit and spend some time in quiet contemplation.
There's a state-of-the-art auditorium adjacent to the temple complex called GD Birla Sabaghar that often hosts musical programs and other performances.
Birla Temple Kolkata Entry Fee and Timings
There is no entry fee to visit Birla Temple.
The temple remains open between 5:30 AM to 11:00 AM and 4:30 PM to 9:00 PM
How to Reach Birla Temple Kolkata
The Birla temple is accessible from all parts of the city. One can either hire a taxi or board a local bus to reach the temple or book a cab from top car rental companies in Kolkata.
Birla Temple Kolkata Nearest Metro Station: Rabindra Sadan, Maidan Metro and Kalighat metro stations are nearest metro stations. One can hire a taxi or rickshaw to reach the temple premises from these metro stations.
Pro Tips for visiting Birla Temple Kolkata
Photography and videography are strictly prohibited inside the temple premises
Cameras and phones are not allowed
Best time to visit is early morning and after dusk during the evening aarti
---
For those who wish to explore the important tourist attractions of Kolkata in a hassle free manner, Kolkata Tourism, a division of Holidays DNA offers Kolkata Tour packages at affordable rates. You can choose the package according to your preference and have a memorable trip to the City of joy. Please fill the Contact Us form for more details.
Location Map for Birla Temple Kolkata