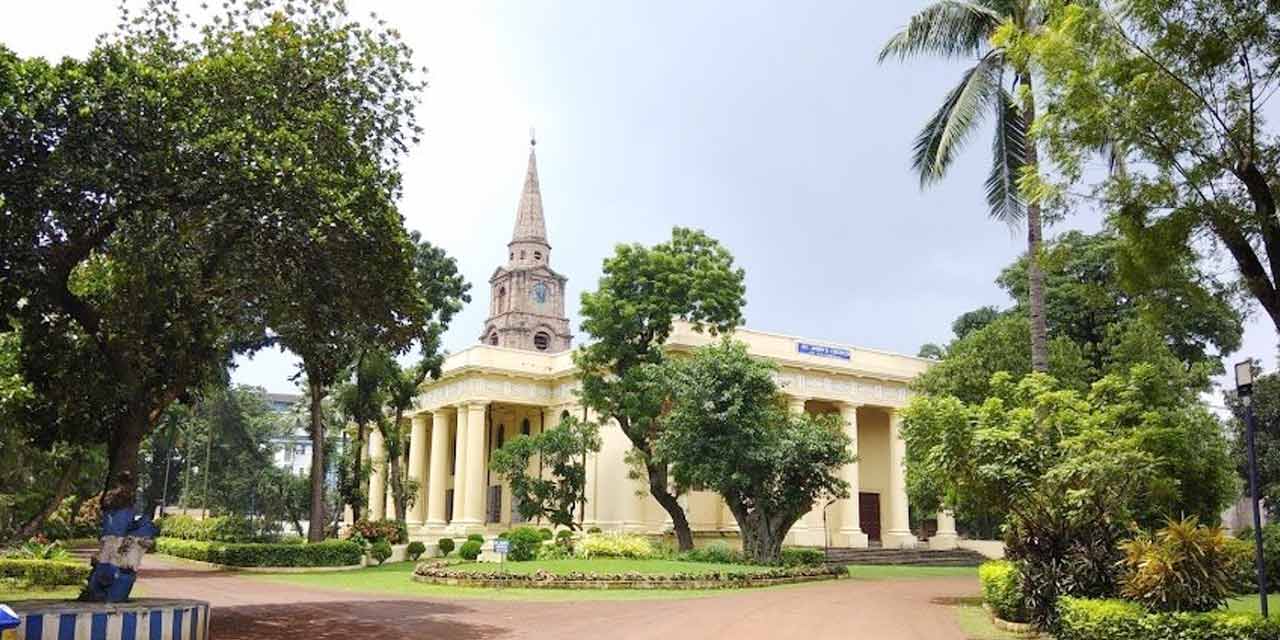 St. John's Church Kolkata Entry Fee
St. John's Church Kolkata Phone
---
Rating:

| 4/5 stars
Based on total 54 reviews
St. John's Church Kolkata Address: 2/2, Council House Street, Opp Dewars Garage, Lal Dighi, BBD Bagh, Kolkata, West Bengal, 700001, India
Kolkata Tour Packages

St. John's Church Kolkata Timings
| Day | Timing |
| --- | --- |
| Monday | 8:00 am – 5:00 pm |
| Tuesday | 8:00 am – 5:00 pm |
| Wedesday | 8:00 am – 5:00 pm |
| Thursday | 8:00 am – 5:00 pm |
| Friday | 8:00 am – 5:00 pm |
| Saturday | 8:00 am – 5:00 pm |
| Sunday | 8:00 am – 5:00 pm |
Note: St. John's Church Kolkata Worship Timings : 8 am to 9:00 am
Links:
Website
|
Map
---
Kolkata is a city of diverse cultures and religions and it is reflected in the tourist attractions of the city. There are temples, mosques and even churches that beckon tourists who are in the city to experience the zestful vibes that the city gives out. St. John's church Kolkata, which is also known as Stone Church or Pathure Girja, in Kolkata West Bengal is one such place that transports you back to the colonial days.
St. John's Church is one of the oldest churches in the city and was built during the days when Kolkata used to be the British capital. This church was the Anglican cathedral from 1815 till 1847 when St. Paul's Cathedral got that designation.
The neoclassical style architecture of St. John's Church in Kolkata is characterized by tall ceilings, columns, and pillars. This attracts architecture enthusiasts while the rich history attached to the church beckons history buffs and tourists.
The church is flanked by lush green gardens dotted with tall trees: a sight that instantly gives you a soothing feeling even before you enter the church which encourages the visitors to maintain silence and sit in peace.
History of St. John's Church Kolkata
The church is built on land that was donated by Maharaja Nabo Kishen Bahadur and construction of the church began in the year 1784. A sum of thirty thousand rupees was raised through a public lottery system for the construction of the church.
Warren Hastings who was the Governor-General of India at that time had laid the foundation stone of this church in 1784 and it was open for the public in 1787. This land used to be an old burial ground that had not been in use since 1767 and had graves of the founder of Kolkata, Job Charnock and his family among others.
Though the church was built on top of the mausoleums, the remains of the deceased had been removed before that. Visitors to the church can see tombstones at the premises which lend the church an old-world charm. Only the remains of Lord Charnock and his family were retained at the grounds. The only other grave at the church apart from these belongs to Lady Canning, who was the wife of the Governor-General and Viceroy of India, Charles Canning.
Image Gallery of St. John's Church Kolkata
Architecture of St. John's Church Kolkata
The church is made out of brick and stones and the outside of the church is a pale yellow color with white pillars. The stones used for building this church came from the ruins of Gour and were considered a rare find.
It has stained glass windows that add a hint of color to it while tall pillars, magnificent arches, and domes add to its ethereal beauty. A 174-foot tall spire with a massive clock is the tallest part of this church. The entrance to the church is marked with tall columns that look very impressive.
The walls of the church are adorned with beautiful religious paintings and ornate wood and marble carvings add to its opulence. One of the paintings that is sure to catch your fancy is 'The Last Supper' presented by John Zoffany to the church. There are several plaques dedicated to Indian and British civil servants at this church.
An interesting feature of St. John's Church Kolkata is the Black Hole Monument. It is a memorial in honor of the British prisoners of war who had died in the Black Hole tragedy. When Calcutta was seized, Nawab Siraj Ud-Daulah had taken 146 British prisoners and only 23 out of them had survived. John Holwell, a survivor who later became the Governor of Bengal, built this memorial which was moved to the church compound in the 1940s.
Entry Fee and Timings of St. John's Church Kolkata
St. John's Church timings are from 8 am to 5 pm on all days of the week. The prayer timings are from 8 am to 9 am.
There is no entry fee to visit the Church.
Location and How to Reach St. John's Church Kolkata
St. John's Church is located at Council House Street to the North-west corner of Raj Bhavan, Kolkata, West Bengal. It is at a walking distance from Raj Bhavan. The nearest metro station is Esplanade Metro Station. The nearest bus stop is Esplanade Bus Terminus or Raj Bhavan bus stop and from there one can walk to the church.
For those who wish to have a relaxed holiday, they can opt for a private cab from top car rental companies in Kolkata and visit all tourist attractions comfortably.
---
We at Kolkata Tourism, a division of Holidays DNA help you plan your tour to the city in the best possible manner with our Kolkata tour packages which are easily customisable. Please fill the Contact Us form for further details.
Location Map for St. John's Church Kolkata