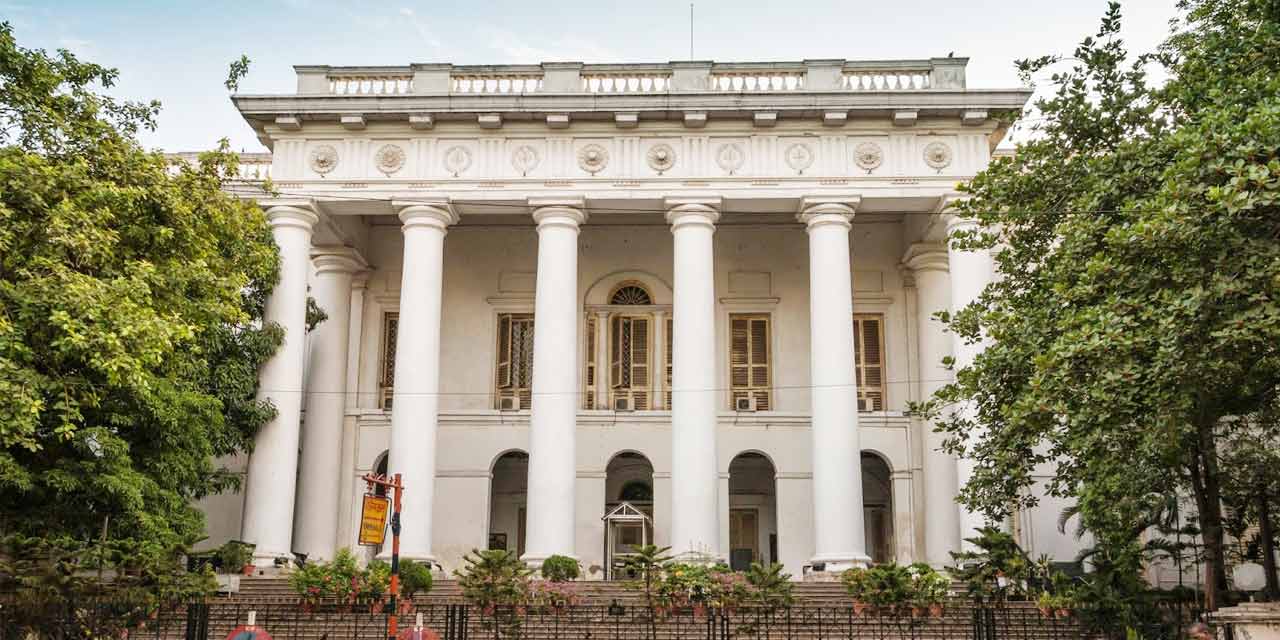 Town Hall Kolkata Entry Fee
Tuesday To Friday

10 per person



Saturday,Sunday & Other Holidays

15 per person
5 per person School Group
Town Hall Kolkata Phone
---
Rating:

| 4/5 stars
Based on total 52 reviews
Town Hall Kolkata Address: Esplanade Row West, Bbd Bagh , Kolkata, West Bengal, 700001, India
Kolkata Tour Packages

Town Hall Kolkata Timings
| Day | Timing |
| --- | --- |
| Monday | Closed / Holiday |
| Tuesday | 11:00 am – 6:00 pm |
| Wedesday | 11:00 am – 6:00 pm |
| Thursday | 11:00 am – 6:00 pm |
| Friday | 11:00 am – 6:00 pm |
| Saturday | 11:00 am – 6:00 pm |
| Sunday | 11:00 am – 6:00 pm |
Note: Town Hall Kolkata Tickets available from 11.00 O'clock morning to 5.00 O'clock Evening.
Links:
Website
|
Map
---
History is a major aspect that remains woven into the several layers in the city of Kolkata. Almost every corner of the city will transport you to historical times of India such as the British Raj. One such instance of history is the Town Hall in the city, that happens to be one of the most important heritage buildings. It used to be an important location for the British government for hosting meetings, balls, receptions, among other things.
History of Town Hall Kolkata
Town Hall was constructed by the British architect Colonel John Garston with a total expenditure of Rs. 700,000 that was raised through a public lottery. The construction began in the year 1807 but it took close to seven years to be completed in the year 1814.
The main motive behind erecting such a magnificently artistic structure was to give the Europeans a venue to host their various social gatherings. Partially accessible to the public, a special committee was formed that governed the administration of the hall under specific terms and conditions.
Visits could be paid to the ground floor to see paintings and statues but the upper floor was off-limits to anyone who was not a member.
The Town Hall came under the control of the Calcutta Municipality in the year 1867 following renovations in the next thirty years. Post-independence of India in the year 1947, witnessed the Town Hall in dilapidation. Although proposals for demolition were raised, funds were gathered through auctioning of paintings and external support for its restoration.
It was then finally opened to the public, completely. Memorable moments occurred within the walls of the Town Hall such as the celebration of Rabindranath Tagore's 50th and 70th birthdays, Acharya Jagadish Chandra Bose unveiling his experiment on wireless communication and Amartya Sen delivering lectures, among others.
Architecture of Town Hall Kolkata
The foundation stone for the Town Hall was laid by the then Governor-General of British India, Lord Minto. Large steps lead you up to a grand portico of a building built in the Doric style of architecture. It is an amalgamation of neoclassical and Palladian, imitation of the majestic Roman Senate.
It is a two-stories building that covers an area of about twelve-thousand square metres. There is an entrance through which carriages came in and that is behind the building, under a lofty covered portico.
The upper floor of the building was usually used to host the Europeans' social gatherings while the ground floor was left open to the public for viewing their various, curated artworks. The ceiling to the upper floor was made of teak and was about thirty-feet high.
The occupancy in the Town Hall shifted hands to the municipal authority's Justice for Peace and Improvement of the Town department, then the Bengal Legislative Council, temporary rationing office during the Second World War, Municipal Magistrate's Office, Municipal Service Commission and West Bengal Public Service Commission. Today it houses a museum, venue to host gatherings and a library accessible to the public.
Image Gallery of Town Hall Kolkata
Things to do at Town Hall Kolkata
Town Hall's rich heritage requires a meticulous and intricate visit to the building. There are three main things that can be done at the Town Hall and each is no less of a magnificent experience than the other. These include:
1. Museum
In the year 2002, a museum in the Town Hall was opened to the public and was called Kolkata Panorama. The name says it all. It gives you a panoramic view of the city of Kolkata, an overview of its rich history, right from its inception.
The museum contains about nineteen enclaves depicting the city of Kolkata in the fields of social, political and socioeconomics, freedom movement, along with the city's rich intellect.
Kolkata has been known for her generous contributions in the fields of Art, Science, Technology, Education, Literature, Music and Performing Arts. This history is illustrated to the public through virtual reality, animated shows, crafts villages, etc. making it a popular attraction for kids and adults.
2. Library
The Calcutta Municipal Corporation in 1999 purchased all of the books on Kolkata from a Kolkata expert, P. T. Nair to make a reference library. In 2004, this library was opened by the Ministry of Library Services and was finally amalgamated to the collection in the Town Hall in the year 2007.
Ever since, the library has become a noted landmark for scholars and researchers from all over the world. Some of the collections include; The Diary of William Hedge, Catalogue of the Pictures and Sculptures in the collection of the Maharaja Tagore, Charles Moor – The Sheriffs of Fort William from 1775 to 1926 among others. There are also biographies, Journal of the Asiatic Society, Calcutta Municipal Gazette, among others.
3. Venue
Along with a museum and library, the Town Hall also hosts educational seminars and lectures every year organised by the Government of West Bengal. The aim is to disseminate knowledge and education of the rich history of Kolkata and India to the public, mainly school students. If you are visiting the Town Hall, you might be able to attend one of these highly enriching events.
Entry Fee and Timings of Town Hall Kolkata
Town Hall is open from 11:00 am to 6:00 pm from Tuesdays to Sundays. It is closed on Mondays.
The entry fee to visit Town Hall is Rs. 10 from Tuesday to Friday and Rs. 15 during weekends. For schools visiting in groups, the tickets are priced at Rs. 5 per student. Entry tickets are available till 5:00 PM in the evening every day.
Location and How to Reach Town Hall Kolkata
Town Hall is located in BBD Bagh on Esplanade Row. There are several modes of transport to reach Town Hall:
Bus: Several local buses from various parts of the city can take you to Town Hall. The nearest bus stops are Babughat, Akashwani Bhawan and Netaji Indoor Stadium from where it is a one-minute, four-minute and five-minute walk respectively.
Metro: You can also avail metro services but you need to get off at any of the three stops: Esplanade, Chandni Chowk or Central. You have to take a bus or cab from these stations to Town Hall.
Tram: For a complete old Kolkata feel, you can try tram rides to Town Hall. The nearest tram stops are Hastings and Esplanade Tram Depot. You have to take a bus from there to Town Hall.
Ferry: You can also avail ferry rides to Town Hall. You need to arrive at Babughat Ferry Station, walk about a minute or so and you'll reach your destination.
Cab: If you are looking for a relaxed, comfortable ride or you are travelling in a big group, a cab might be the most comfortable mode of transport to Town Hall. Local cabs in the city or app cabs can take you to Town Hall. For your entire Kolkata tour, you can also opt for a cab from top car rental companies in Kolkata.
Places to visit near Town Hall Kolkata
The prime location of the Town Hall gives it access to several other places to visit in and around the area. BBD Bagh is known to be one of the most historically rich areas of the city, with respects to the surrounding areas of Esplanade, Maidan, Chandni, et all. There are several other places nearby that you could pay a visit during your day out to the Town Hall. These include:
1. St. John's Church: This church was originally a cathedral. It gained popularity for its historical significance. This was one of the first buildings founded and established by the East India Company, during the British Raj, shortly after Kolkata was titled as the capital of British India.
2. Eden Gardens: The spirit of Kolkata and its citizens lie in their passion for sports such as cricket and football. Eden Gardens is the pride of Kolkata, erected as the cricket capital of the city. Known as the Mecca of Indian Cricket, it is the oldest cricket stadium in India.
3. Indian Museum: Lose yourself in the glamour of India's glorious past. Indian Museum is the second largest museum in India and one of the oldest. It has rare collections of antiques, armours, paintings, sculptures, and so much more. You are bound to lose yourself in the museum.
4. New Market: Experience complete retail therapy in the city's most happening and busy section. There is a saying that there is nothing in the world that you will not find in New Market. It is the oldest and largest market in the city and is home to everything; beginning with fancy clothes, electronics, toys, home décor and high-end cameras and gadgets at dirt-cheap prices.
---
Kolkata can rightfully be referred to as an abode to Indian history. The charm in paying visits to locations such as these lies in the fact that not only are they extremely educational, they also come with ample other things to do during your day out.
Town Hall is one such place to visit with the assurance of it being a day of absolute fun. Stroll down the museum, flip through absolute treasure in the library, attend a seminar and round the day up by shopping at New Market, and gorging on some delectable street food at Esplanade.
There are a number of places to visit in Kolkata and to help you plan your Kolkata tour in a better way, we at Kolkata Tourism, a division of Holidays DNA offer all-inclusive Kolkata Tour packages at affordable rates. Please fill the Contact Us form for further details.
Location Map for Town Hall Kolkata