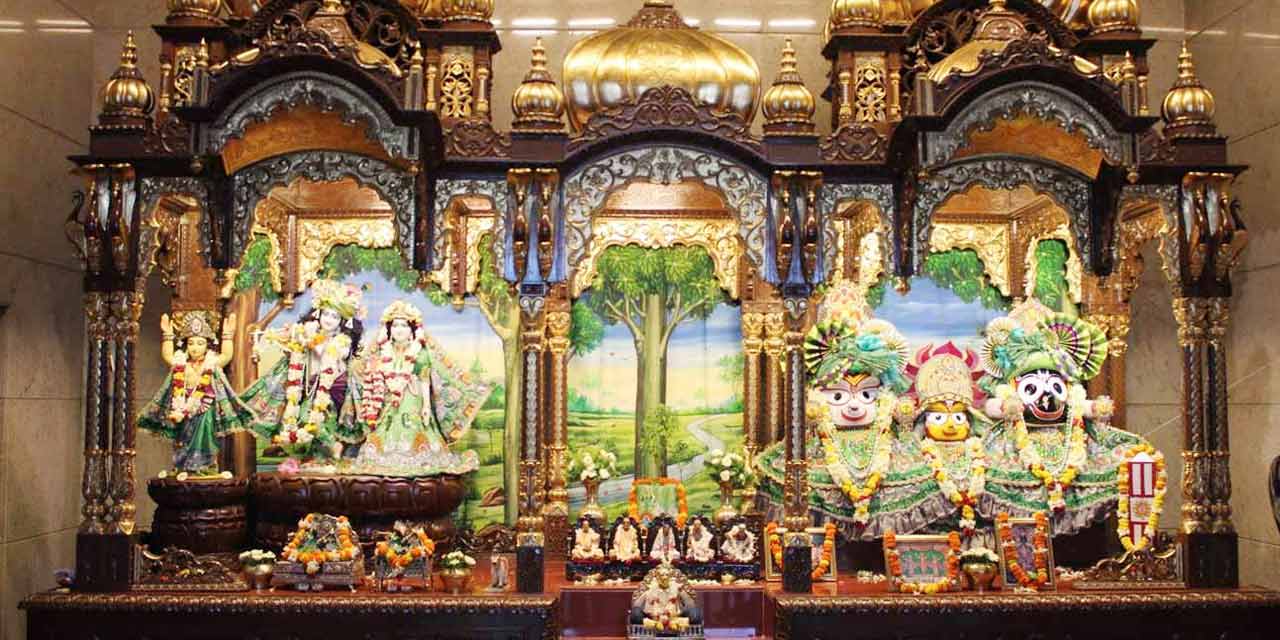 ISKCON Radha Govinda Temple Kolkata Entry Fee
ISKCON Radha Govinda Temple Kolkata Phone
---
Rating:

| 4/5 stars
Based on total 57 reviews
ISKCON Radha Govinda Temple Kolkata Address: 3c, ground floor, Uttam Kumar Sarani, Opposite Birla High School, Minto Park, Elgin, Kolkata, West Bengal, 700017, India
Kolkata Tour Packages

ISKCON Radha Govinda Temple Kolkata Timings
Day
Timing
Monday
4:30 am – 1:00 pm
4:00 pm – 8:30 pm
Tuesday
4:30 am – 1:00 pm
4:00 pm – 8:30 pm
Wedesday
4:30 am – 1:00 pm
4:00 pm – 8:30 pm
Thursday
4:30 am – 1:00 pm
4:00 pm – 8:30 pm
Friday
4:30 am – 1:00 pm
4:00 pm – 8:30 pm
Saturday
4:30 am – 1:00 pm
4:00 pm – 8:30 pm
Sunday
4:30 am – 1:00 pm
4:00 pm – 8:30 pm
Links:
Website
|
Map
ISKCON Radha Govinda Temple Kolkata Darshan Timings
| Morning | Evening |
| --- | --- |
| 4:30 am to 5:00 am | 4:00 pm to 6:00 pm |
| 7:30 am to 8:00 am | 6:15 pm to 8:00 pm |
| 8:15 am to 11:45 am | 8:15 pm to 8:30 pm |
| 12 noon to 1:00 pm | |
---
ISKCON Kolkata Radha Govinda Temple, a temple dedicated to Lord Krishna and his love interest and consort, Goddess Radharani is commonly called as ISKCON Kolkata, and is one of the major attractions in Kolkata.
The ISKCON Kolkata is the first Iskcon centre established in India by A.C.Bhaktivedanta Swami Prabhupada around 1970. The temple focusses on spreading the teachings of Lord Krishna and promotes vedic and spiritual teachings.
There are many programs held by the ISKCON and their youth empowerment programs are quite a hit among the youths. Many working youths live together and participate in systematic spiritual training programs as well as practice Krishna consciousness at Youth of Gods Abode center (YOGA) called Bhaktivedanta YOGA. The other programs include Bhakti Vriksha that devotees hold at their homes.
The basic idea behind the formation of ISKCON was to spread Bhakti Yoga, a spiritual path mentioned in the Holy scriptures of Bhagwad Geeta and Bhagwad Purana, with the aim to follow Lord Krishna, who is considered one Supreme Lord.
It was the Brahma Madhav Gaudiya Vaishnava clan that followed ISKCON since the 16th century. Only after looking at the values and teachings that it imparted, other sects started taking notice and started following the teachings of ISKCON gradually.
History of ISKCON Radha Govinda Temple Kolkata
The principle founder of ISKCON, A.C.Bhaktivedanta Swami Prabhupada, fondly known as Srila Prabhupada was born in Kolkata in 1896. He was born on the day of Nandotsav, which is celebrated as Lord Krishna's birthday to parents who themselves were great devotees of the Lord and his beloved and consort, Goddess Radharani.
Srila Prabhupada travelled all over the world setting up temples or ISKCON centres, the first one was in New York in 1966. In New York, he established the culture of Krishna consciousness and also gained a lot of devotees.
He succeeded in establishing 108 ISKCON centres all around the world before he returned to India in 1970 to set up the first ISKCON centre of India at his own birthplace, Kolkata. Hence, the first ISKCON was built in Kolkata at 3C Albert Road near Minto Park.
During that time, Srila Prabhupada had been accompanied by his westerner disciples who had their heads shaved with sikhas, donned saffron robes, Vaishnava tilaks on foreheads and played mridangs and karatalas. They chanted 'Hare Krishna' and sang verses in Sanskrit, performing Sankirtan at various places of prominence within the city like Dalhousie Square, Chowringee, etc.
It was in May 1971 that the first deity was established at ISKCON Kolkata and worshipping of the Lord commenced. The first Rath Yatra in Kolkata was arranged in 1972 by ISKCON and has become a regular annual affair ever since. The route of the first Rath Yatra procession began from 3C Albert Road to Mallick's Thakurbari at 12 M.G Road and was attended by thousands of devotees.
Festivals at ISKCON Radha Govinda Temple Kolkata
1. Janmashtami
The birth of Lord Krishna is celebrated grandly at the temple. What begins with the early morning mangal aarti, continues throughout the day as devotees keep visiting for darshan and seek blessings from the Lord.
A 108-course meal is specially prepared as an offering to the deity and the idols of Jagannath, Radha and Balram are decorated in colourful clothes. Free meals are served to the devotees as prasad along with cultural programs being organized.
2. Ramnavami
Ramnavami is the birthday of Lord Rama and is one of the many festivals celebrated with grandeur at ISKCON Kolkata. The idols of Gods are dressed as Rama and Lakshmana, while the Goddess's idol is dressed as Sita and a narration of Ramayana for the devotees is conducted.
3. Radhashtami
Radhashtami is celebrated at the ISKCON in honour of the most beloved devotee of Lord Krishna, who is also his consort. There are prayers, flowers, garlands offered to the Goddess and devotees seek blessings.
4. Chandan Yatra
Organized during the summers, as the name suggests, Chandan Yatra is all about offering sandalwood along with flowers and garlands. The idols are covered in sandalwood paste made out of 100 kilograms sandalwood, for 21 long days to provide respite from the scorching summer heat post which, they are taken out for procession at the temple pond. Barley is the principal ingredient in food and offerings as well as barley is considered to be auspicious.
5. Jhulan Yatra
Jhulan Yatra is the five-day swing festival celebrated during the Hindu month of Shravan (monsoon). Apart from the cultural and spiritual festivities that include bhajans and kirtans, the idols of Lord Krishna and Goddess Radharani are put on a decorated swing. It all seems like a recreation of the good old times during the romantic times spent by Radha and Krishna in Vrindavan.
6. Kartik Masa
The Hindu month of Kartik (overlapping between October and November) is an auspicious month with offerings of sweets, fruits, and flowers. Ghee lights are lit and the Tulsi plant is worshipped. Devotees donate wholeheartedly during this month.
7. Geeta Jayanti
The day when Lord Krishna narrated the Bhagwad Geeta to Arjuna at Kurukshetra, before the great war of Mahabharata. The day was the 11th day of Hindu month of Margashirsha.
Image Gallery of ISKCON Radha Govinda Temple Kolkata
Tours arranged by ISKCON Radha Govinda Temple Kolkata
There are two tours organized by ISKCON Kolkata, The Kolkata Tour and The Mayapur Tour both of which are spiritual tours. The tours can be booked on ISKCON Kolkata's official website.
1. Mayapur Tour
Being the homeland of Sri Chaitanya Mahaprabhu who initiated the Hare Krishna movement, Mayapur is a spiritual destination located on a quaint little island called Antardweep and is 130 Kilometers away from the city centre. ISKCON Kolkata's Mayapur tour also includes a day trip to Gangasagar, to witness the Gangasagar Sangam and back to Mayapur.
2. Kolkata Tour
The Kolkata tour organized by ISKCON Kolkata includes visiting all places important to the founder Srila Prabhupada like a lifetime memory trail from his life. It is a guided tour that includes visit to his exact place of birth, his school and the college he attended, the home where he resided when he came to India, etc.
Timings and Entry Fee of ISKCON Radha Govinda Temple Kolkata
Darshan Timings at ISKCON Kolkata:
4:30 AM to 5:00 AM
7:30 AM to 8:00 AM
8:15 AM to 11:45 AM
12:00 PM to 1:00 PM
4:00 PM to 6:00 PM
6:15 PM to 8:00 PM
8:15 PM to 8:30 PM
There is no entry fee to ISKCON Kolkata
Srila Prabhupada's Residence Beside ISKCON Radha Govinda Temple Kolkata
Whenever Srila Prabhupada visited Kolkata, his residence used to be at 3C Albert Road in a small room adjacent to the temple. He used to meet visitors and disciples, instruct them on future plans of ISKCON and many important decisions were taken from his room.
His belongings like his typewriter, his dictating machine, an old picture of his spiritual master, Bhaktisiddhanta Sarasvati and Srimad Bhagwatam are all still preserved and are displayed as exhibits.
How to Reach ISKCON Radha Govinda Temple Kolkata
Due to its location at the center of the city, ISKCON Kolkata is very easy to reach as public transport is available from every part of the city.
Nearest Railway Station: Sealdah Railway Station and Howrah Junction. From Sealdah railway station, one can board any bus going towards Mullick Bazar and get down at Minto Park. The temple is at a walking distance from Minto park.
Nearest Airport: Netaji Subhash Chandra Bose International Airport. One can hire prepaid taxis or rent cabs (Ola, Uber, etc.) to get to the temple from the airport.
You can also book a cab from top car rental companies in Kolkata and visit all the popular sightseeing places of Kolkata during your city tour.
---
Kolkata Tourism, a division of Holidays DNA helps you to explore the best of Kolkata with its Kolkata Tour packages that are easy on your pocket. To know more about the various packages, please fill the Contact Us form and we will get back to you.
Location Map for ISKCON Radha Govinda Temple Kolkata