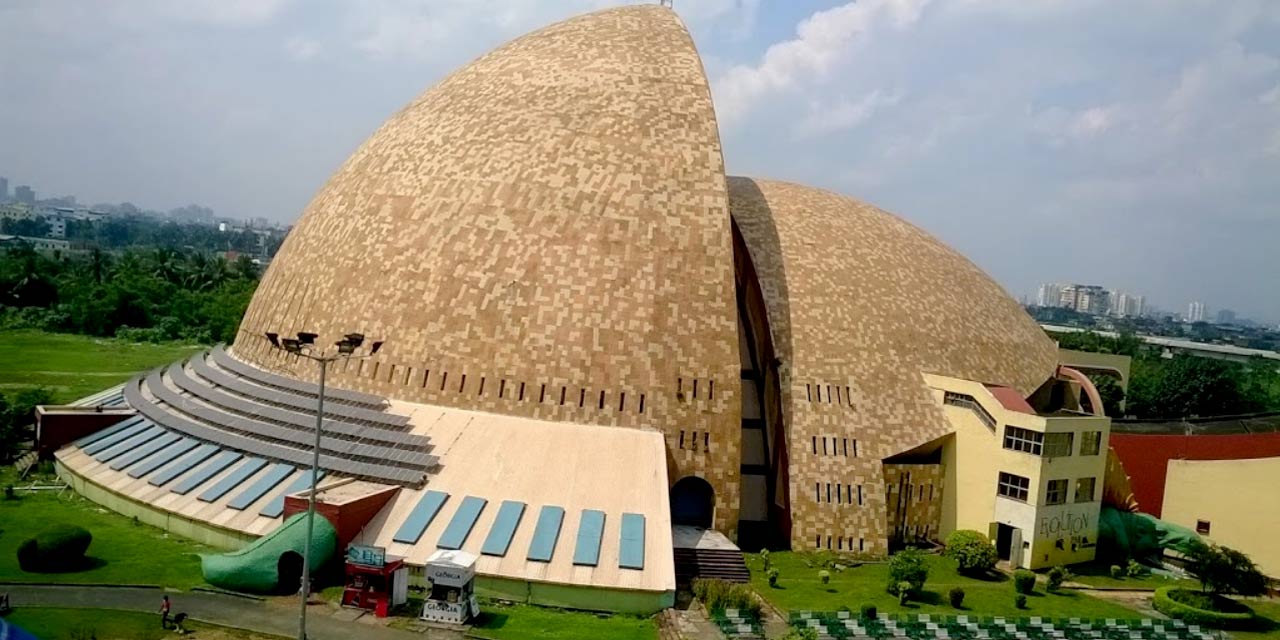 Science City Kolkata Entry Fee for General Visitors
| | |
| --- | --- |
| Entry | Rs. 65.00 per person |
| Evolution of Life – A Dark Ride | Rs 45.00 Per Person |
| PANORAMA ON 'HUMAN EVOLUTION' | Rs 60.00 Per Person |
| Combined Rates for 'Dark Ride' and 'Human Evolution': | Rs 85.00 Per Person |
| Science on a Sphere new | Rs 40.00 Per Person |
| Space Theatre 2D | Rs 80.00 Per Person |
| Space Theatre 3D | Rs 100.00 Per Person |
| 3D Show: | Rs. 30.00 Per Person |
| Time Machine: | Rs 40.00 Per Person |
| Road Train: | Rs. 25.00 Per Person |
| Ropeway: | Rs. 60.00 |
Science City Kolkata Entry Fee for Organized Group
Entry
Rs. 55.00 per person
Space Theatre 2D
Rs 70.00 Per Person
3D Show:
Rs. 25.00 Per Person
Ropeway:
Rs. 48.00 Per Person
Science City Kolkata Entry Fee for Organized School Groups
| | |
| --- | --- |
| Entry | Rs. 30.00 per person |
| Evolution of Life – A Dark Ride | Rs 40.00 Per Person |
| PANORAMA ON 'HUMAN EVOLUTION' | Rs 60.00 Per Person |
| Combined Rates for 'Dark Ride' and 'Human Evolution': | Rs 80.00 Per Person |
| Science on a Sphere | Rs 40.00 Per Person |
| Space Theatre: | Space Theatre is closed for upgradation |
| 3D Show: | Rs. 30.00 Per Person |
| Ropeway: | Rs. 28.00 Per Person |
Science City Kolkata Entry Fee for Under Privileged Groups
Entry
Rs. 5.00 per person
Science on a Sphere
Rs 5.00 Per Person
Space Theatre:
Space Theatre is closed for upgradation
3D Show:
Rs. 10.00 Per Person
Ropeway:
Rs. 28.00 Per Person
For Below Poverty Line(BPL) Families(Submit photo copy of BPL card and photo identity)
NB: Entry of BPL card holders @Rs.5/- per head on production of BPL cards.
Science City Kolkata Phone
---
Rating:

| 4/5 stars
Based on total 54 reviews
Science City Kolkata Address: Science City, J.B.S Haldane Avenue, Mirania Gardens, East Topsia, Topsia, Kolkata, West Bengal, 700046, India
Kolkata Tour Packages

Science City Kolkata Timings
| Day | Timing |
| --- | --- |
| Monday | 10:00 am – 7:00 pm |
| Tuesday | 10:00 am – 7:00 pm |
| Wedesday | 10:00 am – 7:00 pm |
| Thursday | 10:00 am – 7:00 pm |
| Friday | 10:00 am – 7:00 pm |
| Saturday | 10:00 am – 7:00 pm |
| Sunday | 10:00 am – 7:00 pm |
Note: The ticket counter remains open till 6:00 PM
Links:
Website
|
Map
---
Science City is one of the most famous tourist attractions of Kolkata and is also one of its kind science museums in the world where one gets to learn through entertainment. The science city was opened on 1st July 1997.
Science City, Kolkata is a unit of the National Council of Science Museums (NCSM), which in turn, is an autonomous body that comes under the Ministry of Culture of Government of India. Science City is the largest science centre in the entire Indian Subcontinent, conceptualized with the single motto of popularization of science.
Science City is developed on a 50 acre land which used to be a dumping ground for the city's garbage for more than 100 years. There are two facilities, namely the Science Centre and the Convention Centre. The Convention Centre Complex was inaugurated on 21 December 1996 by Paul Jozef Crutzen along with the then Chief Minister of West Bengal, Mr. Jyoti Basu and the entire centre was inaugurated by the then Prime Minister, Mr. Indra Kumar Gujral on 1st July 1997.
A perfect blend of learning and fun, the science city also has a section dedicated to aquatic world with some of the most exotic fish and insects in the aquariums. The complex has the Space Odyssey, Dynamotion, Science Exploration Hall, Maritime Centre, Earth Exploration Hall and a sprawling Science Park giving its visitors an experience that they would remember lifelong. Since the day it was opened for visitors until today, Science City has recorded footfall in excess of 29.90 million. It is famous among both local as well as international visitors.
Location of Science City Kolkata
Science City is located on the Eastern Metropolitan Bypass at crossing of Park Circus connector on J. B. S. Haldane Avenue.
Science City Kolkata Attractions
1. Earth Exploration Hall
Opened to visitors on 6th December 2008, the Earth Exhibition Hall was inaugurated by the then Union Minister for Culture of India, Ms. Ambika Soni. It is a two storied semi- circular gallery with a diameter of 25 meters that houses a permanent exhibition on Earth. The Southern Hemisphere details are displayed on the ground floor whereas; the Northern Hemisphere displays are on the first floor.
There is a huge Earth model located at the centre of the hall, sliced in 12 longitudinal segments which represent important features of each segment like geology, physical geography, land, people, flora and fauna in the expositions.
The dynamic natural phenomena of the Earth is depicted with the help of advanced technologies like interactive multimedia presentations, video walls, tilting tables and computer kiosks enabling visitor engagement and information retrieval. The issues pertaining to climate change, natural disasters and their effect on global ecology are shown thereby imparting awareness among visitors.
2. Space Odyssey
The Space Odyssey houses a Space Theatre, 3D theatre, Time Machine, Spinning Platform, Mirror Magic, Space Science, Van-de-Graaff generator, variety of exhibits on Space Science and an interactive multimedia kiosk on Solar System.
The Space Theatre has a Helios Star Ball Planetarium supported by 150 special effects projectors and large format film projection system in a 23 meter diameter dome with a capacity of seating 360 viewers at one time.
The shows in 3D theatre are Polaroid based stereo back projection system that creates a three dimensional effect.
Time Machine is a 30 seater motion simulator synchronizing audio-visual presentation and provides virtual experience of space flight with the motion of a capsule. The capsule has six degrees of motion, and can make horizontal pitches, vertical lifts and longitudinal rolls.
The Mirror Magic is a mirror maze that exhibits physical principles behind images and provides real puzzle to visitors. There are 35 exhibits which include infinite train, curving tunnel, head on a platter, float in the air, etc., a one of its kind experience.
3. Dynamotion Hall
The Dynamotion Hall is a large spiral building housing a plethora of interactive exhibits on physical science. The gallery offers an exciting journey into the world of science wherein, one can actually appreciate the scientific phenomena as they see them happening in real life.
There is a huge piano on the floor where one can create music while walking on it, make a soap bubble float in the air, peep into an infinitely deep well, move a floating ball, or, can make a dish float in the air. There are a lot many separate sections within the Dynamotion Hall like Power of Ten, Illusions, Aquarium, Butterfly Enclave, Biodiversity, Nano Lab, Physical Science, and Science Show.
Power of Ten is a panel based exhibition that has 43 exhibits showing the secrets of the universe. Visitors can compare the size of the objects by merely changing the scales of measurement between higher and lower in the order of ten.
Illusions is the section with a bunch of impossible looking pictures and visuals wherein one discovers how motion and placement of objects change our visual perception of that particular object. The experiments can be done with the help of computer based activity.
Freshwater Aquarium is a treasure trove of aquatic life. A 39 tank section is a collection of close to 1000 freshwater fish from across the globe. It is amazing to witness such diverse life, their behaviour and food habits. Few among the collection include the legendary piranhas, tail wagging colourful gold fishes, black Angels, colourful Oscars, black and white banded Asiatica, swift moving Silver Dollars etc. and many more.
The Butterfly Enclave consists live butterflies that are kept in a controlled environment. One can also watch the short documentary on the life cycle of a butterfly.
The Science on a Sphere is a 30 minutes show projected on a spherical projection system created by NOAA (National Oceanic and Atmospheric Administration, USA). It displays planetary data onto a 1.80 meter diameter sphere, analogous to a giant animated globe. This show is specifically designed to keep visitors informed about the complex environmental processes using the latest innovative technologies. This state-of-art display facility is a specially designed and climatically controlled room that can accommodate 70 people at a time.
4. Maritime Centre
The Maritime Centre was developed and built in collaboration with the Kolkata Port Trust. The pavilion depicts the history of Indian Maritime history and activities. The building is built in the shape of a ship on a build-up area of around 700 square metres. The displayed exhibits include artefacts, scaled models and dioramas of shipping as well as navigation systems. There is also an unmanned quiz corner in addition to the other artefacts.
5. Outdoor Science Park
The Outdoor Science Park is an integral part of all NCSM centres that welcomes visitors to learn more about the environment, plants, animals and other objects in our immediate natural surroundings which we happen to ignore in our every-day life. The exhibits showcased in the outdoor park are engineered to sustain all kinds of weathers. The exhibits comprise of Caterpillar Ride, Gravity Coaster, Musical Fountain, Cable Cars, Monorail cycle, Road Train, Butterfly Nursery and other exhibits on physical science.
6. Science Exploration Hall
The new building of the Science Exploration Hall was opened in 2016 and is spread across an area of 5400 square metres with advanced infrastructure facilities. The exploration hall mainly comprises of four sections:
Gallery on emerging technologies
Evolution of life- A Dark Ride
Panorama on Human Evolution (360 degree projection) depicts the evolution of life over ages
Science and Technology Heritage of India
Image Gallery of Science City Kolkata
Science City Kolkata Timings
Science City remains open all year around from 10:00 AM to 7:00 PM, except on Holi. The ticket counters remain open till 6:00 PM
Science City Kolkata Ticket Rates
P.S: All rates mentioned henceforth are on per person basis unless mentioned otherwise
P.P.S: No extra charge for photography and videography
N.B: Separate educational tour packages are available for schools as well as rural & government schools
N.B: Parking for school buses are free
For general visitors
Entry Fee: INR 65.00
Evolution of Life- A Dark Ride: INR 45.00
Panorama on Human Evolution: INR 60.00
Combined rates (Dark ride + Human Evolution): INR 85.00
Science on a Sphere New: INR 40.00
3D Show: INR 30.00
Space Theatre 2D: INR 80.00
Space Theatre 3D: INR 100.00
Road Train: INR 25.00
Ropeway: INR 60.00
Time Machine: INR 40.00
For organised group visits (Minimum 25 persons)
Entry Fee: INR 55.00
Ropeway: INR 48.00
3D Show: INR 25.00
Space Theatre 2D: INR 70.00
For organised school groups
Entry Fee: INR 30.00
Evolution of Life- A Dark Ride: INR 40.00
Panorama of Human Evolution: INR 60.00
Combined rates (Dark Ride + Human Evolution): INR 80.00
Science of a Sphere: INR 40.00
Space Theatre 2D: INR 35.00 (rates are subject to change as the theatre is going through upgradation and may also remain suspended for a while)
3D Show: INR 30.00
Ropeway: INR 28.00
For underprivileged groups (On the basis of supporting documents)
Entry Fee: INR 5:00
Science on a Sphere: INR 5:00
3D Show: INR 10.00
Space Theatre 2D: INR 15.00 (rates are subject to change as the theatre is going through upgradation and may also remain suspended for a while)
Ropeway: INR 28.00
How to Reach Science City Kolkata
By Road- Science city is easily accessible from major parts of the city by local buses, mini buses and taxis. The hassle- free alternative is to rent a cab (Ola, Uber, etc). If commuting by local train from Sealdah, get down at Bidhan Nagar station and board a bus that goes towards Ruby Hospital. Science city is on the way, right opposite ITC Sonar Bangla.
You can also opt for a private cab from top car rental companies in Kolkata during your stay in the city and explore various sightseeing places of Kolkata in a hassle free manner.
Nearest Metro Station: Rabindra Sadan Metro Station. Science city is around 6.6 kms from the metro station and it takes 15 mins to reach. Hire a taxi from Rabindra Sadan Metro station.
---
For those who wish to explore Kolkata in a relaxed manner, Kolkata Tourism, a division of Holidays DNA offers Kolkata Tour packages at affordable rates. You can choose the package that suits you best and unravel the beauty of this marvellous city. Please fill the Contact Us form for more details.
Location Map for Science City Kolkata