The City of Joy, Kolkata boasts an illustrious past with a thriving heritage, art, and cultural scene to impress people from far and wide. Combine all this with excellent culinary delights, vibrant festivals, and colonial architecture and we promise that you'll love every bit of this tourist destination in India. If you are on a tight schedule, then we have curated a list of places to visit in Kolkata in 1 Day for your ease. While the list of sightseeing places in Kolkata is never-ending, there are a few attractions you cannot miss to explore on your 1-day visit.
Kolkata is a place that takes you back into the time of the bygone era. It is a place that makes you feel positive from the inside out. It is a place that allows you to relax and unwind in the serenity of nature. It is a place that introduces you to a diverse range of flora and fauna. It is a place that gives you a chance to set your heart racing. So, whether you're traveling alone, as a couple, or with family, you'll surely find things of interest on your Kolkata tour.
The places to visit in Kolkata in 1 day are as follows:
Kolkata Places to visit in 1 Day: Victoria Memorial, Howrah Bridge, Botanical Garden, Dakshineswar Kali Temple, Nicco Amusement Park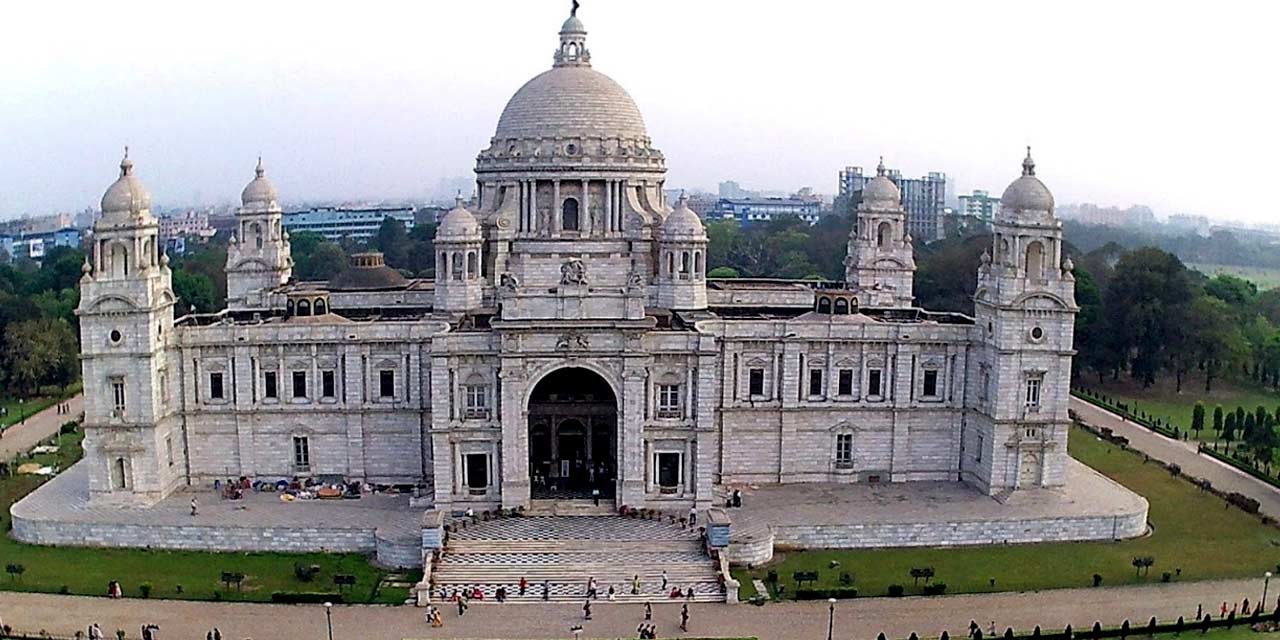 Take a walk down memory lane and see how our country has evolved from its colonization days by paying heed to the Victoria Memorial. It is a beautiful white monument that was constructed to honor Queen Victoria's 25-year reign as the Empress of India. The sprawling memorial complex covers an area of around 64 acres and is surrounded by beautifully landscaped gardens, which add to its charm.
As you step into the memorial premises, you'll be greeted by several grand entrances and gateways, each showcasing intricate craftsmanship and ornate designs. The memorial houses a vast collection of artifacts, paintings, and memorabilia from the British era including portraits of British monarchs, historical documents, weapons, and other items of historical significance. One can also find the galleries within the memorial that offer a fascinating glimpse into the country's colonial past and serve as a repository of art and history.
The surrounding gardens of the Victoria Memorial are meticulously maintained and provide a serene atmosphere for visitors. Lush green lawns, vibrant flower beds, and beautiful water bodies create a peaceful oasis amidst the bustling city. The gardens are a popular spot for leisurely walks, picnics, and recreational activities, attracting both locals and tourists alike.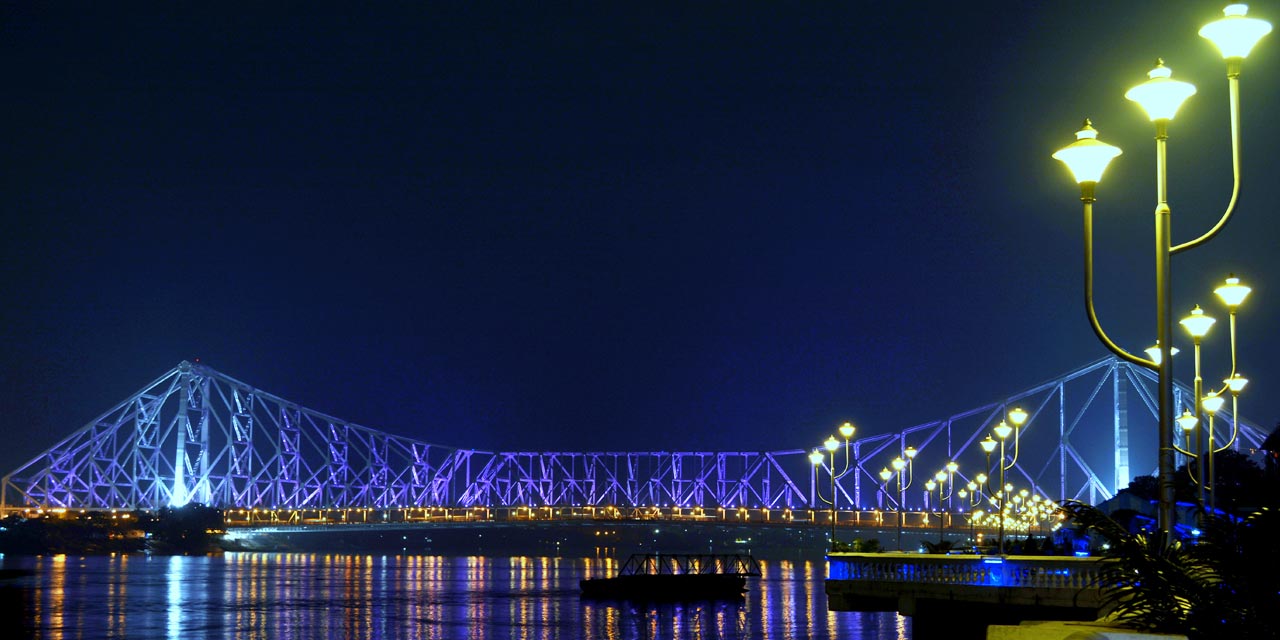 Another iconic landmark that draws a huge influx of visitors after the Victoria Memorial is the Howrah Bridge. Often referred to as Rabindra Setu, the Howrah Bridge is a massive bridge that spans the Hooghly River, connecting the city of Kolkata with its twin city, Howrah.
The Howrah Bridge is a testament to the architectural brilliance and structural engineering of its time. Its massive steel framework, painted in a signature rust-red color, has become an iconic sight that represents the crowded city of Kolkata. The bridge has withstood the test of time and continues to be a crucial transportation artery, carrying a significant volume of vehicular and pedestrian traffic between Kolkata and Howrah.
Walking along the Howrah Bridge is an experience in itself. The bridge offers stunning panoramic views of the Hooghly River, the majestic Kolkata skyline, and the bustling activity on both sides of the river. From the bridge, one can witness the convergence of various modes of transportation including buses, taxis, trams, and the famous yellow Ambassador taxis as they navigate their way through the city's bustling streets.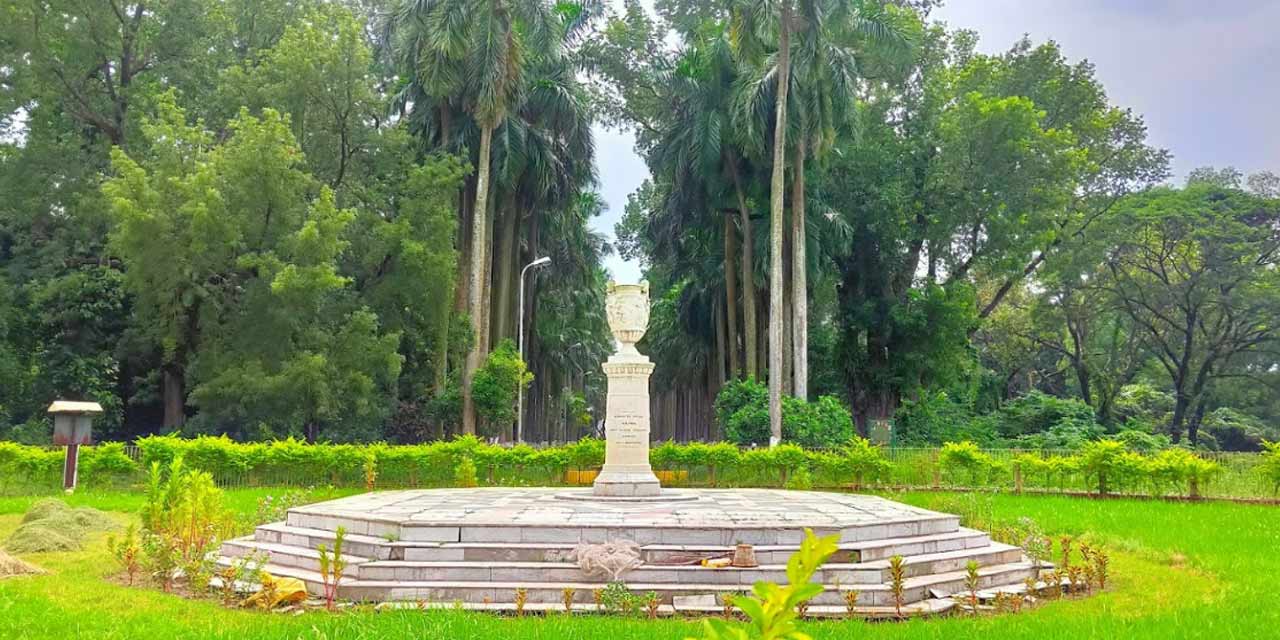 Lying close to the Howrah Bridge is the Botanical Garden. It is one of the oldest and largest botanical gardens in India that is renowned for its diverse collection of plants, its historical significance, and its tranquil ambiance.
The Botanical Garden is a haven for nature lovers, researchers, and tourists alike. It houses an extensive array of plant species, including rare and exotic plants from India and around the world. The garden's vast collection boasts over 12,000 living plants, making it a botanical treasure trove. Visitors can explore various sections within the garden, each dedicated to different plant species or geographical regions.
The garden also includes a Cactus House, Orchid House, Medicinal Plant Garden, and a dedicated section for aquatic plants. Each area provides visitors with a unique opportunity to explore and learn about different plant species and their ecological significance.
Visiting the Botanical Garden offers not only a chance to appreciate nature's beauty but also an opportunity for leisurely strolls amidst serene surroundings. The garden is adorned with well-manicured lawns, pathways, and water bodies, creating a peaceful atmosphere for relaxation and recreation. It's an ideal place for a family outing, a picnic, or simply enjoying a tranquil moment away from the bustling city.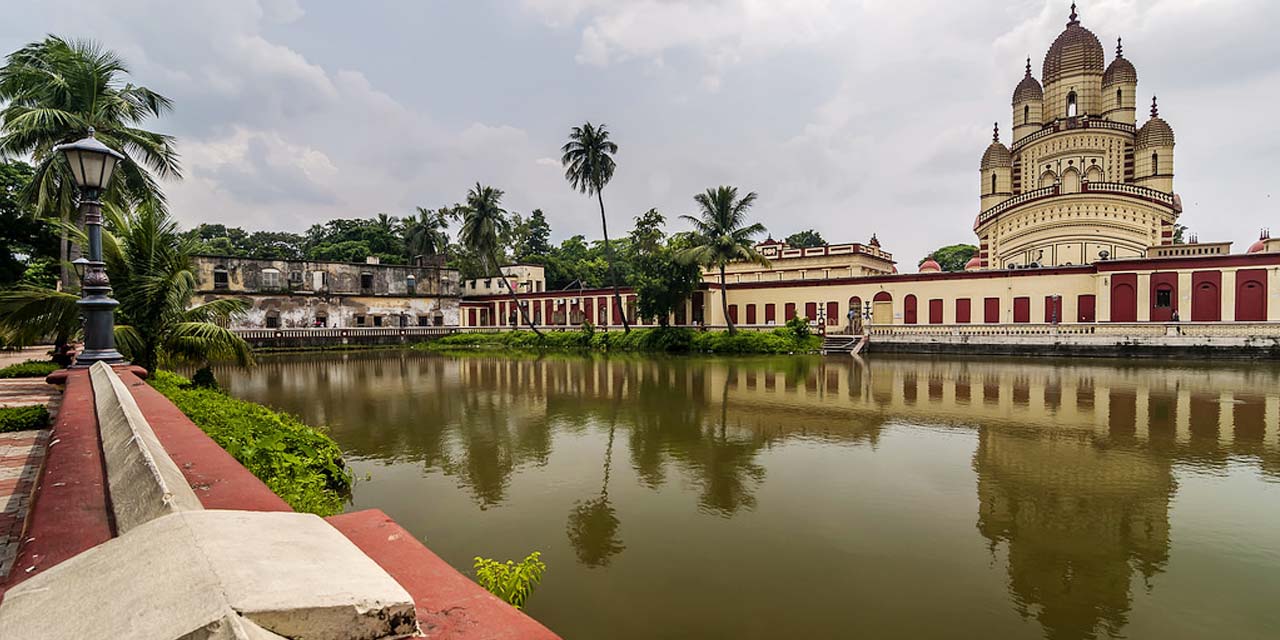 The next tourist attraction to explore with our Kolkata tour packages is the Dakshineswar Kali Temple. It is counted among the most revered and significant pilgrimage sites that were built in the 19th century by Rani Rashmoni, a philanthropist and devotee of Kali. The construction of the temple complex began in 1847 and was completed in 1855. It stands as a magnificent architectural marvel, showcasing a blend of traditional Bengali Navaratna style and Islamic influences.
The main deity of the Dakshineswar Kali Temple is Goddess Kali, who is worshipped as the divine mother and the destroyer of evil forces. The idol of Kali is depicted standing over the body of Lord Shiva, her husband. The temple complex also houses several other shrines dedicated to deities like Radha-Krishna, Rani Rashmoni, and Lord Shiva.
Visitors to the Dakshineswar Kali Temple can experience the tranquil atmosphere that pervades the premises. The rhythmic chants, the fragrance of incense, and the ringing of bells create an ambiance of spirituality and devotion. The temple priests perform regular rituals and prayers, and devotees can participate in these sacred ceremonies.
The Dakshineswar Kali Temple holds a significant place in the hearts of millions of devotees and serves as a symbol of devotion, spirituality, and cultural heritage. Its architectural beauty, historical importance, and association with revered saints make it a must-visit destination for both devotees and tourists in Kolkata.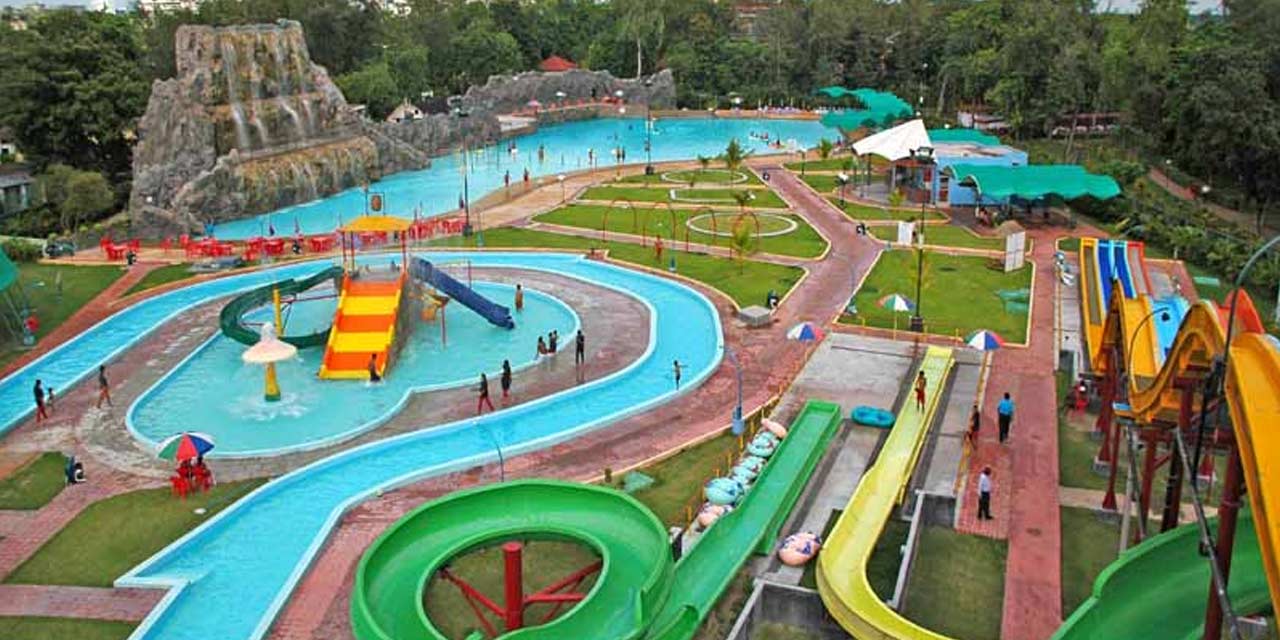 Ideal for all those who are looking for boundless fun and entertainment under one roof, the Nicco Amusement Park is a renowned recreational destination that offers a diverse range of thrilling rides and family-friendly attractions to entertain people of all age groups.
From high-speed roller coasters for adventure buffs to gentle rides for children, the park boasts something for everyone. While thrill-seekers can enjoy adrenaline-pumping experiences on rides like the Cyclone, the Water Chute, and the Flying Saucer, families can have a delightful time on attractions such as the Merry-go-round, the Toy Train, and the River Cave Ride.
Apart from the rides, Nicco Amusement Park offers various entertaining shows including live performances, magic shows, and acrobatic displays. Visitors can enjoy cultural programs, dance performances, and musical events held within the park, adding an extra layer of entertainment to their visit.
In addition to the rides and attractions, Nicco Amusement Park also features well-maintained gardens and landscaped areas, providing a pleasant environment for visitors to relax and unwind. The park offers various food stalls and eateries where you can indulge in a variety of snacks, fast food, and refreshments.
Shopping
You cannot return home from your Kolkata tour without indulging in shopping! Widely renowned for its bustling markets, upscale shopping malls, and traditional handicrafts, the city offers a diverse and exciting retail therapy experience to both the locals as well as tourists.
For instance, you can visit the New Market to shop for a wide variety of goods including clothing, accessories, jewelry, electronics, spices, handicrafts, and much more. Bargaining is a common practice here, so be prepared to negotiate for the best prices.
While the Gariahat Market is famous for its ethnic wear, the Dakshinapan Shopping Center specializes in selling textiles, sarees, terracotta items, leather goods, paintings, and more. It's a great place to discover and purchase authentic Indian crafts. If you're interested in high-end shopping, you can head to the South City Mall or Quest Mall.
Apart from these specific destinations, Kolkata also has various other markets and shopping areas that are worth exploring. These include Hatibagan Market, Burrabazar, Chandni Chowk, and more. Not only do these places offer a mix of street shopping, local markets, and specialized stores but also cater to different needs and preferences.
---
Explore the aforementioned places on your 1-day visit to Kolkata to make the most of your time. If time permits, you can spend 2 days, 3 days, or a complete week to see what else it has to offer. Some of the points of interest that deserve your attention are Eden Gardens, Eco Tourism Park, Rabindra Sarovar, Mother House, Tagore's House, Marble Palace, Fort William, St. Paul's Cathedral, Indian Museum, and Mother's Wax Museum.
Need any help with your itinerary planning? Get in touch with our professionals. We at Kolkata Tourism, a division of Holidays DNA, have designed a variety of all-inclusive Kolkata tour packages to address the different needs of our diverse clientele. Our all-inclusive packages can also be altered as per your choice. You just tell us what inclusions you wish to see in your shortlisted travel package and we promise to come with a package specially curated for you.
There is a list of top car rental companies in Kolkata available with us as well. From there, you can book a private taxi to commute within the city in your utmost comfort. Please fill out the Contact Us form to learn more about our services in detail.