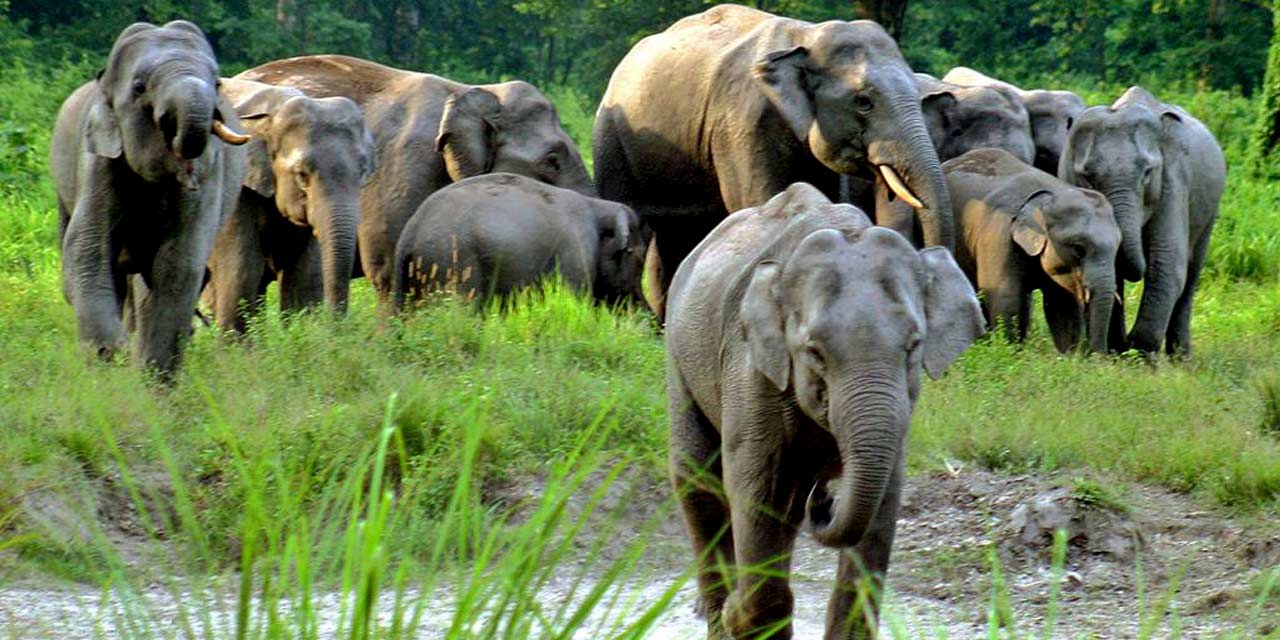 Jaldapara Wildlife Sanctuary Kolkata Car Safari Charges
60 Entry fee (per person)
250 Vehicle Entry fee (per Trip)
200 for Video Camera
250 Guide Charges
800 Vehicle Hire Charge (Gypsy)
Jaldapara Wildlife Sanctuary Kolkata Elephant Safari Charges
60 Entry fee (per person)
250 Vehicle Entry fee
800 Elephant Ride fee
25 Car Parking fee
200 for Video Camera
100 Guide Charges
Jaldapara Wildlife Sanctuary Kolkata Trolly Line, Hollapara, Totopara Charges
60 Entry fee (per person)
250 Vehicle Entry fee
200 for Video Camera
200 Guide Charges
Jaldapara Wildlife Sanctuary Kolkata Day Visit Charges
100 Entry fee (per person)
300 Vehicle Entry fee
25 Parking fee
250 Guide Charges
Jaldapara Wildlife Sanctuary Kolkata Entry Fee for Foreigners
200 Entry fee (per person)
1000 Elephant Ride fee (per head)
Jaldapara Wildlife Sanctuary Kolkata Phone
---
Rating:

| 4/5 stars
Based on total 53 reviews
Jaldapara Wildlife Sanctuary Kolkata Address: Uttar Madarihat, West Bengal, 735220, India
Kolkata Tour Packages

Jaldapara Wildlife Sanctuary Kolkata Timings
| Day | Timing |
| --- | --- |
| Monday | 6:00 am – 5:00 pm |
| Tuesday | 6:00 am – 5:00 pm |
| Wedesday | 6:00 am – 5:00 pm |
| Thursday | 6:00 am – 5:00 pm |
| Friday | 6:00 am – 5:00 pm |
| Saturday | 6:00 am – 5:00 pm |
| Sunday | 6:00 am – 5:00 pm |
Links:
Website
|
Map
---
Established in the year 1941 as a wildlife sanctuary, Jaldapara National Park is a beautiful destination located at the foothills of Eastern Himalayas, by the banks of Torsha River. It is situated in the new district of Alipurduar in West Bengal, India. The national park falls in the Dooars region, which is not only famous for its tea gardens but also boasts of having dense jungles that are home to many endangered species of animals like tigers, rhinoceros, elephants, etc.
The park has rich vegetation providing a perfect setting for a myriad of flora and fauna. It is a bird watchers paradise and is best known for its number of Asiatic One- Horned Rhinos. The population of one- horned rhinos is marked to be around 160 and is at a steady increase.
There are jeep as well as elephant safaris arranged. The elephant safaris are organised early morning through the exquisite grasslands and is the best and most recommended way to explore the wildlife of the national park.
The jeep safaris are arranged during mornings as well as evenings. There has been a rise in the number of watch towers where jeep safaris take place in recent years due to boost in tourist footfall. The only condition of jeep safaris is that tourists must travel in forest department approved jeeps and every jeep has to be accompanied by a guide.
History of Jaldapara National Park
Way before in the 1800s, the area was a tribal settlement of Toto and Mech (Bodo) tribes. The place was known as 'Totapara' during the time. Jaldapara Wildlife Sanctuary was established in 1941 in pursuit of protecting the great variety of flora and fauna, particularly the one-horned Indian Rhinoceros that was threatened to be on the edge of extinction.
The wildlife Sanctuary was declared as a National Park in 2014.
Image Gallery of Jaldapara Wildlife Sanctuary Kolkata
Location of Jaldapara National Park
Jaldapara National Park is situated at the foothills of the Eastern Himalayas, by the banks of Torsha River in Alipurduar district of the state of West Bengal in India. The park is spread across a total area of 216.51 square kilometres and is located at an altitude of 61 metres.
The park is filled with a mixture of flora including wood mosaics, swamps, grassland, sandy riverbanks and brooks. There is great diversity of flora of mixed deciduous forest, grasslands and river banks. The forest is dense enough which makes it difficult for the sunrise to penetrate through and reach inside. The Torsha River flows through the Rainforest Park mostly covered with extensive belts of tall grasses, thereby making the vegetation rich with variety of wildlife.
Jaldapara lies on the western bank of River Torsha and on its eastern bank lies Chilapata Forests. The Malangi River also flows nearby from east to west. Drained by rivers Torsa, Malangi, Hollong, Chirakhawa, Kalijhora, Sissamara, Bhaluka and Buri Torsa, the Sanctuary provides grassland that forms the last refuge to a wide variety of mammals, amphibians, reptiles and birds.
Jaldapara National Park Attractions
Asiatic One- horned Rhino
The major attraction of Jaldapara National Park is its population of one- horned rhino. Out of the very few areas where the one- horned rhino is found, Jaldapara has the largest rhino population only after Kaziranga in Assam. The grass wetland of the national park makes it a favourable natural habitat for survival of the rhinos.
Fauna and Flora
Mammals: The national park forest is majorly savannah covered with tall elephant grasses, the main attraction of which is the Asiatic one- horned rhinoceros. Apart from the rhino, the sanctuary also holds population of Royal Bengal Tigers, Elephants, Deer, Sambhar, Jungle cat, Leopard cat, Fishing cat, Civet, Barking deer, Pangolin, Common Otter, Giant Squirrel, Porcupine, spotted deer, hog deer, Gaur, Wild pigs and Bison. Hispid hare and Hog-badger are some rare species found here.
Birds: Jaldapara National Park is a treasure trove of avi fauna due to the varied terrain and rich vegetation as well as exceptionally rich insect population. There are more than 240 species of birds in Jaldapara National Park spread across its landscape habitat of grassland, water bodies, and woodland making the environment ideal setting for survival.
Many woodland birds, such as Green Pigeons, Hornbills, Barbets, Parakeets, Woodpeckers, Cuckoos, Orioles, Drongos, Babblers, Thrushes etc. are a sight to watch for among the tree forests and rich shrub growth of the forest floor. Brahminy ducks, whistling teals and Goosanders are winter immigrants. Large and little cormorant, Indian Shag, Darter, Egrets, Lesser Adjutant Stork, Pied Wagtail, Spur Winged Lapwing, Moorhen, White Breasted Waterhen etc. are the most common water birds found in the national park.
Night hunters here are Owls and Nightjars while the Crested Serpent Eagle is common raptorial bird. Pallas's Fishing Eagle, Pied Harrier, Common Buzzard, Kestrel, Sparrow Hawk etc. are birds of prey. Birds typical of grassland and open country that can be seen from watchtowers are Doves, Bee-eaters, Rollers, Hoopoe, Shrikes, Larks, Hill Mynas, Bulbuls, Finches. The musical sound of crickets matches the call of the Red jungle fowl.
When it comes to endangered species of birds, Jaldapara National Park is home to quite a few of them. These include Bengal Florican, Black partridge, Shaheen Falcon, Great Pied Hornbills, Forest Eagle Owl, Large Green billed Malkoha, White Rumped Vulture and Lesser Adjutant Stork.
The national park is a mecca for bird watchers. One should not forget to carry a binocular to get the sight of Hornbills taking flight along with Racket-tailed Drongo and Asian Paradise Flycatcher.
Reptiles: Python, monitor lizards, kraits, Cobras, geckos and about 8 species of freshwater turtles have a home in the park.
Flora: The national park becomes colourful with attractive and beautiful flowers soon after monsoons. Some prominent species of trees found here include Sal and Shisham trees. Numerous shrubs, ferns and tall grass are evidently in abundance.
Activities to do at Jaldapara National Park
Bird Watching
Jeep safari
Elephant safari
Best Time to visit Jaldapara National Park
Jaldapara National Park remains open between September 15 to June 15 and the best time to visit is between October to March. The park remains closed during monsoon months. The weather of the national park remains warm and humid all year around.
Jaldapara National Park Safari Timings, Entry Fees and Timings
Jaldapara National Park Jeep Safari Timings:
1st Shift: November to March- 6:00AM to 7:30AM | April to October- 5:30AM to 7:00AM
2nd Shift: November to March- 7:30AM to 9:00AM | April to October- 7:00AM to 8:30AM
3rd Shift: November to March- 3:00PM to 4:30PM | April to October- 3:30PM to 5:00PM
Jaldapara National Park Elephant Safari Timings:
1st Shift: 5:30AM to 6:30AM
2nd Shift: 6:30AM to 7:30AM
3rd Shift: 7:30AM to 8:30AM
Day Safari: 9:00 AM to 2:00 PM
Jaldapara National Park Entry Fees and Other Charges
For Indian Nationals- INR 100 per head
For Foreign Nationals- INR 200 per head
Car entry fees- INR 300 per vehicle
Elephant safari – For Indian Nationals: INR 800 per head, For Foreign nationals: INR 1000 per head
Jeep Safari – INR 450 per person
Guide – INR 250
Still Camera – INR 50
Video Camera – INR 500
How to Reach Jaldapara National Park
By Air- Bagdogra is the nearest airport, around 140km from Jaldapara National Park. From Bagdogra airport, take a bus or cab to Jaldapara via Siliguri. You can also book a private cab from top car rental companies in Kolkata and visit all the important sightseeing places of Kolkata along with Jaldapara National Park.
By Train- The nearest railway station to Jaldapara is Madarihat railway station. To reach Madarihat, get down at New Jalpaiguri Junction which is directly connected to all major railway stations in India. Take a mail or express train from New Jalpaiguri (NJP). Not all trains have a halt at Madarihat station hence; you may also get down at Birpara or Hasimara railway stations which are also well connected with Jaldapara via cab services.
By Road- Jaldapara is well connected from national highway with Siliguri and can be reached by car. Also, buses of North Bengal Transport Corporation, Bhutan Government buses as well as mini buses from Siliguri can be used to reach the national park. Board the mini buses that run between Siliguri and New Alipurduar via Madarihat. Madarihat is the entry point to the sanctuary and is located on the NH 31 (Siliguri- Hasimara) highway.
Nearby Destinations from Jaldapara National Park
Totapara
Totapara is a small tribal village that is home to the aboriginal Toto tribe, the most primitive tribe of Dooar region. The village is located at a distance of 30 kms from Jaldapara on the banks of Torsha, sharing borders with Bhutan. The major attraction of the village is the lifestyle of the locals.
The village is about 22 km from Madarihat, which is the entry point of Jaldapara National Park. It is surrounded by Torsha River to its east, foothills of Bhutan to its north, Titi River and Titi forest reserve to its south which are separated by Hauri River on the south-west.
Chilapata
Chilapata is a place for history buffs. Beside a visit to the Chilpata forests, if one goes further deep inside, there are ruins of thousand year old fort of Nal King that has a great historical and archaeological importance. The 5th century ruins belonging to the Gupta Empire fall on the way to Cooch Behar, through the Chilpata forests.
A trip to Chilapata forests can be combined with half a day tour from Jaldapara.
Khayer Bari (Animal Rescue Centre)
Khayer Bari is an animal rescue centre where the animals from circuses have been brought after the ban of use of animals in circuses and are rehabilitated and treated. There are a number of Royal Bengal Tigers and Leopards that can be seen here.
Garumara National Park
Garumara National Park is famous for its one- horned rhino, Peacocks, Asian elephants and Bisons. Established as a reserve forest in 1895, and declared as a Wildlife Sanctuary in 1949 due to its population of one- horned Indian rhinoceros, the park was further declared as a National Park in 1994. It is located at around 80 kms from Jaldapara
The Buxa Tiger Reserve was established in the year 1982 to save the most important species of North Bengal, The Royal Bengal Tiger. The tiger reserve is located at the north-eastern corner of the Dooars plain by the border of Bhutan and Assam. Spread across an area of 315 square kms, the Buxa Duar Fort was declared a national park in the year 1992.
Bhutan Ghat
Situated at 85 kms from Madarihat, and 45 kms from Alipurduar, Bhutan Ghat is a picturesque village located near Indo-Bhutan border on the banks of Raidak River. The name of the village is derived from its proximity to Bhutan. It is an offbeat destination, not visited by many people.
---
Kolkata Tourism, a division of Holidays DNA helps you plan your tour to Kolkata in a hassle free manner. With its customisable Kolkata Tour packages, you can have a relaxed holiday experience without burning a hole in your pocket. For further queries, you can fill the Contact Us form and we will get back to you at the earliest.
Location Map for Jaldapara Wildlife Sanctuary Kolkata