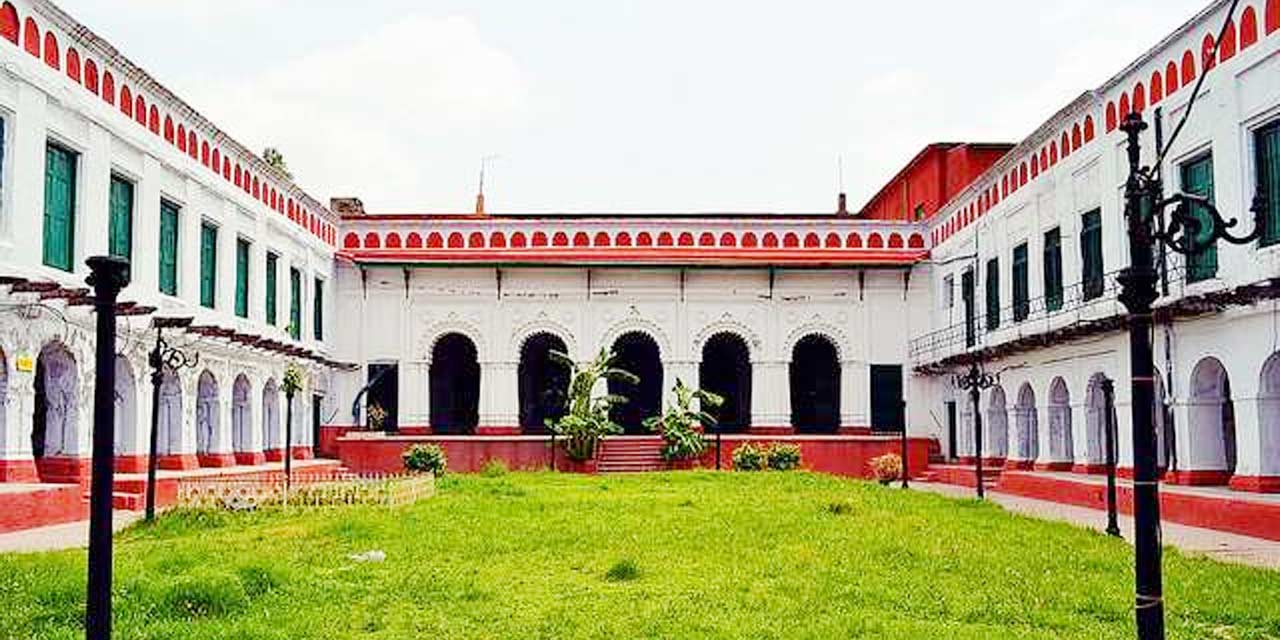 Shobhabazar Rajbari Kolkata Entry Fee
Shobhabazar Rajbari Kolkata Phone
N/A
---
Rating:

| 4/5 stars
Based on total 52 reviews
Shobhabazar Rajbari Kolkata Address: 36, Naba Krishna Street, Kolkata, West Bengal, 700005, India
---
Shobhabazar Rajbari Kolkata which is also known as Baag ola Bari (House with the lions), is one of the symbols that reflect the grandeur of the aristocracy days of Kolkata. This palace is one of the oldest standing royal houses of Kolkata. One of the reasons why Shobhabazar is very popular is because of the grand Durga Puja celebrations that are organized here during the months of October-November.
History of Shobhabazar Rajbari Kolkata
The palace was built in the 17th century by Raja Nabakrishna Deb who was an aristocrat and ardent supporter of the Brahmo Samaj Movement. He is also known for his contribution to the Bengal Renaissance. The iconic Durga Puja held every year at Shobhabazar is a practice that was initiated by him in 1757, right after the Battle of Plassey.
Rajbari became the hub of Bengali culture and traditions, with several eminent personalities like Lord Clive, Warren Hastings, Sister Nivedita, Raja Ram Mohan Roy, Rabindranath Tagore and Debendranath Tagore attending the events organized here. After Swami Vivekananda returned from the Chicago Parliament of Religions, a civic reception was organized for him at this palace by Raja Binoy Deb Bahadur.
The palatial structure has retained its magnificence to date and looks very impressive. The open courtyard in the center of the building is known as Nat Mandap. There are several columns with a square base and arches around this courtyard which was used earlier for hosting functions and festivals.
There are double-story wings on either side of this courtyard which leads to the naach ghar in the south of the building. Naach ghar of Shobhabazar Rajbari Kolkata has held dance performances by several eminent artists like Miss Rangham, Malkajaan, Noor Baksh, and Gohor Jaan, etc.
The roof of the naach ghar had caved in and now what remains is only a small part of the original structure. Its courtyard, however, is still intact and in good condition.
The palace also has a temple called the Nabaratna Temple which is the sanctum sanctorum of the family deity Radha Gobinda, also referred to as Gopinath Jiu (Krishna) by the family. The zamindar family has been worshipping this idol for more than 250 years now. This deity is in the new Rajbari which is adjacent to the old one and was built by the descendants of Raja Nabakrishna Deb.
The festival of Lakshmi Puja is celebrated here with great pomp and show every year. This festival pays homage to the idol of Radharani Devi, who is considered to be an incarnation of Goddess Mahalakshmi and the eternal partner of Gopinath Jiu.
History of Durga Puja at Shobhabazar Rajbari Kolkata
The idol of Durga in the Shobhabazar Rajbari Durga Puja used to be covered with golden color in the beginning but for almost a century in between, it had been changed to silver for financial reasons. In 2017 the golden color of the idol was brought back which has made this place even more popular now.
Another interesting aspect of Shobhabazar Rajbari Durga Puja is the Shehnai music played by artists from Varanasi, which adds to the splendor of the celebrations.
Right opposite Shobhabazar Rajbari is Chota Rajbari which was also built by Raja Nabakrishna a few years later. This palace also hosts a Durga Puja every year which is organized by the descendants of the zamindar family.
Image Gallery of Shobhabazar Rajbari Kolkata
Places to visit near Shobhabazar Rajbari Kolkata
Some popular tourist attractions of Kolkata are close to Shobhabazar Rajbari and you can add them to your list of sightseeing spots. There is Jorasanko Thakurbari which is the ancestral house of Rabindranath Tagore. You can also visit Victoria Memorial which is a museum dedicated to Queen Victoria.
Location and How to Reach Shobhabazar Rajbari Kolkata
Shobhabazar Rajbari is at 33-36 Shobhabazar which is near Shyambazar in Kolkata. The best way to reach Sovabazar Rajbari is to travel via Kolkata Metro Rail and get down at the Sovabazar Sutanuti station. From here the Rajbari is located a few metres away which can be easily covered by foot.
You can also choose to book a private cab from top car rental companies in Kolkata and have a hassle free Kolkata tour.
---
Kolkata is blessed with umpteen number of sightseeing options and we at Kolkata Tourism, a division of Holidays DNA make your trip to the city all the more enjoyable with Kolkata Tour packages designed specifically keeping in mind the preferences and budget of its customers. You can choose the package that suits you best and make the best of your holiday. Please fill the Contact Us form for further details.
Location Map for Shobhabazar Rajbari Kolkata