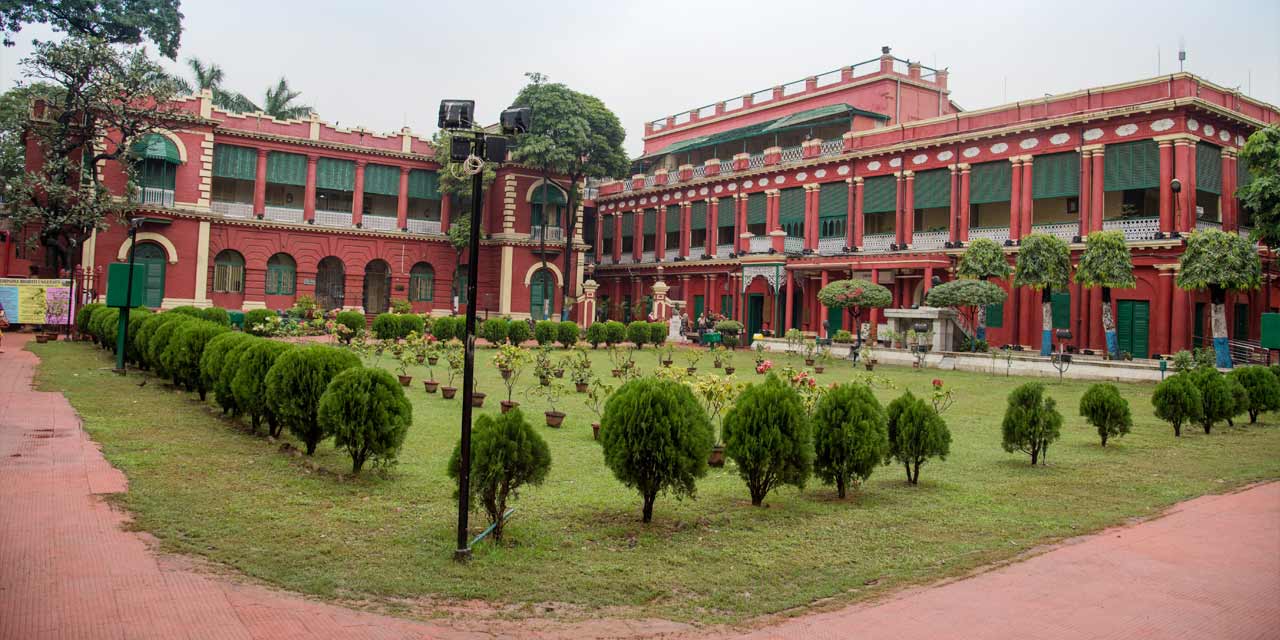 Jorasanko Thakurbari Kolkata Entry Fee
20 per person for Indian Adults
10 per person for Indian Students
0 free entry for physically challenged visitors, street children and students up to 5th standard
30 per person for Adults (SAARC)
20 per person for Students (SAARC)
150 per person for Adults (Foreigners)
100 per person for Students (Foreigners)
50 per person for Light & Sound show
50 Camera charges
Jorasanko Thakurbari Kolkata Phone
---
Rating:

| 4/5 stars
Based on total 58 reviews
Jorasanko Thakurbari Kolkata Address: 259, Rabindra Sarani, Singhi Bagan, Jorasanko, Kolkata, West Bengal, 700007, India
Kolkata Tour Packages

Jorasanko Thakurbari Kolkata Timings
| Day | Timing |
| --- | --- |
| Monday | Closed / Holiday |
| Tuesday | 10:30 am – 5:00 pm |
| Wedesday | 10:30 am – 5:00 pm |
| Thursday | 10:30 am – 5:00 pm |
| Friday | 10:30 am – 5:00 pm |
| Saturday | 10:30 am – 5:00 pm |
| Sunday | 10:30 am – 5:00 pm |
Light and Sound Show Timings
6:00 pm - 6:40 pm (Bengali) (November to January)
7:00 pm - 7:40 pm (English) (November to January)
7:00 pm - 7:40 pm (Bengali) (February to June)
8:00 pm - 8:40 pm (English) (February to June)
Links:
Website
|
Map
---
The trip to Kolkata would be incomplete without visiting the Jorasanko Thakur Bari or the ancestral house of the Tagores. The most eminent among them was Rabindranath Tagore, a poet, artist, and the first Asian to be honoured with a Nobel Prize.
The glorious mansion is one of the most beautiful heritage buildings of Kolkata, the birthplace of Rabindranath Tagore and also the place where he spent his childhood and later years. The Thakur Bari was also the residence of Gaganendranath and Abanindranath Tagore, the founders of Bengal School of Art.
The Jorasanko Thakur Bari has been converted into Rabindra Bharati University, a centre for Indian Classical Fine Arts and quality education. The building also houses a splendid museum, Rabindra Bharati Museum which was established in 1961 exhibiting intimate stories from the lives of the Tagores.
Thakur Bari, as it is popularly called by the locals has remained the nerve centre of Bengal's art and cultural reformation including Bengal Renaissance and Brahmo Samaj. The place is now a pilgrimage for artists and art lovers from all over.
The university holds an annual cultural programme every year on Tagore's birthday on Panchise Baisakh (25th day of Baishakh).
Jorasanko Thakurbari History and Architecture
The history of Jorasanko Thakur Bari goes back to 1784 when a piece of land was gifted to Nilmoni Tagore on the east side of Chitpur Road after he left his family home due to irreconcilable disputes within the family. Nilmoni Tagore built a small house at Jorasanko.
The Thakur Bari was later expanded by Prince Dwarkanath Tagore, the illustrious grandfather of Rabindranath Tagore in 18th century. Situated in the north of Kolkata, the mansion is located in Jorasanko, near Girish Park on Chittaranjan Avenue. The land was donated to Prince Dwarkanath Tagore by the famous Seth family. Rabindranath was born here in 1861 and spent a major part of his life in this home. It is here that the Nobel laureate passed away in 1941.
The name Jorasanko came from the fact that there are twin Shiva temples near the home.
The Jorasanko Thakur Bari is spread over 35000 square meters. The palatial brick red mansion was first started from a small house where different wings and alleys were added slowly to the original architecture.
The rounded verandah adds to the advantage that members could clearly watch programs of the natya manch that was at the centre of the house. Even at a time when the purdah system was at its prime, the Tagores never followed it at their home. The women of the family were equally entitled for open discussions regarding culture, literature, art, business and sundry. This very outlook of the family, later contributed to greater cultural changes in the society.
Image Gallery of Jorasanko Thakurbari / House of the Thakurs Kolkata
Rabindra Bharati Museum at Jorasanko Thakurbari
In 1959, the Government of West Bengal planned to establish a University as a memorial to Rabindranath Tagore. This was achieved during the birth centenary of the poet when the Rabindra Bharati University was founded on May 8, 1961 under Rabindra Bharati Act at his residential house in Jorasanko for better learning and culture, particularly in music, dance and drama.
The Rabindra Bharati Museum was established in the following year. The University was inaugurated by the then Prime Minister Pt. Jawaharlal Nehru on Tagore's birth centenary, 8 May 1962.
Within the complex is Maharishi Bhavan, named after the poet's father, Maharshi Debendranath Tagore, where, as the plaque outside reads, "Rabindranath was born breathed his last here." Today this house is a museum that has three galleries dedicated to Tagore, other eminent members of Tagore family and Bengal Renaissance. The galleries provide glimpses of intimate family photographs, life size portraits and Tagore's evolution as a poet and philosopher.
The Rabindra Bharati Museum has an overall collection of 2071 books, 770 journals, 16 paintings, 3297 photographs, 27 crafts and sculptures, 208 personalia and 3 pieces of furniture.
The first gallery showcases the life of Tagore and his works. The remaining two galleries exhibit stories about his family and other stalwarts of 19th Century Renaissance Bengal. like Dwarakanath, Debendranath, Rabindranath, Abanindranath, Gaganendranath, etc.
The two galleries on Art, display paintings of Bengal School and portrait paintings of Tagore house drawn mainly by the Anglo- Indian School (western art gallery). Apart from these there are galleries displaying life and activities of Rabindranath Tagore.
The museum also has the Japan Gallery, China Gallery, the US Gallery and the Hungary Gallery that explore Rabindranath's visit and relations with these countries. There are more than 700 paintings along with manuscripts, books and other antiques.
The museum also boasts of a unique collection of around 3000 photographs placed on display. It has a section dedicated to old musical records.
Inside Rabindranath Tagore's Room, His Paintings and, His Car
Photography is strictly prohibited inside the house. The room where Tagore lived and died is preserved very well with all belongings in the same place and same way as they used to be. No one is allowed to touch the artefacts. The self- composed wedding invitation card is also one of the highlights here.
Tagore's original paintings are the most interesting of the exhibits. There are 40 original paintings on display which were acquired by the West Bengal Government from Rabindranath's son. There are also the notebooks on which Tagore used to scribble. It is said that Tagore used to write and then blacken out the words that did not quite fit in. Doing so, he used to make paintings and sketches out of the blackened words.
Rabindranath's Humber Car is parked in the backyard of the mansion and can easily be missed if one doesn't know about it. The staff is cordial and helpful enough and show visitors around.
The Japanese Art Gallery
This section houses art and artworks from Japan that include works of few famous Japanese artists of those times. Some were Tagore's collection that he picked up on his tours to Japan and few were the paintings done by artists themselves when they visited and stayed at Thakur Bari.
Events at Jorasanko Thakurbari
The Rabindra Bharti University, located in the vicinity of the Jorasanko Thakur Bari, organises numerous events and programmes. The most important of all events is the Panchise Baisakh, a cultural programme that takes place on the poet's birthday. Other occasions, like Tagore's death anniversary, marked as Baishe Shravan at the Jorasanko Thakur Bari, are also celebrated with equal fervor. The university also organises a festival of arts known as Aban Mela.
Jorasanko Thakurbari Timings and Entry Fees
Opening Hours:
From 10:30 am to 5:00 pm (except Monday and govt. holidays)
Entry Fees:
Indian nationals: Free entry for physically challenged visitors, street children and students up to 5th standard.
For students: INR 10, For adults: INR 20
NOTE: Block Booking Available Only For Indian Students
SAARC countries: For students: INR 20, For adults: INR 30
Other Countries: For students: INR 100, For adults: INR 150 (Photo identity proof necessary)
Photography Charges: INR 50 per device. Photography is allowed only outside the museum building and in the courtyard. Photography is strictly prohibited inside the museum.

Note: Free Guide Service On Availability
Jorasanko Thakurbari Light and Sound show
The light and sound show at Jorasanko Thakur Bari is an interesting depiction of the life of Rabindranath Tagore. The show is conducted in Bengali and English, all the days of the week except for Mondays and Thursdays. Following are the timings of the show:
November to January:
Bengali- 6:00 PM to 6:40 PM
English- 7:00 PM to 7:40 PM
February to June:
Bengali- 7:00 PM to 7:40 PM
English- 8:00 PM to 8:40 PM
Ticket: INR 50
Note: Full ticket necessary for children above 3 years age.
Booking counter opens at 5.30 pm (RABINDRA SARANI GATE)
For block booking: Contact Registrar (9163365935)
P. S - No Shows On Mondays And National Holidays
How to Reach Jorasanko Thakurbari
Metro is the easiest way to reach Jorasanko Thakur Bari. The nearest metro station is Girish Park. The mansion is at a walking distance from the metro station.
One can also hire yellow taxis and rented cabs (ola/uber, etc.) or book a private cab from top car rental companies in Kolkata.
Places to visit near Jorasanko Thakurbari
Kumartuli artisans village, Nakhoda Mosque, Armenian Church, Marble Palace, Magen David Synagogue and Neveh Shalome Synagogue are some of the places that are located nearby.
---
The birthplace of Rabindranath Tagore offers a lot of other interesting tourist attractions that one can visit leisurely with the Kolkata Tour packages offered by Kolkata Tourism, a part of Holidays DNA. You can explore all the important places to visit in Kolkata and have a memorable holiday experience that you can cherish for a lifetime. Please fill the Contact Us form and we will get back to you.
Location Map for Jorasanko Thakurbari Kolkata