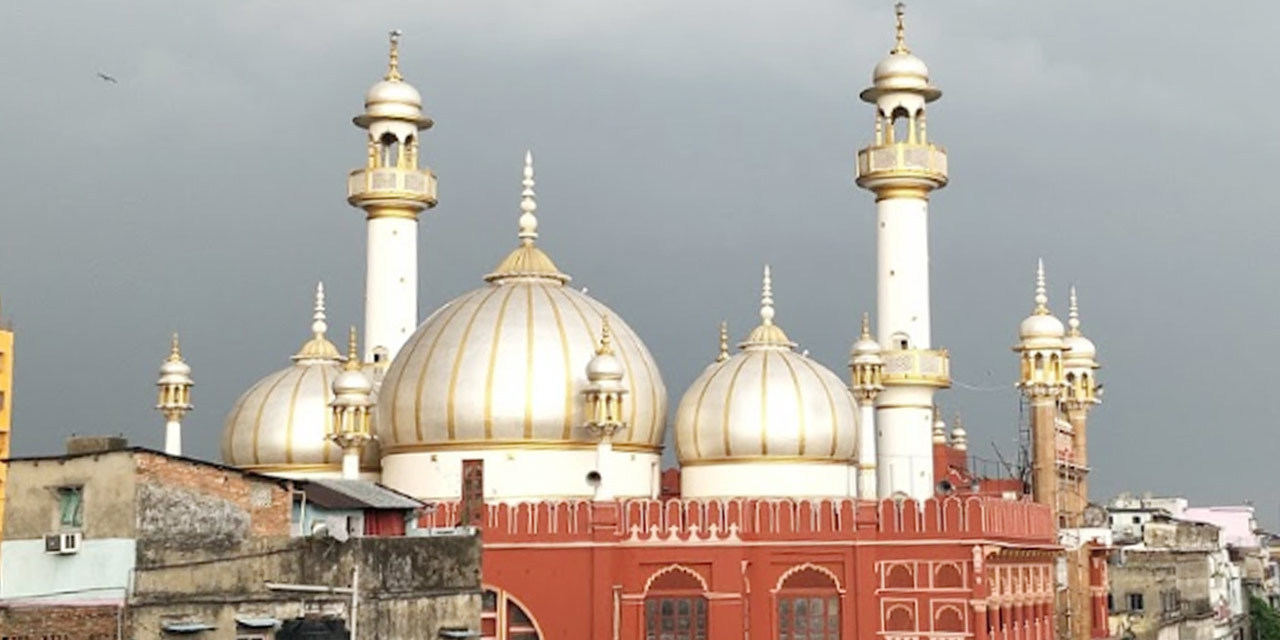 Nakhoda Mosque Kolkata Entry Fee
Nakhoda Mosque Kolkata Phone
N/A
---
Rating:

| 4/5 stars
Based on total 45 reviews
Nakhoda Mosque Kolkata Address: Mahatma Gandhi Rd & Rabindra Sarani, Chowringhee North, Bow Barracks, Kolkata, West Bengal, 700073, India
---
Kolkata is a city that boasts of a rich heritage. It is a city which is home to several cultures and not just the Bengali community. The city is dotted with several tourist attractions that include gardens, museums, temples and mosques. One such mosque that is a popular tourist site is Nakhoda mosque in Kolkata.
Nakhoda Mosque is the largest mosque of the city and one of the most magnificent structures of the city as well. The mosque can easily accommodate ten thousand devotees wishing to offer Namaz. It was built in 1926 by a Kutch dweller Abdar Rahim Osman and it had taken almost fifteen lakh rupees to construct this work of art. He had not built the original structure of the mosque which was very small but had made extensive additions to the building.
The area around the mosque is a true reflection of the spirit and vibe of the city. Streets and lanes around the mosque are lined with vendors selling everything from brass utensils to ittar (perfume).
You can sample some mouth-watering dishes in the market near the mosque. There are kebabs to relish and biryani to drool at along with local street food. Visitors to the mosque can often be seen sitting at tea stalls, sipping tea and admiring the beauty of the mosque.
Architecture of Nakhoda Mosque Kolkata
There are 25 small pillars in the mosque, all of which are almost 100ft tall and give the mosque a majestic look. The mosque is made from exquisite granite which had been sourced from Tolepur. As you lay sight on the gateway of the mosque, you will notice that it resembles the Buland Darwaza of Fatehpur Sikri while the rest of the building will remind you of Akbar's Tomb at Sikandra.
The center of the mosque has three large domes and two minarets that add to its beauty. The water tank inside the mosque which is used for cleaning up before offering prayers has also been designed tastefully and so is the blue and white floor of the mosque.
Nakhoda mosque reflects a mélange of Indian and Saracenic style of architecture. The walls of the mosque from inside are ornately decorated in golden, orange and brown hues.
Image Gallery of Nakhoda Mosque Kolkata
Entry Fee and Timings of Nakhoda Mosque Kolkata
Nakhoda Mosque can be visited from 6 am to 8 pm on all days of the week. There is no entry fee to visit the mosque.
Places to visit near Nakhoda Mosque Kolkata
1. Armenian Church: If you wish to witness a beautiful combination of Christian mythology, traces of art and history then you must head to Armenian Church in Burrabazar. The church was built by Nazar Ago in 1724 and it is visited by tourists and devotees alike. The gallery of the church is decorated with marvelous frescoes and paintings.
2. Howrah Bridge: An iconic structure and landmark of the city, Howrah Bridge stays busy for the most part of the day and you may have seen it already while going around the city but what you must do is go to the bridge during slack traffic hours or at night when it is lit in bright colors, to witness its beauty up close.
3. Eden Gardens: If you are a cricket enthusiast then you must pay a visit to this cricket stadium which is the largest stadium in India. It was built in 1864 and has a seating capacity of 66 thousand.
4. Pareshnath Jain temple: Also known as the Calcutta Jain temple, it is dedicated to the 23rd Tirthankara called Pareshnath. This 18th-century temple sees not just Jain devotees but also tourists who are entranced by the beauty of the temple. The highlight of this temple is the diamond-encrusted crown of Shitalnathji's idol.
How to Reach Nakhoda Mosque Kolkata
Nakhoda mosque is located on Rabindra Sarani, Chowringhee North, Bow Barrack in Central Kolkata. It can be reached in following ways:
By Air: Netaji Subhas Chandra Bose International airport is the nearest airport to the masjid. After landing at the airport one can either take a bus or hire a cab from top car rental companies in Kolkata to reach the mosque.
By Train: Kolkata and Sealdah are the two nearest railway stations to the mosque. One can either take a taxi or bus from the railway station to reach it.
By Road: Nakhoda mosque is located in the central part of Kolkata. National Highway 6 connects Kolkata to other cities in India. One can also hire a taxi from any part of Kolkata to reach the mosque.
---
Kolkata has a lot of tourist attractions and to help you plan your Kolkata tour in a better way, we at Kolkata Tourism, a division of Holidays DNA offer all-inclusive Kolkata Tour packages at affordable rates. You can also ask our experts to customise your package according to your needs and preferences. So, what are you waiting for? Please fill the Contact Us form and we will get back to you at the earliest.
Location Map for Nakhoda Mosque Kolkata