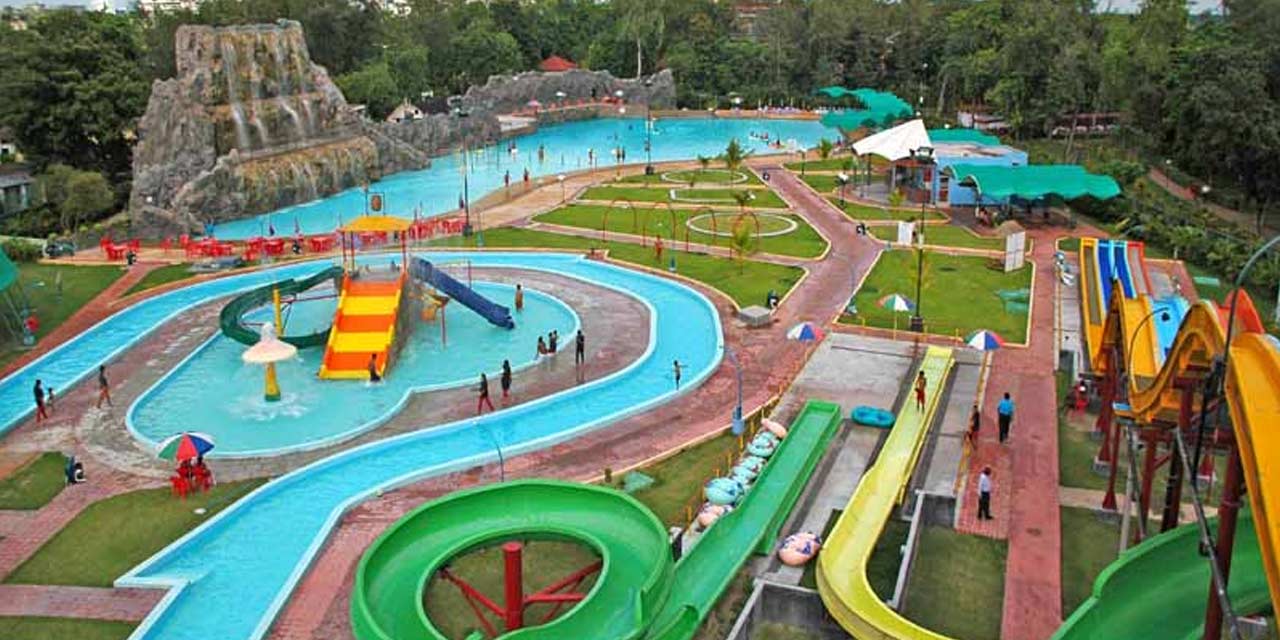 Nicco Park Kolkata Entry Fee
250 Entry fee per person ((Includes 12 Specified Free Rides & Attractions in the Main Park)
930 per person for Park Package 1 with Meal (Includes all Rides & Attractions in the Main Park. Bull Shows, Games and Game Zone are not included in this Package)
750 per person for Park Package 2 (Includes all Rides & Attractions in the Main Park. Bull Shows, Games and Game Zone are not included in this Package)
2500 Annual Ticket (Includes Free Entry, Main Park's rides & water park facilities throughout the year, once in a day)
1100 Annual Ticket fee for Main Park (Free entry to the Main Park and free rides year long)
1100 Annual Ticket fee for Water Park (Free entry to the Water Park and free rides year long)
Nicco Park Kolkata Phone
Rating:

| 4/5 stars
Based on total 62 reviews
Nicco Park Kolkata Address: Jheel Meel, Sector IV, Salt Lake City, Kolkata, West Bengal, 700106, India
Kolkata Tour Packages

Nicco Park Kolkata Timings
| Day | Timing |
| --- | --- |
| Monday | 10:30 am – 7:30 pm |
| Tuesday | 10:30 am – 7:30 pm |
| Wedesday | 10:30 am – 7:30 pm |
| Thursday | 10:30 am – 7:30 pm |
| Friday | 10:30 am – 7:30 pm |
| Saturday | 10:30 am – 7:30 pm |
| Sunday | 10:30 am – 7:30 pm |
Links:
Website
|
Map
---
Nicco Park, the largest amusement park in all of Eastern India is an absolute blast! The park is extensively full of rides and also has a water park section known as the Wet-o-Wild. The park has over 30 rides, 5 attractions and 1 show in total and if you're planning to spend the whole day there the park also offers day packages. When you get hungry during the day visit the Food Court on premises that offers a variety of cuisines ranging from Indian, Chinese, South Indian and snacks.
The water park is reputed for its clean pools, water slides and extremely hygienic lockers and swimming costumes. Nicco Park also has a bowling alley, named Nicco Super Bowl which has 4 bowling lanes.
The compound also has two restaurants, the cheaper one being the Beach Cafe Restaurant that serves some lovely vegetarian food and the pricier Bowlers' Den Restaurant where you can get Tandoori, Chinese, Indian and Punjabi food with a huge array of alcoholic beverages. Nicco Park is the perfect place for a lovely winter outing and requires patience and probably a second trip to cover and enjoy all the wonders hidden within this amusement park.
Location of Nicco Park Kolkata
The park is located off Eastern Metropolitan Bypass towards Salt Lake Sector Five in Kolkata, India. It is pretty much a common landmark with a variety of routes to go through.
Things to do at Nicco Park Kolkata
Nicco Park sets off being one of the best get away for families and friends from the chaos of our everyday lives. The unlimited number of activities you can opt from will leave you spoilt for choice. The park itself hosts numerous rides that will have your adrenaline pumping high at its maximum, along with two adjacent arena namely Wet-O-Wild and Nicco Super Bowl, finishing up with sumptuous food. An overview of the activities you can try out are as follows:
1. Nicco Park:
It is home to unlimited fun, catering to whatever may be your mood. If you want to have a taste of some thrill, you can choose from an array of rollercoaster rides to have your heart pumping or if you are in the mood to be lazy, there are plenty of options. Activities at Nicco Park are segregated into Family Rides, Kids Rides, Thrill Rides and Shows and Attractions.
A. Family Rides
Toy Train: A miniature toy train runs across the Park. It has about eight bogies which comfortably seats around twenty riders at a time. With the sound of the rhythm of the train in the background, sit back and relax as you travel through the park.
Family Carousal: There is something magical about carousals, very similar to the ones in fantasy movies. This carousal contains about sixty-four different horses for you and your kids to ride on. It gains speed upon rotation of the carousal on the platform.
Cable Car: Safely, glide through the air while enjoying a bird's eye view of the entire park with your family on this Cable Car ride. All you are required to do is hike up a small hill to the starting point of the ride and then board a gandola, that seats four people at a time.
River Cave: Famed to be one of the most thrilling rides in Nicco Park, it is a big attraction. In paddle boats, you and your family paddle through the canal into the cave which unfolds dark sections of history from dinosaurs, volcanic eruptions, etc. You might have a surprise visit from a T-Rex!
Paddle Boat: Tired of hopping around the park but don't want to miss out on the fun? No worries because Nicco Park provides you with a ride called Paddle Boat. There are forty boats with space for four in each. Hop in and paddle your way around the lake.
Lazy River Ride: An absolute stress-buster is this Lazy River Ride. It gives you a ten-minute relaxing break while you float down a raft along a canal.
B. Kids Rides
Children's Corner: This is the answer to every child's dream. Get your kids to one of the most happening sections of the park. The Children's Corner is essentially a playground for children with all their favourite rides such as swings and slides.
Merry Go Round: Every child loves to ride merry go rounds. This miniature ride is meant for all the tiny tots wishing to experience a thrilling ride.
Water Merry Go Round: An alternative to same old merry go rounds is one on water. Toddlers riding this ride, rotate on platform with drizzling water. The main attraction is the variety of colours they get to see.
C. Thrill Rides
Sky Diver Ride: Do you have a fear of height or prefer the rush of adrenaline for a height? This may be the best ride to face your fears and taste the rush. A sixteen -seater will fall from a height of eighty feet along a tall, slim tower.
Bull Ride: The infamous bull fight against humans has been immobilised in this ride. Ride an agitated, machine run bull and time it. You can hold off a little competition with your friends.
Water Coaster: It is believed to be the first water ride in Eastern India. It is a double seater ride, where you are pushed down a straight slope of water or a curvy one from a height of seventy-five metres in a matter of only seven seconds.
Twist and Turn: A popular term for this ride that is commonly known is called 'breakdance.' It literally means what the name of the ride is. Two seaters are made to twist and turn around in unpredictable manner for seventy-five seconds.
Pirate Ship: This is undoubtedly one of the most thrilling rides. You are seated on a ship that swings like a pendulum. This might leave you with butterflies, as each swing alleviates the thrill.
Cyclone: This is a complete crowd favourite. It made history for being India's first functioning and safe wooden roller coaster ride. Get ready for your mind to get blown away!
D. Shows and Attractions
Haunted House: Witness some extraordinary spirits as you stroll through this house. Enjoy the horror upfront with scary paintings and sounds enticing you.
Oceania: Nicco Park hosts a unique exhibition of underwater life, plants and various marine life. It is carefully curated and its items are acquired from Australia, Singapore, Africa and Brazil.
Snow Globe: Experience the joy of playing with snow. This is an absolute paradise for not only children but for one and all. A lot of us have never seen snow and this probably gets you closer to the dream.
Eiffel Tower and MIG 21: Enjoy the view from the Eiffel Tower in Paris, in Nicco Park that gives you a panoramic view of the park. Along with it, on display is a fighter plane gifted by the Indian Air Force called MIG 21. The plane is from the Bagdogra Airbase, making it truly historical.
2. Super Bowl
The bowling alley in Nicco Park is one of the most popular places to visit in Kolkata. It is the best alley in the city containing four bowling lanes, four pool tables, one air hockey table and derby. It is a gamer's paradise and the perfect place to drop in to unwind and relax, especially on the weekends.
3. Wet-O-Wild
Wet-O-Wild is a miniature water theme park that houses a variety of rides to enjoy from. The ideal time to visit are hot summer days and during the time before a chilly winter sets in. The rides include:
Wave Runner: This is a high-speed mat race down a wavy platform into a shallow pool of water.
Wave Pool: Experience the waves at sea or a beach at this artificial wave pool.
Niagara Falls: Dancing under a waterfall is an experience, and this can be obtained by trying Niagara Falls at Wet-O-Wild.
Body Slide: Lie down and get pushed down a curvy lane into a shallow pool of water.
Family Swirl: You and your family can hop on a tube and spiral your way down into water
4. Food
All these fun and frolic is going to make you hungry. Nicco Park does not shy away from providing you with an assortment of food to gorge on.
Food Park: It contains a food park that offers you a variety of cuisines such as North Indian, Chinese, South Indian, Bengali and Fast Food.
Bowler's Den: A rooftop restaurant over Nicco Super Bowl serves Tandoori and Chinese cuisine along with a beautiful view of the park.
Beach Café Restaurant: With beach vibes by a pool, this restaurant is purely vegetarian and quite pocket-friendly.
Image Gallery of Nicco Park Kolkata
Tickets and Pricing at Nicco Park Kolkata
Nicco Park is the one place in Kolkata that remains open all through the day, except the day of Holi. There are specific timings, ticket pricings to be bought and packages to avail to enjoy all the amenities provided by the park.Nicco Park also offers various packages for families and friends alike which include access to a ton of rides and even a meal!
Timings
Nicco Park Gates are open from 10:30 am to 6:30 pm. The rides in Nicco Park are accessible from 10:45 am to 7:30 pm.
Nicco Super Bowl Gates are open from 2 pm to 10 pm during weekdays and from 12 pm to 10 pm during weekends and holidays.
Pricing
Nicco Park:
Entry Fee is Rs. 250 per head for 12 rides including; Toy Train, Family Carousal, Mirror Maze, Caterpillar, MIG21, Eiffel Tower, Merry Go Round, Water Merry Go Round, Children's Corner, Flume Ride and for the kid's; Children Corner, Pirate Ship, Crazy Tea Party Ride. Available for entry after 4:30 PM.
Entry Fee excluding all rides is Rs. 185 per person
Nicco Super Bowl:
Entry Fee is Rs. 55 per head
Wet-O-Wild:
Entry Fee is Rs. 600 per head including all rides.
Packages:
Park's Package 1: Rs. 930 per head including all rides in the park and meals. Meals available between 10:30 AM – 4:30PM.
Park's Package 2: Rs. 750 per head including all rides in the park and entry fee. Available for entry after 4:30 PM.
Annual Park Tickets: Rs. 2500 for a whole year, including all rides and entry in the park and water park for one day. If you bring four guests, they get a 40% discount.
Passport Package 1: Rs. 1100 for all rides and entry in the park for a whole year.
Passport Package 2: Rs. 1100 for entry, twelve rides in the park or slides in Wet-O-Wild for a whole year.
Places to visit near Nicco Park Kolkata
Two prominent sight-seeing places that are located around Nicco Park are:
1. Nalban Boating Complex: There are few places you can kick back and relax in the city and Nalban Boating Complex is one of them. It is more commonly known as 'Lover's Point' for its attraction to lovers. Take a nice stroll with your partner when the sun is setting, under canopies of trees and a slight breeze against your skin. You can even take a leisure boat ride across the manmade lake, pedaling through the water. Located adjacent to Nicco Park, it is a nice place to visit after a whole day of fun at the park.
2. Salt Lake Stadium: An iconic place situated close to Nicco Park is the Salt Lake Stadium. It is historic in the sense that it houses the biggest seating capacity of a multi-purpose sports stadium in India. It can hold a capacity of eighty-five thousand people at a time. It is also called Vivekananda Yuva Bharati Krirangan. The stadium hosted the FIFA Under 17 World Cup Match in the year 2017. A lot of important international and national tournaments are held at the stadium. It is a must visit for tourists.
How to Reach Nicco Park Kolkata
Since Nicco Park is in the city of Kolkata, it is necessary for you to first get to the city. The different ways in which you can go to Nicco Park includes:
Flight: If you want to visit the park, first you have to get to Kolkata by a flight to Netaji Subhash Chandra Bose International Airport(CCU). From the airport you could take any of the local buses or book a cab from top car rental companies in Kolkata to Nicco Park.
Train: You have to get off at Sealdah, Howrah or Kolkata(Chitpur) station. Nicco Park is easily accessible by buses, there are several buses that connect Nicco Park to all parts of the city.
Bus: You will get an array of local buses that will take you to Nicco Park from almost all of the main junctions in the city.
Sadly, there aren't any metro routes connecting Nicco Park yet, but there is one under construction and soon the park will have a station of its own. There is no train station close to the amusement park either, the closest one is Sealdah, which is one of the main train stations in Kolkata. Since the amusement park is very close to one of the main business centers of the city you can also find shuttle rides in the form of different cars or vans heading towards Nicco Park from most parts of the city.
---
Family Carousel, one of the most unique rides at Nicco Park where adults and kids can ride a carousel horse together is what best describes the atmosphere at the park; there is a bit in it for everybody. Even if you don't want to get on a ride you can just sit and relax next to the waterbody of Nalban.
Children of all ages can enjoy different kinds of rides at the park, while teenagers can seek the thrill at one of the coolest roller coaster rides in the country. There are several other rides you can enjoy at Nicco Park.
If you're getting too hot during the summer, beat the heat at their water park. Food enthusiasts can visit their restaurants and food court for a range of dishes from local street food all the way to fine dining.
Latest technology made and maintains such enormous rides at Nicco Park. It is truly an experience paying the place a visit. You would be amused to see things such as a life-size replica of the MiG-21 Fighter Jets or you can run into an underwater museum at the park. In case you get lost, you can always look up and locate the Eiffel Tower. Yes, the park also has a replica of the Eiffel Tower!
More niche activities at the park include bowling, paddle boating and cable car rides. The park has some great administration and is usually neat and clean, it can get overwhelmingly crowded during public holidays but are usually not as crowded throughout the year.
---
Kolkata has a lot to offer to its visitors and we at Kolkata Tourism, a division of Holidays DNA have designed Kolkata tour packages that cater to each and every kind of traveller. To make the most of your holiday in this beautiful city, choose the package that suits you best. You can also choose from our 2 or 3 day packages depending on the duration of your stay. For more details on various packages, fill the Contact Us form and we will get back to you.
Location Map for Nicco Park Kolkata