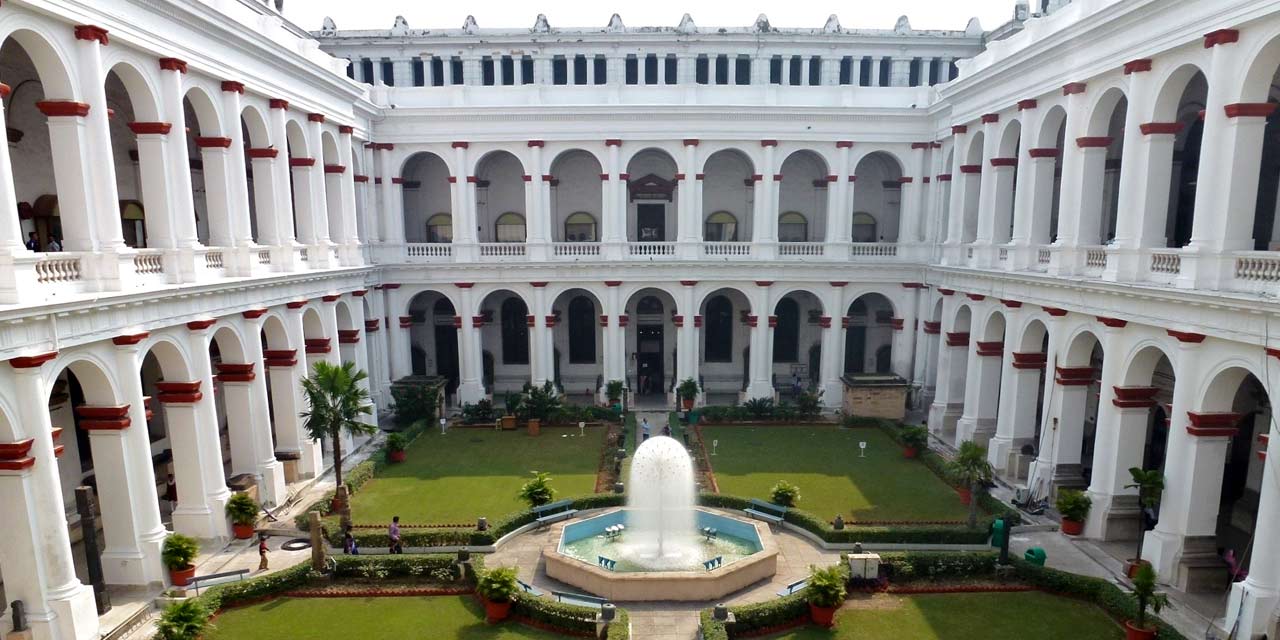 Indian Museum Kolkata Entry Fee
50 per person for Indian Adults
20 per person for Indian Children (Above 5 yrs of age)
500 per person for Foreign Tourists
Indian Museum Kolkata Camera Charges
50 for Smart Phone
100 for Still Camera
2000 for small Video Camera
5000 for Video Camera with Stand
Indian Museum Kolkata Phone
---
Rating:

| 4/5 stars
Based on total 56 reviews
Indian Museum Kolkata Address: 27, Jawaharlal Nehru Rd, Colootola, New Market Area, Dharmatala, Taltala, Kolkata, West Bengal, 700016, India
---
The Indian Museum in Kolkata is the ninth oldest museum in the world and the largest museum in India with its foundation stone laid in the year 1814. It has exhibits of some finest collection of artefacts that include, armours, fossils, skeletons, antiques, ornaments, Egyptian mummies and contemporary paintings as well as paintings from the Mughal era.
Indian museum also boasts to have one of the most unique assemblages of coins and sculptures that date back to the second century AD. There are sculptures from Gandhara School of Art and architectural remains from Bodhgaya too, which are displayed in separate galleries. The museum is popularly called as 'Jaadu Ghar'.
Museums are a treasure trove for all history buffs. The Indian Museum has a total of 35 galleries divided into 6 categories namely Anthropology, Art, Archaeology, Geology, Zoology and Economic Botany. The museum celebrated its bicentennial anniversary in February 2014.
History of Indian Museum Kolkata
The conceptualization of setting up a museum in 1794 was, in itself a moment of pride towards the cultural development and a value addition to the heritage and history of India. The ideation of Indian Museum was proposed by The Asiatic Society of Bengal which was formed by Sir William Jones in 1784, a well-known scholar who devoted his life to the service of India. It only appeared concrete by 1808, when the society members were granted a suitable place by the then Government of India in Chowringhee- Park Street area.
The principle purpose of forming the Asiatic Society of Bengal was to promote a centre for learning and development of culture and art through socio-cultural activities and also to preserve the culture and tradition pertaining to the limited geography of Asia.
The Indian Museum was established in February 1814 by Dr. Nathaniel Wallich, a Danish Botanist. Dr. Wallich suggested that the museum must have two sections- an archaeological, ethnological and technical section and a geological and zoological one. Wallich was named as the Honorary Curator of the Oriental Museum of the Asiatic Society. He had also donated several botanical specimens from his personal collection.
As the museum started gaining popularity among both Europeans and Indians, objects started pouring in from various donors from across the country. The list of donors was numbered at 27 in the year 1816, all Europeans, who gifted 127 items. The individual collectors were Col. Stewart, Dr Tytler, General Mackenjzie, Mr Bryan Hodgson, Capt. Gillon. Among the 49 Indian donors, the most recognised names were Baboo Ram Comul Sen, Kali Kissen Bahadoor, Moharaja Radhacant Deb, Mathuranath Mullick, Sivachandra Doss, and her Highness Begam Sambroo.
The Government expanded the geology and mineral sections in the museum and also allocated an additional grant of INR 250 per month for geology section only. The curators of other sections received salaries ranging between INR 50 to INR 200 per month. This was done after the resignation of Dr. Wallich.
The Geological Survey of India was amalgamated with the Geological Museum in the year 1858.
The new/present building was opened for public with just two galleries on 1 April, 1878. It was transformed into a multidisciplinary institution separated by categories. The Archaeology gallery and the bird gallery of the Zoology section were opened in the new building.
Zoological and Anthropological sections of the museum led to the foundation of the Zoological Survey of India in 1916, which in turn led to the formation of the Anthropological Survey of India in 1945.
In the beginning, the museum was named "Asiatic Society Museum" and was later known as the "Imperial Museum" but later went on to be re-named as the "Indian Museum". The institution comes under the Ministry of Culture, Government of India.
Image Gallery of Indian Museum Kolkata
Architecture of Indian Museum Kolkata
The present building of Indian Museum is another architectural grandeur that stands strong till date. The structure was designed by the most famous architect of Victorian period, Walter Granville, who has the credit of designing quite a few landmarks of Kolkata.
The museum was completed in 1875 at a total expense of INR 1, 40,000. The building has three floors, each spanning across an area of around 930 square metres. There are a total of 60 galleries which are divided into six major categories namely Anthropology, Art, Archaeology, Zoology, Botany and Geology.
There is a library inside the museum that houses a vast collection of some 50,000 books and journals along with a museum shop that sells children's books, Art Albums, photographs and Picture Postcards.
Indian Museum Collections and Galleries
The collection of Indian Museum houses some of the finest and rarest collections in each of its galleries under six categories. The collections range from ancient remains of Indus valley, fossils, Egyptian mummies, sculptures, ornaments and many more.
Archaeology Section: The galleries that display collection under this category include Bharhut Gallery, Gandhara Gallery, Main Entrance Gallery, Pre and Proto-Historic Gallery, Minor Art Gallery, Long Archaeology Gallery, Bronze Gallery, Coin Gallery and Egyptian Gallery
Art Section: The galleries under the art category include paintings from around the world along with textile and decorative arts. Bengal Painting Gallery, Mughal Painting Gallery, Decorative Art and Textile Gallery, South East Asian gallery come under this category.
Anthropology Section: The Mask Gallery, Cultural Anthropology Gallery, Palaeo-Anthropology Gallery, and Musical Instrument Gallery are included under Anthropology Section
Geology Section: The galleries included under this category are: Siwalik Gallery, Invertebrate Fossil Gallery, Rock & Mineral Gallery, Earth and Meteorite Gallery with Gem Section.
Botany Section: The resources listed under the Botany category is the most extensive of all with information on Indian flora and vegetation like Indian timbers, Food products, Medicinal produces, Vegetable fibres, Oil and oilseeds and various crops commonly grown in India.
Zoology Section: The galleries under Zoology Section include Fish Gallery, Amphibia and Reptilia Gallery, Bird Gallery, Mammal Gallery and Ecology Gallery.
The zoological and Anthropological sections now operate under the Zoological Survey of India.
List of Major Galleries at Indian Museum
Bharhut Gallery: The gallery displays the architectural remains from a place called Bharhut in Satna district of Madhya Pradesh. There are fragments of railings from Bodhgaya belonging to first century BCE which was believed to have been encircling the Bodhi Tree under which Lord Buddha attained enlightenment.
The gallery also exhibits the only surviving eastern gateway of Bharhut, known as "Torana". This was excavated by Sir Alexander Cunningham in 1873. The gateway was carved out of red sandstone and belonged to Sunga period.
The other exhibits displayed in the gallery include that of popular folk deities and demi gods and goddesses like yakshas and yakshinis, reliefs displaying Jataka tales, stories from the life of Buddha
Bronze Gallery: The Bronze Gallery has a repository of metal images which date back between 8th to 14th Century CE.
Gandhara Gallery: The Gandhara Gallery displays sculptures representing the life of Lord Buddha. Apart from which, it also displays of Bodhisattva and Maitreya of the Gandhara School of Art. The art school flourished in the 2nd Century CE and the artwork was majorly and influence of Greco-Roman culture. The artefacts present in the gallery were excavated from Mardan and Loriyan Tangai in the Afghanistan region.
L. Archaeology gallery: The Archaeology gallery focuses on the evolution of sculptures in India. The sculptures displayed here are from various faiths that were followed between 2nd Century CE and 15th Century CE, belonging to Kushana, Gupta, Pala-Sena, Chandella, Pallava, Hoysala, Vijayanagar and Chola periods.
The major faiths practiced during the time were Buddhism, Brahmanical and Jainism. There are a few South East Asian sculptures recovered from Java that belonged to Buddhist and Brahmanical origins.
Egypt Gallery: The highlight of this gallery is a 4000-year-old Egyptian mummy. Apart from which, the exhibits give a glimpse of Egyptian culture and civilization through its collection of antiques.
Decorative art Gallery: The objects on display in the decorative art section were either used for decoration or ritualistic purposes during the early times. They are all aesthetic creations by skilled craftsmen and include objects used as Royal Glazed Earthenware or art pieces. The exhibits include temple façade of Mandalay with Burmese art, the front piece of Kathiawar house, front portion of a Salin monastery and various other objects made out of wood, brass, bones, silver, ivory, copper, jade, bidri and damascene.
Paintings Gallery: The paintings gallery is divided into 2 major sections namely Indian Miniatures and Bengal School of Art. The Indian Miniatures section display miniature paintings from various regions and dynasties ranging from Mughals, Deccan, Rajasthani, Pahari. Provincial Mughals and, Company of School of Paintings.
The Bengal School of Art has masterpieces from the 19th and 20th centuries that belong to the Neo-Bengal School of Painting. The paintings are majorly of famous Indian personalities like Rabindranath Tagore, Jamini Roy, Ishwari Prasad, Asit Halder, Nandalal Bose, Sunayani Devi and Abdur Rehman Chugtai. The displays also include various lithographs, pattachitra art and oil paintings depicting 20th Century Bengal.
Textile Gallery: The Textile Gallery exhibits fabrics produced in the Indian Subcontinent ranging from Kashmiri shawls to Benarasi Sarees of Benaras to Phulkari chadars from Punjab, Mirror works from Kutch to Jamdani Saree from Dhaka and Baluchari and Kantha Silk from Bengal, Soznis from Pakistan and printed fabrics from Lucknow and Chennai.
Botanical Gallery: This section is an industrial botanical section with detailed information on Indian vegetation and timbers.
Bird Gallery: The gallery displays specimen of migratory birds, their behavioural patterns, and ecosystem and survival patterns. There is also an insect gallery adjacent to the bird gallery.
Mammal Gallery: The mammal Gallery is included under Zoology category, which in turn operates under the Zoological Survey of India. It was opened in 1878 with the primary objective of using the specimen for education and conservation purposes. Some of the exhibits are as old as 100 years and include stuffed animals, horns, fossils, skeletons and skulls.
Mask Gallery: This is the newest addition to the museum collection and it displays masks used during tribal festivals across the country as well as masks from Bhutan and New Guinea. The gallery was opened to the public in 2016 and is located on the 4th floor.
Indian Museum Kolkata Location
The Indian Museum is located in Chowringhee, on the very busy JawaharLal Nehru Road in Central Kolkata.
Timings of Indian Museum Kolkata
The visiting hours of Indian Museum are:
Tuesday to Friday – 10:00 AM to 6:30 PM IST
Saturday and Sunday – 10:00 AM to 8:00 PM IST
Note: The museum remains closed on Mondays and public holidays
Indian Museum Entry Fees and Camera Charges
Entry Fees:
For Indian Nationals Adults: INR 50
For Indian Nationals Children above 5 years: INR 20
For Foreign Nationals: INR 500
Camera/Photography Charges:
Smart Phone: INR 50
Still Camera: INR 100
Small Video Camera: INR 2000
Camera with Stand: INR 5000
Places to visit near Indian Museum Kolkata
Victoria Memorial, Birla Planetarium, Eden Gardens and Park Street are located nearby Indian Museum
How to Reach Indian Museum Kolkata
Due to its location in central Kolkata, reaching Indian Museum is quite easier and affordable by metro. Several buses and minibuses too have a stop right outside the museum. Ask and get down at Lindsay Street bus stop.
Nearest Metro Station: Park Street Metro Station. Exit from the northern gate and keep walking to further north. The museum is located between Sudder and Lindsay streets.
Alternatively, one may also hire a taxi or cabs (Ola, Uber, etc.) to reach here. People looking for a relaxed holiday experience while exploring all the famous sightseeing places of Kolkata, one can also hire a cab from top car rental companies in Kolkata.
---
Kolkata Tourism, a division of Holidays DNA offers Kolkata Tour Packages for a relaxed holiday to the famed city in the best possible manner. You can choose the package according to your preferences and budget. Please fill the Contact Us form for more details on the various packages.
Location Map for Indian Museum Kolkata