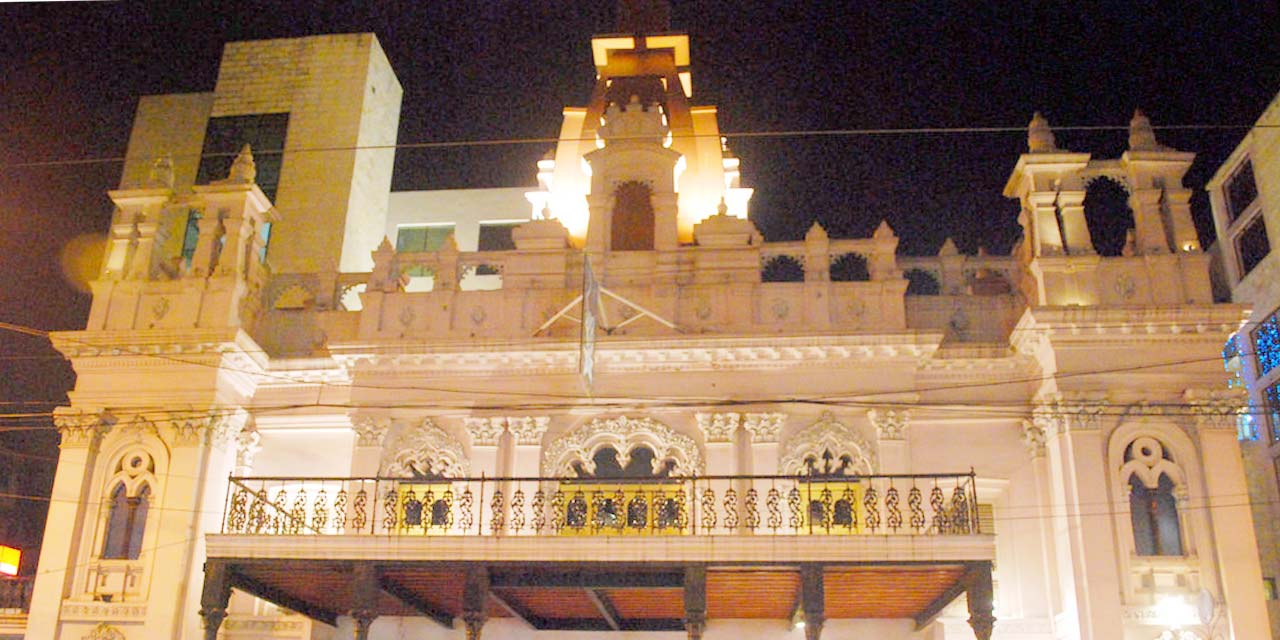 Star Theatre Kolkata Entry Fee
No Entry Fee
We should buy the Tickets to Watch the Movie
Star Theatre Kolkata Phone
---
Rating:

| 4/5 stars
Based on total 49 reviews
Star Theatre Kolkata Address: 79/3/4, Bidhan Sarani, Beadon Street, Kolkata, West Bengal, 700006, India
Kolkata Tour Packages

Star Theatre Kolkata Timings
| Day | Timing |
| --- | --- |
| Monday | 11:00 am – 10:00 pm |
| Tuesday | 11:00 am – 10:00 pm |
| Wedesday | 11:00 am – 10:00 pm |
| Thursday | 11:00 am – 10:00 pm |
| Friday | 11:00 am – 10:00 pm |
| Saturday | 11:00 am – 10:00 pm |
| Sunday | 11:00 am – 10:00 pm |
Note: Showing Timings are 11:00 am | 1:30 pm | 4:15 pm | 6:45 pm | 9:00 pm
Links:
Website
|
Map
---
Going to watch a movie is fun but when you see a movie in a heritage theatre, the experience gets enhanced several times. Star theatre in Kolkata is one such heritage theatre that is visited by people to admire its beauty and the history attached to it. Not just movie shows but several plays are also staged regularly at Star Theater Kolkata.
History of Star Theatre Kolkata
The theatre was initially built on Beadon Street but was later moved to Cornwallis Street which is now known as Bidhan Saran. Star theater and Minerva theatre were the inception points of commercial Bengali cinema and theater in Kolkata.
The theatre was born at a time during the British rule when prevalent social issues were being brought to light through cinema and theater. At one point in time, it was proposed to name the theater after the famous theater actress Binodini Dasi, also known as Noti Binodini. The suggestion, however, was rejected and the theater was given the name Star Theater.
The cinematic journey of Star Theatre in Kolkata
Several famous plays directed by eminent theatre personalities were staged here during the early years of the theatre. Girish Chandra Ghosh who was known as the Father of Bengali theatre produced a historic play at the Star Theatre in 1883 and he was one of the first to do so. It was the theatre's first play and was called 'Daksha Jagna'.
Star Theatre was one of the first theatres where the first motion picture made by Hira Lal Sen was screened and that etched the theatre's name in the history of cinema. The last play to be staged at the theatre was Manmath Roy's, Karagar in 1931. Names like Dani Mitra Saraju Devi, Uttam Kumar, Shishir Bhaduri, Geeta Dey, and Sabitri Chatterjee were associated with this theater.
In the year 1898, Swami Vivekananda had hosted a public meeting at this theatre. The purpose of the meeting had been to introduce Margaret Nobel, who later came to be known as Sister Nivedita. This meeting was attended by names like Sri Ramkrishna Paramahamsa, Rabindranath Tagore, and Vidyasagar.
The theatre was destroyed in a fire but was later restored by the local municipal corporation which gave the theatre contemporary interiors while retaining its heritage façade. The theatre looks like it has stood still in time while the world around it has adopted a modern sheen.
Once you are seated inside the theatre the ornate ceiling will mesmerize you. Images of flying birds on the ceiling, lights that resemble stars and the gold and red seats look very attractive and bear an old-world charisma. If you want you can book a seat on the balcony.
Star theatre is now managed by a private entity and is a popular cinema hall. Plays are also staged here two days in a month to ten days during winters. Movie experience at star Theatre is a delight because of its fabulous acoustics. There is an underground car parking too at the theatre which charges nominal parking charges.
Image Gallery of Star Theatre Kolkata
Location and How to Reach Star Theatre Kolkata
Star Theatre is situated at Bidhan Sarani, Kolkata near Shyambazar. Shobhabazar-Sutanuti station is the nearest metro station. One can also book a cab from top car rental companies in Kolkata and visit all the popular sightseeing places of Kolkata in a hassle free manner.
Places to visit near Star Theatre Kolkata
There is a famous Kali temple near Star Theater which you must visit. You will also find several food joints near the theatre where you can try everything from North Indian food to traditional Bengali delights.
Golbari in Shyam Nagar is where you can try sumptuous Bengali cuisine. Arsalan in Bidhan Sarani is known for its Mughlai Fare while Mitra Café in Shobhabazar offers amazing north Indian, Chinese and seafood dishes.
---
Kolkata has a lot to offer to its visitors and to help you plan your Kolkata tour in the best possible manner, we at Kolkata Tourism, a division of Holidays DNA offer Kolkata tour packages which are easily customisable. Please fill the Contact Us form for further details.
Location Map for Star Theatre Kolkata