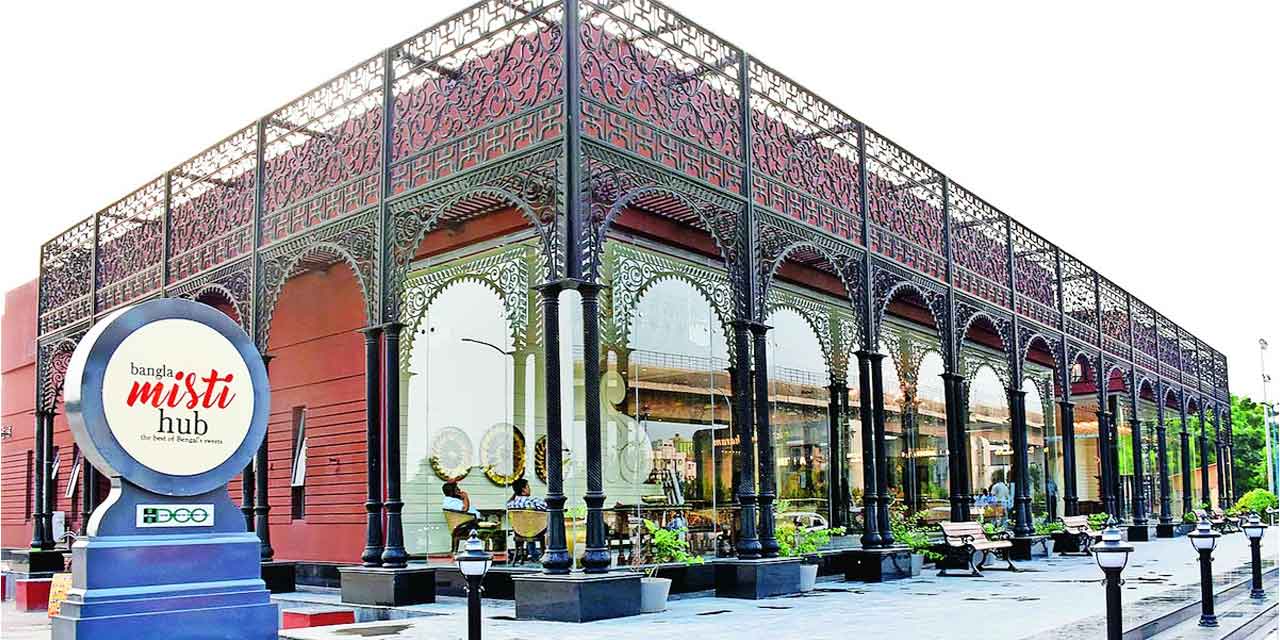 Misti Hub Kolkata Entry Fee
Misti Hub Kolkata Phone
---
Rating:

| 4/5 stars
Based on total 48 reviews
Misti Hub Kolkata Address: Eco Park Gate No 3, Action Area II, Deshbandhu Nagar, Newtown, Kolkata, West Bengal, 700156, India
---
West Bengal takes pride in making the country's best desserts and sweets and she joyfully celebrates it in her extravagant sweet stores in and around the city. Misti Hub uncannily is a boisterous celebration of Bengali generosity when it comes to desserts.
It is no coincidence that West Bengal is known as the sweet capital of India and Bengali as the sweetest language!
About Misti Hub
Misti Hub is located at New Town, adjacent to the third gate leading into Eco Park. The most striking aspect of this store is its unique plan. The Chief Minister of West Bengal, Mamata Banerjee, established this hub in the year 2018 to conglomerate some of the city's best sweet shops.
Misti Hub was conceptualised by the Housing Infrastructure Development Corporation that has been a reverberating hit amongst visitors. There are many renowned sweet shops in the city that tops the list of the best food places to visit.
It is not always possible to visit all these sweet shops during your short trip. Thus, its location comes to a great rescue.
Image Gallery of Misti Hub Kolkata
Things to Try at Mishti Hub
Misti Hub is home to about eleven prominent sweet shops in the city of Kolkata. Each of them has their own, unique special sweet that you must give a try.
1. K. C. Das
K. C. Das was a famous Bengali confectioner and entrepreneur with a penchant for experimentation with the ordinary. Son of the creator of 'Roshogolla,' he too became pioneers of sweetmeats such as 'Rasmalai' and canned 'Roshogolla.' His shop is named after him.
Must try: Rosho Malancho, Mango Doi, Flavoured Roshogolla.
2. Banchcharam
Banccharam Ghosh was the face behind this gargantuan brand of delectable sweetmeats. He started his business with a small store in Central Calcutta and soon tumbled into fame and popularity for making sweetmeats in the best quality ghee.
Must try: Abar Khabo, Baked Roshogolla, Jamun Cake
3. Gupta Brothers
Brothers Ajay, Atul and Rajesh Gupta from Uttar Pradesh revolutionised the world of sweetmeats by the variety of innovations that they brought into this world. They built their dynasty on a bed of sweets making way into every household in the city.
Must try: Mango Sandesh, Rabri, Gulab Jamun
4. Balaram Mullick and Radharaman Mullick
Over a hundred years old, this sweet store is possibly the heart and soul of the city. Their modus operandi is dishing out delicious sweetmeats in innovative forms that will leave you asking for more.
Must try: Mud Cake, Blueberry Doi, Chocolate Sandesh
5. Ganguram
From a remote village in Varanasi, Ganguram Chaurasia bagged the Bengali market with his skillful twists to sweetmeats and flavourful snacks. For more than a century, Ganguram has ruled the hearts of Bengalis in Kolkata.
Must try: Kaju Barfi, Kulfi, Masala Dosa
6. Nalin Chandra Das & Sons
Every resident of North Kolkata chants this name religiously. For over one hundred and seventy-five years, this store has been topping the list.
Must try: Ice-cream Sandesh, Jalbhara Talsansh, Chocolate Sandesh
7. Mithai
Reminiscent of the Bengali culture, this store stands apart from glorious branding. They only focus on making their customers happy by dishing out some of the best sweetmeats in the city.
Must try: Gondhoraj Lebur Doi, Rasmalai, Sandesh
8. Mishti Katha
A new addition in the market and another one of the chief minister's brainchild. Pretty in pink, their specialty is delivering traditional sweetmeats with a twist.
Must try: Doi Roshogolla, Chocolate Boat, Mousse
9. Naba Krishna Guin
North Kolkata is undoubtedly the pioneers of sweetmeats in the city and it is because of stores such as these.
Must try: Chandan Kheer, Ratabi Sandesh, Rajbhog
10. Hindusthan Sweets
Hindusthan Sweets stands apart for their broad vision and ability to incorporate medicinal qualities to their sweets.
Must try: Cream Roll, Mango Doi, Roshogolla
11. Districts
Mishti Hub is inclusive of sweets from several districts such as Burdwan, Shaktighar, Baharampur and Krishnaghar that is famous all across Bengal.
How to Reach Misti Hub
There are two prominent ways you can use to get to Mishti Hub:
Bus: There are several local buses that go directly to Eco Park departing from all prominent junctions in the city.
Cab: The easiest form of transport to Mishti Hub is to take a cab from top car rental companies in Kolkata for your Kolkata tour.
---
Kolkata has a lot more for its visitors to explore. If interested and you have time, you can plan your itinerary accordingly to cover the best sightseeing places in Kolkata. Visit us at Kolkata Tourism to make the most of your holiday. Holidays DNA offers all-inclusive Kolkata tour packages at competitive prices. Contact Us to know more.
Location Map for Misti Hub Kolkata