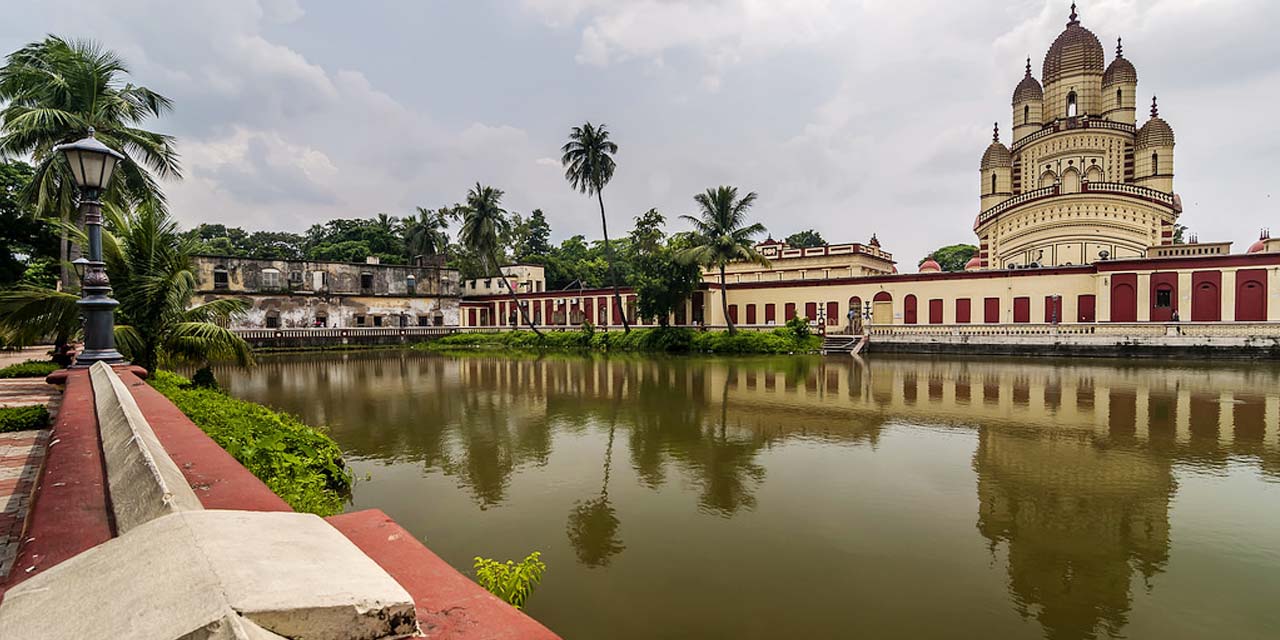 Dakshineswar Kali Temple Kolkata Entry Fee
Dakshineswar Kali Temple Kolkata Phone
---
Rating:

| 4/5 stars
Based on total 53 reviews
Dakshineswar Kali Temple Kolkata Address: May Dibas Pally, Dakshineswar, Kolkata, West Bengal, 700076, India
Kolkata Tour Packages

Dakshineswar Kali Temple Kolkata Timings
Day
Timing
Monday
6:00 am – 12:30 pm (Oct - Mar)
3:00 pm – 8:30 pm (Oct - Mar)
6:00 am – 12:30 pm (Apr - Sep)
3:30 pm – 9:00 pm (Apr - Sep)
Tuesday
6:00 am – 12:30 pm (Oct - Mar)
3:00 pm – 8:30 pm (Oct - Mar)
6:00 am – 12:30 pm (Apr - Sep)
3:30 pm – 9:00 pm (Apr - Sep)
Wedesday
6:00 am – 12:30 pm (Oct - Mar)
3:00 pm – 8:30 pm (Oct - Mar)
6:00 am – 12:30 pm (Apr - Sep)
3:30 pm – 9:00 pm (Apr - Sep)
Thursday
6:00 am – 12:30 pm (Oct - Mar)
3:00 pm – 8:30 pm (Oct - Mar)
6:00 am – 12:30 pm (Apr - Sep)
3:30 pm – 9:00 pm (Apr - Sep)
Friday
6:00 am – 12:30 pm (Oct - Mar)
3:00 pm – 8:30 pm (Oct - Mar)
6:00 am – 12:30 pm (Apr - Sep)
3:30 pm – 9:00 pm (Apr - Sep)
Saturday
6:00 am – 12:30 pm (Oct - Mar)
3:00 pm – 8:30 pm (Oct - Mar)
6:00 am – 12:30 pm (Apr - Sep)
3:30 pm – 9:00 pm (Apr - Sep)
Sunday
6:00 am – 12:30 pm (Oct - Mar)
3:00 pm – 8:30 pm (Oct - Mar)
6:00 am – 12:30 pm (Apr - Sep)
3:30 pm – 9:00 pm (Apr - Sep)
Links:
Website
|
Map
---
Dakshineshwar Kali Temple is a Hindu temple located on the eastern banks of the Hooghly River in a small town in the north of Kolkata named Dakshineshwar. The beauty and charm of Dakshineswar Kali Temple is known to be such that a trip to Kolkata is often said to be incomplete without a visit to this temple.
While the spiritual history of this temple has the mystic sage and reformer Ramakrishna Paramahansa and his wife Sarada Devi associated with it, the socio-political history associated with the temple is quite interesting too.
Founded by Rani Rashmoni of Bengal in 1855, the Dakshineswar Kali Temple was opened to visitors just two years before the Sepoy Mutiny of 1857, also popularly known as India's first war of Independence. Even the architecture of the temple has a historical touch as it is built in the traditional 'nava-ratna' or nine spires style that comes from Bengal School of Architecture.
History of Dakshineswar Kali Temple
In the early 1800s, Dakshineshwar was a small village surrounded by dense forest around the area where the present temple is situated.
The magnificent temple of Dakshineshwar was built by Rani Rashmoni, a philanthropist and a devout believer of Goddess Kali. Legend has it that Rani Rashmoni wanted to go on a pilgrimage to Varanasi to offer prayers to the mother Goddess. The night before she was scheduled to leave for Varanasi, she dreamt about the Goddess asking her to build a temple near Ganges and set up a statue rather than going all the way to Varanasi.
Rani immediately started making arrangements to build a temple. After looking up several plots of land to construct the temple, she zeroed down on the 20-acre land by the eastern banks of Ganges, part of which had a Muslim burial ground that also resembled a tortoise hump, which was considered absolute apt for worshiping Shakti according to Tantra traditions.
Another part of the land belonged to a European named John Hasty and this part of the land was popularly known as Saheban Bagicha. With construction of a Hindu temple on a site, parts of which belonged to different faiths, it signifies the unity of all faiths.
The huge temple complex was built in a time span of 8 years, between 1845- 1855, at an estimated cost of INR 9 lakhs out of which INR 2 lakhs were spent on the day of inauguration. The idols of the Gods and Goddesses were scheduled for installation on the 31st May 1855, the 'snana-yatra' day, an auspicious day for the Hindus. More than one hundred thousand Brahmins were invited from all over the country to grace the festivities and were fed. The temple was formally named Sri Sri Jagadishwari Mahakali temple.
Ramkumar Chattopadhayay, Sri Ramakrishna's elder brother, was appointed as the head priest of the temple. He was assisted by his younger brother, Ramakrishna, who was then known by his name Gadadhar and nephew Hriday. However; Ramkumar passed away a year after the temple was inaugurated thus, all further responsibilities falling on the shoulders of young Ramakrishna along with his wife Sarada Devi. Sarada Devi stayed at south of Nahabat (the music room) on the ground floor, which is now a shrine dedicated to her.
Ramakrishna was the major influence behind bringing in immense reputation as well as pilgrims to the temple during the next thirty years of his service towards the divine mother Goddess. He became an ardent seeker of Kali and also brought in quite a few changes in the socio-religious condition of Bengal.
Rani Rashmoni, who was an exceptionally broad minded and benevolent, had always wanted the temple be open to people from all sects of the society irrespective of their caste, creed or religion. This tradition has been followed till date and the temple is thronged by pilgrims from all strata of the society.
Rani Rashmoni didn't live long enough to witness much of the temple's glory as she passed away in February 1861, just 5 years and nine months post inauguration of the temple. Realizing that she wasn't going to live for long, she handed over a property at Dinajpur (part of present-day Bangladesh) as a part of the legacy for maintenance of the temple and temple trust. Rani passed away on 18th February, 1861, the day after she handed over the legal documents.
Image Gallery of Dakshineswar Kali Temple Kolkata
Architecture of Dakshineswar Kali Temple
The Dakshineshwar Kali Temple is built in 'Nava-Ratna' or nine spires style, very typical to ancient Bengali architecture. The main Kali temple is a three storeyed south facing monument with nine spires distributed in the upper two storeys.
The main temple is built in an area of around 46 Square feet and stands on a high platform that has a flight of stairs thereby giving the temple the height of over 100 feet (30m). There is a narrowly covered verandah that serves as an audience chamber. Additionally, there is also a spacious Natmandir built right in front of the temple.
The Garbha Griha (Sanctum Sanctorum) houses the idol of the deity. The Kali at Dakshineshwar is famously known as Bhavatarini, and stands on the chest of supine Shiva. The two idols stand on a thousand petaled lotus made out of pure silver.
The courtyard of the main temple is surrounded by 12 identical mini Shiva temples standing in a row, facing east with interiors done in black and white stone finishes. Each of the temple houses a Shivalinga made out of black stone. The temples have been constructed in 'Aat- Chala' (eight eaves) architectural style, typical to Bengal architecture. The 12 Shiva temples were constructed keeping 12 jyotirlingas in mind. It is here in these Shiva temples that Sri Ramakrishnan Paramhansa used to meditate and is believed to have reached enlightenment.
A Vishnu temple with idols of Radha and Krishna is located at the north-east end of the main temple. This temple is also called Radha Kanta's temple and is located on a high platform with flight of stairs leading inside. The Lord Krishna idol that resides in the Vishnu temple is 21 and a half inch and the idol of Radha is of 16 inches.
Other places to explore in Dakshineswar Kali Temple Complex
1. Gaji Tala
On the west of Dakshineshwar station, there is Rani Rashmoni road that leads to Vivekananda gateway of the Kali temple complex. If one keeps the temple to left, there is a pond to the east of the temple called 'Gaji Pukur'.
To the north-east of the pond is 'Gaji Tala', the place where Ramakrishna explored Islam. Rani Rashmoni did not disturb Gaji Tala while constructing the temple and this became a place for people from both faiths to offer their prayers. Gaji Tala is maintained by Debottar Estate at present date.
2. Kuthi Bari
Originally built by Lord Hastings, Kuthi Bari is located towards the north of Ganga, very close to Gaji Tala. Whenever Rani Rashmini visited the temple, Kuthi Bari became her second home where she used to stay with her daughter and son-in-law. Sri Ramakrishna resided on the ground floor of this building. This building now serves as a police camp that takes care of the safety of the tourists.
3. Nahabat Khana
Dakshineshwar temple complex houses two Nahabat Khanas, one at the southern garden which remains closed permanently and the second is towards the west of Kuthi Bari and north of Kali Temple.
An assortment of musical instruments were played during ancient time at Nahabat Khana however; the only instruments that are played now are Dhak, Dhol and Kashi during the aarti ceremony. The room just below the Nahabat Khana used to be residence of Sarada Devi, wife of Sri Ramakrishna who is commonly referred to as Sri Sarada Maa. Today, daily prayers are offered to her here.
4. Chadni
The bank of River Ganga situated between the series of 12 Shiva temples that surround the main temple courtyard is called Chadni. It is said that this is the place where Sri Ramakrishna's Vedantic Guru, Sri Totapuri had alighted from his journey.
5. Nat Mandir
A 16 pillared structure, 50 feet in length and 75 feet width with a roof of open hall served the purpose of several religious discourses as well as spiritual songs. There is an idol of Lord Shiva and it is believed that Sri Ramakrishna used to pray to Shiva before entering the Kali Temple. Towards the south of Nat Mandir there is a place where religious sacrifices used to be offered.
6. Room of Sri Ramakrishna
To the north-west corner of the temple premises is the room where Sri Ramakrishna used to reside. Ramakrishna lived here for 14 years. He had shifted here from Kuthi Bari after the demise of his nephew and never went back to stay in Kuthi Bari. Hence, the room came to be known as Room of Ramakrishna. Various artefacts used by Sri Ramakrishna are kept as exhibits here till date.
7. Bakul Tala Ghat
The Bakul Tala Ghat is close to Nahabat Khana where Sri Sarada Maa used to take her bath. There used to be a Bakula tree here by the ghat and hence the ghat's name. It is this place where Ramakrishna's guru, Bhairavi Bramhani Yogeshwari Devi made him a disciple of 'Tantra Sadhana'.
8. Panchavati
To the north of Bakul Tala, there was a wide space called Panchvati. Towards the south of Panchvati under Sri Ramakrishna's guidance, 5 trees were planted. These were- Banyan, Peepal, Neem, Awla and Woodapple. Soil from 'Radha Kund' and 'Shyam Kund' of Vrindavan was specially brought all the way to plant the trees in Panchvati.
It is here at Panchvati that Sri Ramakrishna took sanyas according to vedic rites under the careful tutelage of great sage Totapuri and spent 12 years of sadhana. The hut where sadhana was performed was later rebuilt as 'Shanti Kuthi' and a Shiva temple was built close to it.
Dakshineswar Kali Temple Timings and Entry Fees
There is no entry fee to visit the temple.
The temple is open all year around with below timings:
October to March: 6:00 am to 12.30 pm and 3:00 pm to 8:30 pm
April to September: 6:00 am to 12.30 pm and 3:30 pm to 9:00 pm
Pro-Tip: Tuesdays and Saturdays are believed to be auspicious and best days for offering prayers to Goddess Kali. Hence, the temple is thronged with visitors on these days. Witnessing the Sandhya aarti (evening prayers) is a must have experience.
How to Reach Dakshineswar Kali Temple
The Dakshineshwar Temple is located at 13 km away from Kolkata and 19 km from Howrah.
By Local Train: To arrive at Dakshineshwar from Kolkata, board the train that goes to Dankuni from Sealdah. Get down at Dakshineshwar station and the temple is at a walking distance from the station.
You may as well hire yellow taxis or rental cars from either Kolkata or Howrah to reach the temple. Parking space is also available here. Dakshineshwar is and hours' drive from Howrah and 30- 40 mins drive from Kolkata airport.
We have listed top car rental companies in Kolkata from where you can book a private cab and visit all the popular sightseeing places of Kolkata quite comfortably.
---
Kolkata Tourism, a division of Holidays DNA makes your trip to the city of Joy absolutely joyful with its Kolkata Tour packages designed specifically keeping in mind the preferences and budget of its customers. You can choose the package accordingly and make your Kolkata trip a memorable holiday experience. Please fill the Contact Us form for further details.
Location Map for Dakshineswar Kali Temple Kolkata