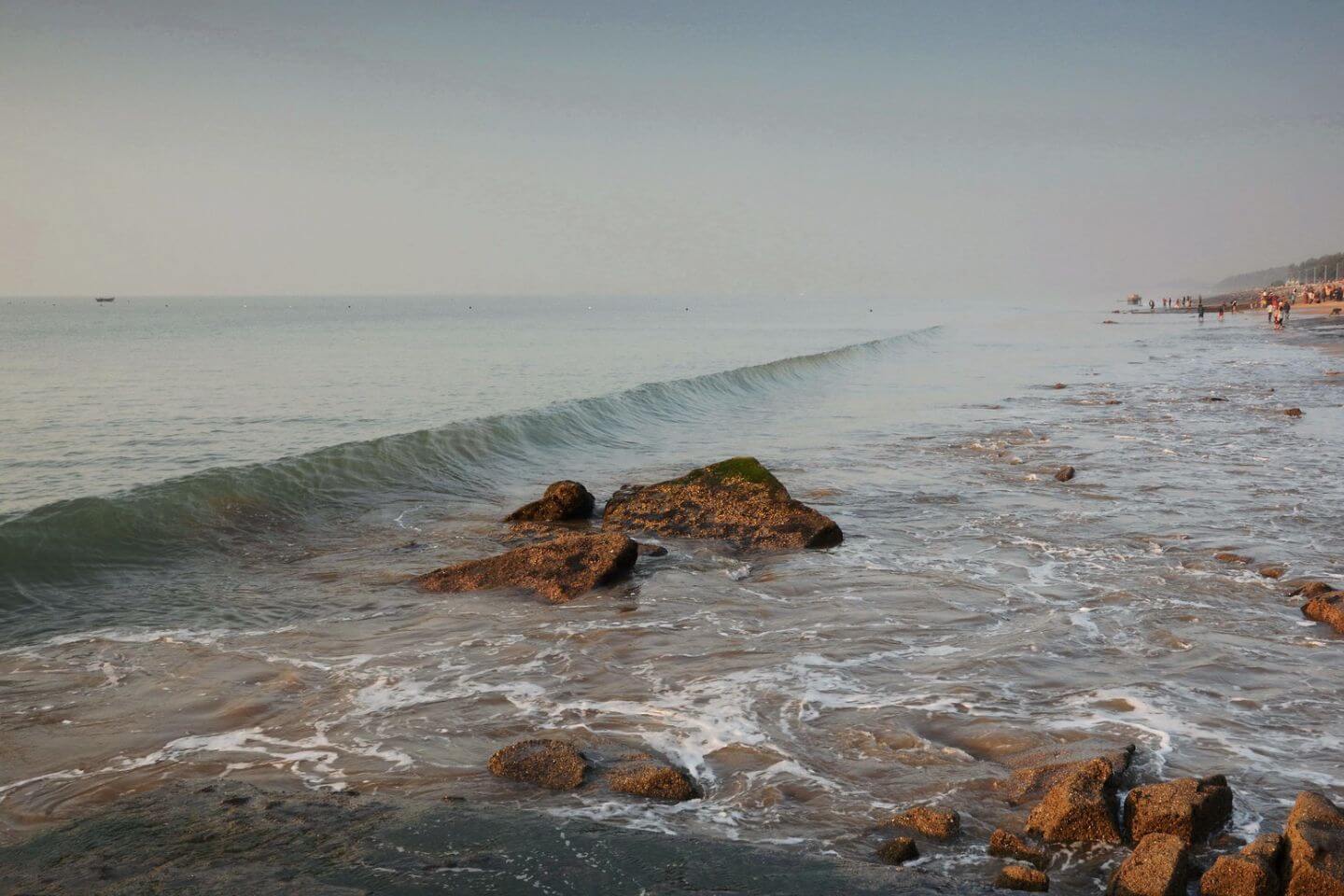 Digha Beach Kolkata Entry Fee
Digha Beach Kolkata Phone
N/A
---
Rating:

| 4/5 stars
Based on total 43 reviews
Digha Beach Kolkata Address: Gadadharpur, Digha, West Bengal, 721428, India
---
Located at a distance of 187 kilometers from Kolkata, the city of Joy, in the Eastern Indian state of West Bengal in India, Digha is a small yet popular beach town on the southern border. Digha beach is a flat beach and is one of the widest sea beaches in the world. It is the best weekend getaway destination for locals and its proximity to the Odisha border also means people from Odisha living close to the border town can hop in here during the weekend.
One of the unique features of Digha is that the beach is lined by casuarina plantations all around making the place more alluring. Surprisingly, there aren't any coconut trees around Digha beach. Since the beach is shallow and flat for around one mile, it makes a safe option for visitors to take a dip or go swimming in the ocean waters.
History about Digha Beach
It was the Britishers who discovered the tiny beach town during the late 18th century at the time when Warren Hastings was the Governor of Bengal. Hastings was so smitten by the beauty and serenity of the place that he had referred Digha beach to 'Brighton of the East' in one of his letters to his wife.
Later, around 1923, when the English tourist John Frank Smith decided to settle in Digha after being charmed by the place, he started promoting it through his articles that he had published about this place. That's how, the quaint beach town, which was known as Beerkul originally, became the quick getaway option for local tourists. It was John Frank Smith who persuaded the then Chief Minister of West Bengal, Dr. Bidhan Chandra Roy to develop Digha as a beach resort town.
About Digha Beach
Old Digha Beach: The old Digha Beach is located 2 kilometers from the Digha Railway Station in East Midnapore district of West Bengal. The old Digha beach is famous for the sunrise and sunset views. When in Digha, it is a must to visit the Digha Beach market and you would find numerous souvenir shopping options from home décor items to fashion accessories to clothes, bags, jewelry made out of sea shells and all kinds of sea stones.
Regarding the food, Digha has got enough options for both vegetarians and non-vegetarians, restaurants offer delicacies ranging from fast food to local authentic cuisine to multi cuisine.
New Digha Beach: The New Digha Beach is an extension of the Old Digha Beach, created artificially, and is located at a distance of 2 kilometers from Old Beach. The sands of New Digha are soft sands and it is recommended to visit the beach before 9:00 PM for your own safety.
Because of its proximity to the old beach, you may simply walk to the New Digha Beach from the Old Digha beach. This beach is less crowded than old beach, has easy accessibility and larger expanse and is hence preferred by most visitors looking for a secluded and more peaceful place.
Image Gallery of Digha Beach Kolkata
Other places to visit in Digha
1. Shankarpur Beach: Known as the virgin beach, Shankarpur beach is located around 15 kilometers from Digha with a few temples and a park at the beach side for locals to come for day picnics. Since fishing is the main livelihood in the area, you would see quite a few fishing boats lined by the beach.
Visitors can climb up to the nearby watchtower to get a 360 degree view of the place.
2. Udaipur Beach: A pristine yet laid back and serene beach in Digha, the Udaipur Beach is favorite among travelers who look for lonely stretches of seashore just to themselves for enjoying long walks or taking a dip in the ocean waters without having to worry about the crowd. The Udaipur beach is located 3 kilometers from Old Digha railway station, between New Digha and Talasari Beaches, on the border of Odisha. This beach too, is dotted with casuarina trees and gives a feel of accommodation at a private beach due to its location.
Since this is a public beach, there are makeshift food stalls available near the beach. These stalls are usually set up by local fishermen who cook their catch of the day and sell the fish. There are boat rides, camel, and horse rides available. Water sports like banana rides, speed boats and All-Terrain Vehicles (ATV) are also available. The ATV rides cost between INR 50 to 70 for a 3-kilometer ride.
There are accommodation facilities available here too. Tourist huts are run by West Bengal Tourism and OCEANA Tourist Complex separately. There is a parking facility available by the beach. The parking fee is INR 40.
The only flipside of this beach is that it is quite dirty when the tides are low.
3. Talasari Beach: Known to be the last beach of North-eastern coast of India, Talasari beach is located 5- 6 kilometers from Digha, in the Baleswar district of Odisha. The beach is famous for being quaint, squeaky clean, and serene which is inhabited by sand dunes and calm waves. The beach is dotted with palm trees, coconut trees and cashew plantations.
The name Talasari literally translates to rhythm of the palm trees where, 'Tala' means palm tree and 'Sari' means rhythm. It indicates the rhythm formed by the golden sands and green trees with an occasional dash of red in between formed due to the red crabs which are found in abundance here.
An interesting fact about Talasari Beach is that in addition to being a sea beach, it is also a riverbank for the Subornorekha River which merges into the Bay of Bengal at Talasari. Talasari Beach is known for its fresh seafood.
4. Chandaneshwar Temple : Located in the Baleswar district of neighboring state of Odisha, the Chandaneshwar temple is located near Talasari beach at a distance of 5 – 6 kilometers from Digha. The temple is dedicated to Lord Shiva and sees huge footfall during the occasion of Pana Sankranti, which is also called the Chaitra Mela, which is the first day of the Oriya New Year.
5. Chandpur Beach: Chandpur beach is also one of the beaches that is very rarely visited by tourists and thus makes a great option to visit and experience the peacefulness and serenity of the place. Located around 18 kilometers from Digha, the Chandpur beach is different from the other beaches due to its eroded banks and due to the recession caused by the seawater gradually, in the course of the past few years.
Please note that there aren't any food stalls near the beach hence, you will need to carry your own food if you wish to spend a full day on the beach. It is recommended to spend at least two hours to experience the place.
5. Amarabati Park: The Amarabati Park is situated less than one kilometer from the New Digha Beach and is famous for its sprawling lush green lawns lined with seasonal flower plants and a lake, giving a wonderland-like look to the park. There is a ropeway ride that pans across the length of the park and one can enjoy the view of the New Digha region and get a bird's eye view of the park below.
There are boating facilities in the lake by the park. The boating charges are INR 60 per person for a 25-minute boat ride.
6. Digha Science Center: Housing a mini Jurassic Park that resembles the original to the T, the Digha Science Centre was established by National Council of Science Museums with an intention to make science fun through interactive learning experience.
The sound and light show at the 3D theater is an amazing experience to explore the prehistoric Jurassic park. These interactive sessions pique the curiosity of kids and learners and make them urge for more information and they would want to learn how things actually work. There are intergalactic stories to view at the planetarium.
The Digha Science Center is a must visit place for families and kids.
7. Marine Aquarium and Research Centre (MARC): The Marine Aquarium and Research Centre (MARC) as it is famously known is also the regional center for Zoological Survey of India and is maintained and run by the Ministry of Environment and Forests. Known to be the largest in-built aquarium in Asia, MARC was opened for public access in February 2016 and is located right opposite the Digha hospital. There are 24 huge sized marine tanks, and 8 fresh water tanks equipped with compressed air supply, and light in addition to the water inflow and outflow being regulated in frequent intervals.
The marine species housed here include sea anemones, sharks, rays, lobsters, sea snakes, sea horses, horseshoe crabs, butterfly fish, and a lot many others. There are posters all around the center to raise awareness to conserve marine biodiversity, environment concerns, and explain the necessity for the same.
Students interested in pursuing a career in marine biology and oceanology should visit MARC.
8. Casuarina Forest: This option is for art lovers, photographers or couples who are looking for short escapades. Exploring the casuarina forests right by the beach is an awesome option to get to do something other than the usual tourist activities like water sports and adventure sports.
The casuarina forests are a haven for photographers as it would give a perfect setting for beach and forest.
Best time to visit Digha Beach
The best time to visit Digha Beach would be during winter months, between November and March when the weather is pleasant with a bit of chill in the air.
Monsoon visit, between July and September is recommended to be a moderately ideal time, however, since Digha has flat shore monsoon, it would still be a good time if you are a person who enjoys the rainy weather.
The weather in summer months is too hot and humid. It is not recommended to visit during these months since you might not be able to enjoy the beach during the day. It is just the evenings when the temperature dips a bit, and you might be able to take a stroll on the beach side.
How to Reach Digha Beach
Digha is very well connected to the rest of the country via all modes of travel, i.e., rail, road, and air.
By Train: The nearest railway station is Digha railway station. There are both local and express trains that run from Howrah, the major railway junction to Digha. The alternate options are to board trains from Satraganchi. The trains stop at major junctions namely, Kharagpur, Mecheda and Contai (Kanthi) and you can board the trains as per your convenience.
By Bus/Road: Buses to Digha are available quite frequently from Esplanade in Kolkata. Both private and public transport buses are available, and you may opt as per your affordability, convenience, and preference. The bus fares start from INR 145 for non- AC and AC bus fares range between INR 300 to 500 depending on the type of bus you are booking. The bus ride will take you to Digha in 5 hours.
Bus services are also available from several other towns from both West Bengal and Odisha due to the proximity of the place from both states. From West Bengal, the buses ply to Digha from Kharagpur, Midnapore, Barasat, Bankura, Bardhaman, Howrah, Asansole, and Kalyani. From Odisha, buses to Digha are available from Balasore.
By Car: If you are opting to travel by your own car, the distance of 183 kilometers between Kolkata and Digha can be covered in approximately 4 hours via NH 6 until Kolaghat and then drive on NH 41 from Kolaghat to Nandkumar. From Nandkumar, take the state highway till Digha. Ramnagar and Contai are two pit stops between Nandkumar and Digha where you may want to break the journey for some rest.
By Air: The nearest airport is Netaji Subhash Chandra Bose airport, Kolkata. You may hire a prepaid taxi or book a cab from top car rental companies in Kolkata to reach Digha.
Travel Tips for visiting Digha Beach
ATMs are located at Old Digha only hence, make sure to carry sufficient cash while visiting the other secluded beaches.
Carry emergency lamps or high resolution torches as there are unplanned power outages, especially during summers.
It is highly recommended that you carry mosquito repellent and insect repellents. If you forget to carry it along, they are available at most of the shops at Old Digha.
Please do not litter and carry your own trash to make sure the beaches are left clean by you.
When shopping in Digha and around, bargain hard.
Avoid visiting Digha during public holidays and festivals.
Last but not the least, safety at sea while strolling by the shores is to be considered of utmost importance, especially during high tides as there are no lifeguards at these beaches. It is absolutely unsafe to swim during high tides and if you are visiting during monsoon, please do not cross the sea wall.
---
Looking for an all-inclusive Kolkata tour package? Look no further than Kolkata Tourism, a division of Holidays DNA. We specialize in designing custom tour packages that suit your budget and holiday style. Our team of travel experts can also help you plan your trip in such a way that you can cover all the top tourist attractions of Kolkata. To know more about our services, please fill the Contact Us form.
Location Map for Digha Beach Kolkata